La DoubleJ's New Wallpaper Made Its Debut At Salone del Mobile In Milan
The new launch will inspire your next makeover.
Mariela Medina/La DoubleJ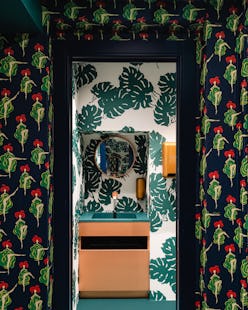 Avid fans of La DoubleJ's famous maximalist fashion and home wares are in luck. The brand has officially entered the wallpaper world, with an offering of "joy-inducing" patterns, available for bespoke projects upon request. In an effort to give customers a proper preview, the label's new prints are displayed on the bathroom walls of eight well-known restaurants, landmarks, and design hubs in Milan during Salone Del Mobile, the annual furniture fair, from April 18 through April 23.
La DoubleJ's vibrant patterns, including classics like Dahlias and Sfere, are mixed and matched to show the endless possibilities and design scope of the new category. "People have been asking us to do wallpaper almost since the very beginning of our print journey at La DoubleJ, and we are so pleased to finally abide," says Martin in an official press release. "Most people are not like me, plastering crazy prints everywhere in their house — we figured the most appropriately unexpected place for a full-on, bold, print-tastic moment would be the bathroom. So why not showcase some of our best prints in the bathrooms of some of our favorite places in Milan?"
Said participating locations include the La DoubleJ store, Pasticceria Cova, Giacomo Bistrot, Fioraio Bianchi Café, Apophis Club, Vasiliki Kouzina, Pasticceria Cucchi, and Trattoria Torre Di Pisa. To add some interest and an interactive element, each bathroom decked out in La DoubleJ's wallpaper also features "Raise Your Vibration" conversation starter collectable cards, designed to "add a little more depth to your next dinner party discussion." Cumulatively, the cards create a full, "heart-opening deck" that can be utilized as ice-breakers or simply displayed in the home as beautiful accent pieces for the fridge or work desk.
Pasticceria CovaMariela Medina
If you find yourself in Milan this week for the highly anticipated annual furniture fair, be sure to stop by at one of the eight locations and see if they don't inspire your next bathroom (or home) makeover. For more information on La DoubleJ's new wallpaper or to inquire about purchasing for an upcoming project, email wallpaper@ladoublej.com.