18 Italian-Themed Holiday Gifts For The Forever Tomato Girl
From cocktail kits to cookbooks.
Eataly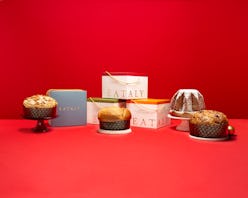 We may receive a portion of sales if you purchase a product through a link in this article.
You know them: They're the ones who says "Ciao" after every hangout, the one whose signature cocktail is an aperitivo spritz no matter how cold it gets outside, and the one who's constantly complaining about how American coffee just simply doesn't measure up to an Italian "caffé." Whether they've traveled from Milan to Palermo and everywhere in between or have only been dreaming of a Mediterranean getaway since Season 2 of White Lotus, everyone has that one friend or loved one who is enamored of Italy — and it's easy to understand why. Between the food and drink, the historic art and architecture, and the scenic coastline, there's a lot to love. And thankfully, that leaves a ton of inspiration when it comes to picking their perfect present this year. Thanks to summer's tomato girl trend (which has yet to slow down), there's never been more to choose from in terms of Italian-themed holiday gifts.
Because there's so much to work with, it's best to approach gifts for your Italy-obsessed friend or family member by taking into consideration their other hobbies or interests. For example, if they're a fashion lover, Lisa Says Gah's house line includes everything from totes to baby tees emblazoned with images of Italian staples like tomatoes, tins of fish, bottles of wine, and Roman statues. For something a little less on-the-nose, don't miss celebrity favorite fashion label (worn by It Girls including Kaia Gerber, Jennifer Lawrence, Dua Lipa, and more) Ciao Lucia, who has managed to perfectly channel the Italian vacation vibe in every sweater, slip dress, and sandal in the collection. And if you're up for even more of a splurge, you can always rely on iconic fashion houses like Gucci, Bottega Veneta, Fendi, and Prada for clothing and accessories that epitomize Italian luxury.
If this person on your list loves to cook or entertain, look for ways you can bring Italy into their kitchen. A professional quality pasta maker is a must-have, a stovetop moka pot adds a nice touch — especially when paired with some glass espresso cups and a tin of illy beans — and colorful, hand-painted serveware (the kind you're presented with on the Amalfi Coast, where it's likely covered with scialatielli ai frutti di fare or mozzarella di bufala campana). You can also hit up Eataly's wide array of Italian treats that include their limited edition artisanal panettones (the orange and chocolate flavor is a must). And when in doubt, an at-home pizza kit will be a welcome gift for your foodie friend — especially when it's made with authentic Italian ingredients.
Of course there's no shortage of books when it comes to Italian lifestyle content — starting with cookbooks. For example, Marcella Hazan's Essentials of Classic Italian Cooking is a classic for creating traditional dishes, but Massimo Bottura's Never Trust A Skinny Italian Chef offers a more modern take. You can also go even more niche with Leticia Clark's Sardinian approach to sweets. A travel-focused coffee table book is another way to instantly transport any Italy lover through the power of words and pictures. Art book publisher Assouline's travel series includes editions for Sicily, Tuscany, Lake Como, Capri and more that look as beautiful on the outside as they do inside, with imagery that ranges from interiors of epic Italian villas to details of daily life.
And never underestimate the power of scent when it comes to transporting your wanderust-y loved one. La DoubleJ's candles capture the fragrance and fashion-forward look of various Italian locales while alt-perfumer DS & Durga's collab with Jupiter offers a pasta water-inspired scent. Want something in between? Foodie favorite Flamingo Estate recently launched a line of hand soap, lotion, room spray, and more that celebrates the herbaceous fragrance of ripe summer tomatoes.
Still in the market for that perfect gift that screams "My favorite drink is Negroni sbagliato...with Prosecco" for someone who's likely planning their next trip to Italy as you read this? Find TZR's picks for all of the above — and beyond — in the list ahead.