La DoubleJ's New Candles Smell Like An Italian Vacation
Courtesy of La DoubleJ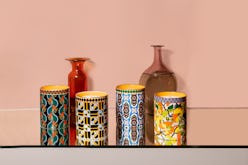 We may receive a portion of sales if you purchase a product through a link in this article.
Dreaming of an Italian vacation, but can't make it anytime soon? La DoubleJ's inaugural candle collection could be just thing to tide you over until you can touch down in Capri or Milan. The fashion and lifestyle brand, known for its luxe, vibrant prints, just released four new fragrances — titled "Scents from the Motherland" — inspired by Italian locales near and dear to founder J.J. Martin's heart.
"Printed in original La DoubleJ designs and trimmed in 18K gold, these porcelain vessels arrive designed to be repurposed in a million and one ways," reads the official press release. "From the sensual, mystical Milano, to the fresh, pomelo-laced Capri, to the sensual femininity of Lago Di Como, and the wild, herbacious Pantelleria, each scent has been meticulously blended in collaboration with an iconic fragrance family to transport you to its titular location, no plane ticket required."
Indeed, the four scents (Milano, Capri, Pantelleria, and Lago Di Como) aim to transport you to far off locales, complete with picturesque beaches, cobblestone streets, and flowing wine. And just like any fashion or home piece created by LaDouble J, the candles serve as individual works of art and stunning decor for the home, no matter your aesthetic or color scheme.
So what exactly does a trip to Italia smell like you might ask? Well, for starters, there's the sultry blend of jasmine, cedar, and peppercorn that pay homage to the metropolitan streets of Milan. A juicy mix of blackcurrants, pomelo, lemon, and applewood will place you in the midst of island life in Capri. And to match Pantelleria's wild terrain of cliffs, underwater caves, and luscious green mountainsides, the La DoubleJ leaned into notes of fig, wild lavender, sandalwood, and bergamot. Finally, the serene and opulent landscape that is Lake Como (Lago Di Como) is captured via a luxe blend of rose, white musk, mimosa, amber, and leather.
La DoubleJ's new candles retail for $180 each and are available for purchase on the brand's retail site. Shop the sumptuous new collection below and get ready for your wanderlust to ignite.