Get To Know Grappa, The Best Way To End Any Fall Evening
Perfect for your next dinner party.
Shutterstock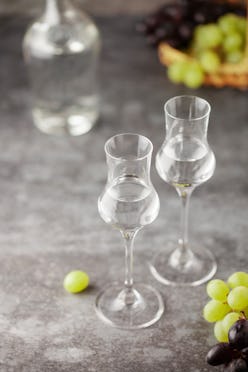 We may receive a portion of sales if you purchase a product through a link in this article.
Grappa is an after-dinner drink that is well-known by name but can easily be misunderstood. Like Taylor Swift, it's had a reputation in the digestif world, and it's time to bring this delectable drink into its Lover era. To begin, it's important to understand what grappa is. Despite misconceptions, it is not wine. Grappa is an Italian distillate or liqueur whose name comes from the Italian word, "grappolo," which translates to "bunches of grapes."
While grappa is produced from grapes, Alessio Gualdini, restaurant and bar manager at Agli Amici Dopolavoro Venezia at JW Marriott Venice Resort & Spa explains that distilling pomace is key in separating the drink from wine. "Pomace is the solid part of the grape, consisting of the skin and seeds," he says. These are usually leftover after wine fermentation of the pulp or flesh of the grape. It can be thought of as the alcohol version of nose-to-tail cooking, not letting any part of the grape go to waste.
To be considered grappa, Gualdini, shares that the pomace "must originate exclusively from grapes grown and vinified in Italy." Another "key difference" between wine and grappa is the alcohol content. "The average alcohol content of wine typically falls within the range of 12% to 20%, while grappa generally contains around 40% alcohol," he continues.
While wine is usually consumed with a meal, grappa is not. Gloria Mazzarrini, an agricultural entrepreneur at Poggio Amorelli Winery in Castellina in Italy's Chianti region, provides insight on when and how to enjoy the beverage. "Since it is a strong digestive, grappa comes usually after lunch," she says. "Sometimes, people have it in between two meals like an aperitif. We serve it in little glasses: a small quantity is enough to appreciate grappa. You taste it slowly, and if you have espresso after lunch, you take grappa after coffee."
Gualdini adds it's "best enjoyed neat and should never be diluted with ice," but admits that in recent years, bartenders have utilized it in mixology, creating new, unique cocktails — a possible future trend to look out for.
Though grappa isn't a go-to for most Americans (yet), Gualdini says that the tradition of grappa distillation in Italy is rich, dating back to the 14th or 15th century and its production origins are mainly in northern Italy, "particularly in the regions of Friuli Venezia Giulia, Veneto, Trentino Alto Adige, and Piedmont." However, he says there are many more producing regions and even some grappa production in southern parts of the country.
"These regions are known for their specific climate conditions due to their altitudes and optimal facilities for storing the pomace," he says, further explaining that "the unique weather conditions… contribute to the quality of the grapes and, consequently, the pomace used in grappa production." Gualdini also notes that the facilities in these regions' "expertise in storing and handling the pomace play a significant role in the production of high-quality grappa."
There are a variety of different grapes that can be used to make grappa, but some of the most popular include Malvasia, Chardonnay, Prosecco, Barolo, Sassicaia, and Amarone. Each type of grape contributes its distinct flavor and nuance to the beverage, but other factors contribute to the final product, like age.
"A young grappa should offer hints of fresh grape pomace, possibly with floral or fruity undertones, whereas a grappa that has matured in barrels will have a rich and spicy aroma, revealing fragrances of cinnamon, vanilla, licorice, cocoa, and even tobacco," he points out. "The latter is characterized by intense fragrance and a very persistent aroma, attributed to the aging process in wood, which enhances and rounds out the fermented grape pomace."
Grappa Rules Of Thumb
For those who aren't experts in grappa, Gualdini admits that it can be "a challenging task" to choose a good bottle at the store. Luckily, he has some advice to help. "In Italy, the law requires that grappa aged for at least one year in barrels of any size be labeled as 'aged.' Additionally, a grappa can only be called 'barricata' if it has rested for a minimum of one year in barriques, small untreated wooden barrels, typically made of oak, ash, or cherry."
He also recommends looking at the designations of DOC, IGT, DOCG wines on its label. "If these legally binding terms are not present on the label, it is reasonable to assume that the distillate has not been aged for at least 12 months."
Mazzarrini adds that when looking for an aged grappa at the store, consumers should look at the color of the liquid inside the bottle because the [amber] color makes it easy to recognize. She also agrees with Gualdini about looking at the label. "Usually the label indicates the area where grapes come from, the grape variety, and the characteristic of production," she says. And she hammers home the most essential information that should be on the label of any decent bottle of grappa. "Remember to look at the country of production, in Italy, it is written on the bottle "PRODUCT OF ITALY".
Gualdini 's last piece of advice is to enjoy it alongside high-quality chocolate or dried fruits. "They can complement and balance the flavors of the grappa," he says, adding that a nice cigar is also recommended for those who enjoy it as it can make a relaxing and pleasurable accompaniment.
Ahead, expert-approved bottles of Grappa that will elevate your spirits as you sip and savor all season long.