If You're Still Thinking About The Roman Empire, These Italian Wines Are For You
Let's make it an indulgent fall.
Anna Blazhuk/Moment/Getty Images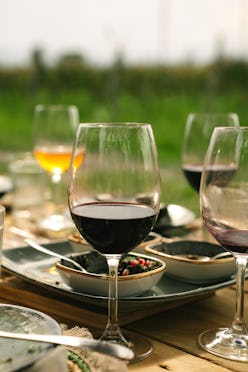 We may receive a portion of sales if you purchase a product through a link in this article.
As we learned from TikTok, some people think about the Roman Empire more often than expected. And while you're on that thread of thought, feel free to hone in on an important component to that specific subject: wine. There's perhaps no country that represents indulgence like Italy, and its vineyards are no exception. Italian winemaking is steeped in history and goes back thousands of years, becoming an integral part of culture not only in Europe but all over the world.
So, what has made Italian wines distinct and desirable to the most discerning palates and oenophiles? Giovan Battista, the owner of Basile Winery and president of the Montecucco Consortium, has a couple of theories. According to him, Italian wine proves the accuracy of the cliche "Variety is the spice of life." The expert explains that Italy boasts the world's largest number of grape varieties, "exceeding 400, which means there's something for every kind of wine lover."
Another essential ingredient in the magic of Italian wines is Italy's terroir. The term terroir directly translates to "soil" or "earth," but here it encapsulates the entirety of a natural environment where wine is produced and includes soil, topography, and climate. "From the islands and coastal areas to the inland hills and even the foothills of the Apennines, Italy offers unique opportunities for grape cultivation," Battista explains.
While climate change has presented "challenges," he says it is still an ideal location for growing and cultivating wine grapes that result in what he calls "a rich and unique range of wines, each of which expresses the richness and potential of such a dynamic land."
The predominantly Mediterranean climate is what Gabriele Pazzaglia, winemaker at Banfi Wines, attributes the uniqueness of Italian wine. Despite slight variations in different parts of Italy, "Plenty of warmth and sunshine allow grapes to ripen fully here and cooler evenings in late summer and autumn help the grapes retain a nice balance of natural acidity," he offers.
Gabriele Tacconi, the chief winemaker at Ruffino, shares Battista's sentiment, praising the variety of wine-growing regions of Italy, of which there are about 20. "Each region is unique and home to different varietals. Some of the top wine-producing regions in Italy include Tuscany, Sicily, Veneto, Puglia, and more," Tacconi says.
Though each region has its individuality, some characteristics are shared across its wines. "Traditional Italian red wines are more commonly known for being rich, medium-bodied, with a vibrant acidity and earthy aromas," Tacconi points out. While Italian white wines are more known for their crisp, delicate, refreshing qualities. Italian wine is essentially an embarrassment of riches, offering a wide array of flavors every palate can enjoy. Below are some of the varietals everyone needs to know and sample.
Sangiovese
Battista believes that novice wine enthusiasts should begin with this classic varietal. "[Sangiovese is] the most widely cultivated grape variety in Tuscany," he says of the infamous dry, medium-bodied red wine that boasts high acidity.
Vermentino
An easy-to-drink, dry, minerally white wine with fresh, vibrant notes of citrus. The Vermentino grape creates a crisp, tangy, light-bodied wine that shares some similarity in taste with sauvignon blanc and is best enjoyed with seafood.
Chianti
Not all Chiantis are created equal. Chianti is a red blend containing a minimum of 70% sangiovese grapes. Chianti classico must contain at least 80% sangiovese grapes and must be produced in the historical Chianti district, while standard Chianti can be produced anywhere. (Think Champagne versus sparkling wine.) Both bring flavors of cherries and leather, embracing its earthiness.
Pinot Grigio
Tacconi believes "pinot grigio is a great white wine to experience," and a must for those who prefer lighter-bodied wines. This popular wine varietal is vibrant, refreshing, and known for its fruity and acidic flavors provided by the pinot gris grape.
Brunello
Also made from sangiovese grapes, this red wine is darker in color, has higher acidity, and is more complex than Chianti. It is not a blend and must adhere to the strict rule of containing 100% sangiovese grapes.
Italian Wines Rules Of Thumb
Despite the number of options, shopping for Italian wine doesn't have to be daunting. Instead of being overwhelmed, Battista suggests letting your curiosity take over and encourages consumers to try something new. "Explore lesser-known regions like Montecucco," he says. "Also, look for organic wines produced according to a sustainable approach; for instance, 80% of the bottles labeled Montecucco sangiovese are certified organic."
Lastly, Battista shares an important tip to help consumers determine the quality of the wine by reading the label. "To ensure you're buying wine genuinely produced by a winery and not just bottled by a third party, check for the label 'bottled at the source,' which indicates the wine is made from the winery's own grapes," he advises.
Checking the label on each bottle is a tactic echoed by Tacconi. "It is crucial to look at the appellation that helps you to understand the grape variety to determine its flavor and notes," he explains. "Looking at the region for both red and white will provide more details on the characteristics of the wine, making it easier to choose the best wine for your palate."
Tacconi's final tip is to have a plan before heading to the store to choose the most appropriate wine, particularly when you're purchasing for a dinner party. "It is important to take a look at what food pairs well with the wine being served," he says. "For example, Ruffino's Chianti Classico pairs beautifully with classic Italian dishes, like hearty pasta, steak, and meat."
Fill your cellar with these expert-approved Italian wines that will have you saying "grazie" with every sumptuous sip.