Meeka Hossain Nailed The French Home Vibe
The key pieces that helped her get the look in her LA apartment.
Meeka Hossain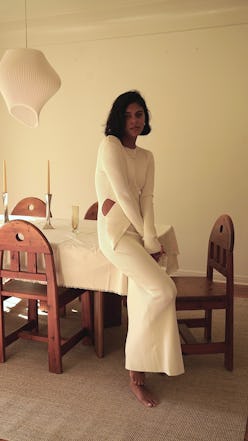 We may receive a portion of sales if you purchase a product through a link in this article.
These days, the living space is yet another extension of one's personal style. TZR's series Home In 5 digs into the key elements, items, and inspiration behind the chic homes of top influencers. Here, we sit down with content creator and marketing consultant Meeka Hossain and chat about her minimalistic and vintage-inspired Los Angeles home.
Achieving a Parisian decor aesthetic in a Los Angeles apartment is no easy feat. There are rarely floor-to-ceiling windows, no view of the Eiffel Tower, and while the rooms are certainly more spacious than those in, say, an NYC high rise, they're not exactly the airy, natural-light kissing spaces found in Paris. But when content creator Meeka Hossain discovered the perfect French chateau-style apartment in LA's bustling mid-city corridor, she was up for the ultimate interior challenge.
"I really wanted to pay attention to that [French] style and make it my own," she tells TZR. "So, I mixed in elements of modern while still [staying true to the] French deco, 1940s apartment. The first thing I have is a fireplace in the living room, and I kept the sconces like 1940s-style. I sourced them on Etsy to make it look like that old Parisian style. But then, I mixed in modern art next to it and different candlesticks, sculptures, and vases to give it a more updated feel."
The creative's own style is ultra minimal. A scroll through her Instagram feed and you'll find endless inspo for sleek, neutral ensembles with sultry cut-out details and slinky, sheer fabrics. So, her modern vintage home, which Hossain describes as "open Parisian flat, mixed in with pops of color and a lot of sculptural furniture pieces" reads like a natural extension of the marketing consultant herself.
Ahead, Hossain gives TZR a rundown of the spaces and items that tie her LA home together and make it a living, breathing conversation piece as well as a serene sanctuary for all who enter.
What is your favorite lounge spot in your home?
I have two go-to lounge spots. One is my living room couch. I have a cream Maralunga vintage couch that I sourced. It's so comfortable and it's just the perfect workspace, because it gets a lot of light. I usually have music playing in the background, and it's just the right vibe. The other lounge area that I love is in my bedroom. I was going to the Santa Monica flea market, and I saw this guy closing up shop for the day. He was selling these two giant bean bags for $50, and I was like, 'This can't be real.' I bought them, didn't have room for both, so I just kept one. And then, for my bedroom corner, I went to the Kelly Wearstler sale, and I got one of her side tables, and I made it a cute moody corner.
What is your most recent home purchase?
My most recent home purchase was my bed frame. It is from Sun at Six, and it's one of those low-to-the-floor, wood, Japanese, minimal bed frames. I just love being so close to the floor. I feel like it actually helps my sleep, and it goes with the black walls. I have a Herman Miller pendant lamp. It just feels very zen in my bedroom. When you light a candle and you're low to the ground sleeping, it's just such a vibe in here.
What is your favorite home purchase?
I bought this pendant light from Etsy from this vintage seller in Germany, and I actually flipped it sideways to make it a sconce. It [is designed to] be hung up, but I pushed it to the side and mounted it. It's like this sculptural light. As soon as you walk through my door, it's the first thing people see and everyone has a different interpretation of it, which I really like. Some people say it looks like a brain, some people say it looks like a donut. It's just weird. I have these lights that make your head think of different things.
What item do you use the most in your home?
Every morning, I have this morning routine in my kitchen. I have a nook section [that includes a] Lulu and Georgia bistro table. My kitchen has those black and white tiles and it's very 1940s in there. And so, I wanted to keep with that Parisian style. I got a cute marble bistro table, and it's just my corner where I have my tea in the morning, and I start my day. It gets nice morning light in there, so it's just a nice little routine I've created.
What's the biggest conversation starter in your home?
That'll be by my console table. I got it from Pop Up Home. And then, I have this vintage mirror that I got on a trip to Paris. Everything in my apartment is vintage. I have a couple Lulu and Georgia pieces because they're amazing, but everything else is vintage.