Here's Where Design Experts *Actually* Shop For Vintage Decor In Palm Springs
Their go-to desert destinations.
@shopmarketmarket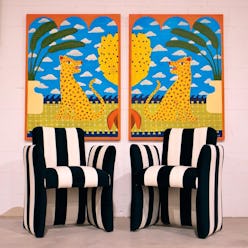 Given that Palm Springs, California, feels like a step back in time itself, it's not exactly shocking that it's jam-packed with vintage stores. Especially since the desert town is basically a design mecca — it's awash with midcentury modern architecture, hosts an annual celebration by Modernism Week celebrating just that, and lays claim to the Uptown Design District, a 2-mile string of shops with a large focus on midcentury modern art and style. So the fact that there's ample choice when it comes to shopping for treasures of the past makes perfect sense. That said, this is a resort city and popular place to vacation, meaning, for many, time there is limited. If you're determined to find a one-of-a-kind piece on your next trip, you may want to whittle down your list of vintage stores to the absolute best in Palm Springs to ensure you don't waste a second of your getaway.
Of course, if you've never been to the area (or just never shopped there), it's possible you're still wondering if it's even worth venturing out to explore. According to insiders and design experts, the answer is: most definitely. "I feel that Palm Springs is the place that has the most unique, uncommon selections and pieces due to the passionate and artistic furniture, decor, and art curators in the community," says Michelle Boudreau of Michelle Boudreau Design, a design firm based in Palm Springs. "I often find objects and furnishings from all over the world brought here."
Kelly Golightly blogger Kelly Lee, a style expert, lifestyle influencer, and, as she notes, "unofficial Palm Springs ambassador," concurs, offering additional background to reasons behind the area's unparalleled selection. "Palm Springs has been home to so many chic inhabitants over the decades, from Old Hollywood stars who used to escape to the desert to socialites with covetable closets and stunning homes. Now, so many of those items are available and attainable," she explains.
For Alex Alonso of Miami-based Mr. Alex Tate Design, the city's worthiness as a vintage destination isn't just about the breadth or uniqueness — he actually calls shopping in Palm Springs an "educational" experience. "[Here], antique dealers care about their items and take time to find out about the provenance of the pieces as much as they can," he tells TZR. Plus, he continues, "Vendors are knowledgable and so very nice. They actually like meeting people who appreciate the same things they do."
To put it simply, if you like midcentury pieces, Alonso calls the town a "must-visit" destination. That said, the pros do share some shopping advice to help you make the most of your time, especially given that there's just so much to see. First thing to do, according to Alonso? Do your research. "Before you get there, start looking up stores and where they are in relation to each other," he suggests. "For some, you might want to reach out prior to going to the store and ask about what they specialize in — it might be furniture, lighting, textiles, etc." This will help you map out a schedule so that you can maximize your visit (i.e. still have ample time for cocktails and sunbathing).
As part of that research, Lee recommends checking all store hours beforehand. "Palm Springs is kind of like being on island time, which is part of its charm," she explains. Thus, "many shops are closed on several weekdays (typically Tuesday and Wednesday) or only open during select hours, so be sure you go when these gems are actually open."
Naturally, your plan requires you to find some actual shops first — suggestions for which Lee, Alonso, and Boudreau also provide in spades. Here, all their personally vetted, must-see spots for the ultimate Palm Springs vintage-shopping trip, and even more of their tips for getting the most out of your visit.
Antique Galleries Of Palm Springs
Where It's Located: 505 E Industrial Place, Palm Springs, California 92264
Why Visit: Alonso explains that he often finds himself back and forth between coasts; thus, he's looking for things he can easily transport. Antique Galleries of Palm Springs, which boasts a 12,000-square-foot building featuring vintage of all kinds, is a favorite for this reason: "[It's] a go-to for bric-a-brac and all things portable," he tells TZR. That explains his advice for new shoppers to the gallery (which is especially applicable if you, too, are just here for a visit): "Go for smaller, accessory pieces that can complete a look with that added design layer," he recommends. And, he continues, make sure you dedicate a good part of your day to dig. "It's an antiques mall, so take your time — there's always a lot to see."
Spaces
Where It's Located: 68929 Perez Road, Suite K, Cathedral City, California 92234
Why Visit: Consider this your lucky day, because Lee is gatekeeping her go-to vintage store no longer. "I've never shared this spot publicly," she says of Spaces, a vintage midcentury furnishings and decor store in the Perez Art & Design shops and galleries in Cathedral City. In fact, she notes that it's her "very favorite" of all her recommendations in the Palm Springs area. "I've acquired so many of my favorite pieces here over the years — particularly my lamps and bar carts!" Lee continues. "It's a treasure trove of midcentury and Hollywood Regency gems. From furniture to home decor accessories to glassware and ice buckets, there's a little bit of everything."
Hedge
Where It's Located: 68929 Perez Road, Suite F, Cathedral City, California 92234
Why Visit: Also located in the Perez Art & Design shops, Hedge calls itself a "store, a gallery, and an experience" with an "ever-changing collection of vintage, modern furnishings, and decorative arts." That may sound like a lot to weed through, but according to Alonso, that won't be a tedious task. "I love everything here," he tells TZR, noting that the shop carries a "really nice collection of quality pieces." In particular, he continues, the furniture, lighting, decor, and sculptures "are always great!"
Sunny Dunes Antique Mall
Where It's Located: 507 E Sunny Dunes Road, Palm Springs, California 92264
Why Visit: If you're interested in a big day of digging, Sunny Dunes Antique Mall may be one of your best bets. According to Boudreau, it's "a massive mall absolutely sprawling with antique dealers selling vintage furniture, jewelry, and collectibles." With that in mind, though, she also shares some advice: "This is a place you have to really get into and focus on what you are looking for, as it's completely packed from floor to ceiling with objects and can be a bit overwhelming." Fortunately, the designer shares her recommendations on the mall's best offerings to help you do just that: "This is my go-to for finding interesting barware and serveware and decorative vintage decor," she reveals.
Market Market
Where It's Located: 1555 S Palm Canyon Drive, Palm Springs, California 92264
Why Visit: According to Lee, Market Market is the place to go "if hipster and high desert is more your vibe." And based on Boudreau's description, that seems to be the general consensus on the street. "[It's] an amazing gallery-like space artistically curated with different fine vintage and repurposed goods, including apparel, accessories, housewares, furniture, art, and design," says Boudreau. There are many different vendors to peruse in this 40,000-square-foot emporium — which Lee says even includes fashion designer Trina Turk, who "has a section here called Via Lola Vintage of her own vintage finds."
Pink Cactus
Where It's Located: 401 E Sunny Dunes Road, Palm Springs, California 92264
Why Visit: There are clearly many opportunities to dig for hours through the troves of vintage in Palm Springs. But if you're on the hunt for something more edited, Lee suggests looking to Pink Cactus. Her own description is definitely enticing: "It is the best curated shop I've ever seen, with art, decorative accessories, gifts, jewelry, and fashion," she shares. According to Lee, that's all thanks to the store's owner, Julie Exley. "An interior designer and bon vivant, [she] has an exquisite eye, bringing back gems from her travels across the country and from France and beyond," she continues.
Palm Springs Vintage Market
Where It's Located: 2300 E Baristo Road, Palm Springs, California 92262
Why Visit: Palm Springs Vintage Market is an outdoor market that takes place on the first Sunday of the month from October through May and features antiques from many eras as well as upcycled and reclaimed items. Boudreau calls it "fabulous," explaining that it's a great spot to visit for both flea market finds and high-design eclectic pieces from a large selection of collectors and dealers. "I adore spending the entire morning strolling through all of the different curations for inspiration," she tells TZR. Her favorite pieces to scour for here? "I enjoy searching for brilliant barware and adding to my collection of vintage glasses and decor."