These Hygge Hotels Are Perfect For A Relaxing, Mental Health Escape
Say it with us, "comfortable conviviality."
@lesfermesdemarie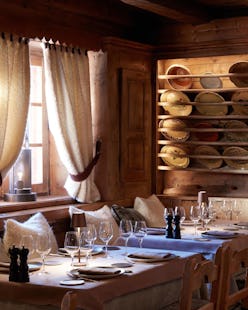 Hygge (pronounced HOO-gah) is a Danish word — turned lifestyle concept and worldwide obsession — used to describe a feeling of coziness and comfort. It's basically the best possible mix of snuggly and stylish. Imagine curling up on the couch with a cup of cocoa as the warmth and scent of the cracking fire fills the room. Outside, fresh flakes gently fall and begin to cover the ground — because, yes, it's still cold. Oh yeah, and you're wearing the softest cashmere sweatsuit ever. That's the idea. When it comes to hygge hotels, that translates to places people actually want to hunker down and spend time enjoying simple pleasures. "It's not only about the interior, but also the people and the atmosphere that create the personal traits and the element of hygge," explains Peter Høgh Pedersen, managing director at Villa Copenhagen.
The whole vibe is just so perfectly suited for this time of year. If you're in the mood for a final pre-spring escape, that puts an emphasis on all things cozy, these hygge hotels around the globe guarantee a wonderfully warm and relaxing getaway. Oh, and just because they're best suited for chillier temps, doesn't mean you can't enjoy them in the warmer months as well. Comfort should be enjoyed all year round, right?
Proof that you don't need to escape to the countryside for a cozy, impeccably curated stay with tons of personal touches, Ett Hem calls Stockholm home. This 22-key luxury townhouse hotel in the Östermalm neighborhood is a masterclass in aspirational Scandinavian design. The cast-iron stoves in the deluxe rooms and suites, the impossibly stylish lounge that's heated by an open hearth, and hearty breakfast served in the leafy glasshouse number among the many hygge highlights.
The perfect hilltop hideaway does exist — and it's called the Storfjord Hotel. Hugged by forests and fjords in alpine Norway, this timbered retreat trades the hustle and bustle of daily life for a major dose of halcyon. (Think: fireside chats while wrapped in faux fur throws.) Equal parts pretty and peaceful, it exudes a sort of laid-back luxury that invites guests to switch devices to airplane mode and only hang on to them to snap the occasional photo as a reminder of this fairytale place.
Conscious luxury is a signature of Villa Copenhagen, a hygge haven in the capital of the country where it all started. The convivial yet relaxed environment means guests feel just as comfortable chatting up a fellow traveler at the bar as sinking into a red velvet couch for a solo moment to think. The rooftop pool and sauna combo provide a dreamy setting for self-care. Housemade cinnamon buns and famous hot chocolate with whipped cream sweeten the deal.
Surrounded by the breathtaking — often snow-dusted — beauty of the Adirondacks, Eastwind Lake Placid brings heaps of hygge to Upstate New York. The snuggliest place to snooze? The Scandi-inspired, wood-clad lushna cabins. Although, the king suites do display old-school fireplaces. The setting overlooking the Chubb River calls for slow mornings. So, pour a cup of coffee or tea and breath in the fresh air on your private deck. There's also a library with vintage books and firepits for s'mores-filled nights.
A serene onsen ryokan that's perched along the shore of Lake Poroto in Hokkaido, Hoshino Resorts' KAI Poroto reflects a Japanese interpretation of the Danish concept. It's a place where agendas don't exist. The only thing on your to-do list? Soak away stress in the cone-shaped bathhouses and the outdoor hot springs. Each of the 42 rooms features tranquil lake vistas and cushions decorated with indigenous Ainu patterns. Spaces also have plenty of hygge elements such as cozy window seats from which to watch the gentle ripple of the water.
A-Frame Club looks like it would feel right at home in some far-flung arctic destination in the 1960s. That's because this hip new hotel immersed in nature at the foot of Winter Park mountain draws its inspiration from Nordic ski getaways of the past. The subtle influence of Japanese onsen culture is also very much in the mix. All 31 A-frame cabins are decked out with birchwood, comfy mid-century beds, and soaking tubs. Custom Malm fireplaces and snowy vistas up the cozy quotient.
Arctic TreeHouse Hotel injects modern Scandinavian design and a sense of Nordic luxury into the Finish Lapland lodging scene. Its namesake cabins are works of modular architectural art with immense windows that glance out over the rugged wilderness and up toward the sky. Interiors feature hygge trademarks such as feathery beds — which just so happen to be positioned to take advantage of the stargazing and northern lights peeping opportunities — light wood, and furry butterfly chairs.
Severins — The Alpine Retreat is an intimate ski chalet in the exclusive resort village of Lech. Despite its Austrian address, the aesthetic reads quite Scandanian with sleek, nature-oriented design as well as an undercurrent of relaxation. Suites with velvet sofas, cloud beds, stone baths, and floor-to-ceiling windows that gaze upon the famous slopes reach sanctuary status. Self-care takes many forms, from sweaty sessions in the infrared sauna cabin to sommelier-led wine tastings.
Hygge vibes and slopeside holidays are a match made in heaven. Maribel, a member of Small Luxury Hotels, is a high-altitude charmer in Sierra Nevada that oozes contemporary sophistication while providing access to both downhill action and indoor coziness. Suites flaunt ample creature comforts and views of the well-groomed runs. The bathrooms even have heated floors for toasty toes. There's also a Nordic spa with an outdoor heated pool to put your mind and body at ease.
Situated in the ski village of Megève in the French Alps, Les Fermes de Marie embraces the hygge mindset. The hotel, which resembles a private chalet, is spread across alpine farmhouses. The aesthetic leans more into rustic chic than sleek Scandi, though it does show off many elegant, contemporary touches. After (sometimes, instead of) hitting the slopes, guests like to slump into comfy chairs by the fire, unwind at the luxurious spa, or just kick back in the nest-like rooms.