Need A City Escape? These Hotels Provide The Serenity You've Been Looking For
You don't always need to go far to get away.
@calamigosguestranch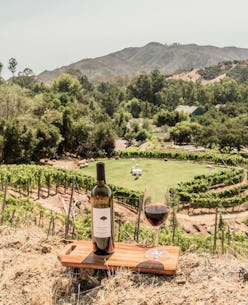 Sometimes, amidst the hustle and bustle of life, one forgets to take a moment to themselves. But enjoying time with nature, immersing yourself in a luxe spa, and heading to a little staycation hotel within or right outside your city can have a huge impact on your well-being, which is precisely where city escapes come into play. Stepping away from your computer and everyday stressors is important for your mental health. And honestly, your escape doesn't have to be far. It can even be staying at a nice hotel in your city for a night filled with room service and lounging around in hotel robes.
Not sure where to go? Luckily, there is a whole slew of staycation hotels to haul yourself off to. Whether you're looking to stay in a design-centered boutique establishment to check out one of the world's best bookstores in Portland or simply spend a few days basking in the sun on a private resort close to Miami, the hotels ahead will provide you with the serenity you've been looking for. So if you're in need of some ideas for your next city escape, TZR compiled a list of some travel expert-recommended havens. Keep reading for nine of the approved spots to provide you with a few days of zen.
Miraval Berkshires Resort: Lenox, Massachusetts
If you're looking for a place to catch some real R+R, Miraval Berkshires is just for you. The property, which is centrally located between New York City and Boston, offers health-centric dining options, an award-winning spa, and anything you can think of that falls under the umbrella of wellness, including rescued horses for equine therapy and beekeeping classes to connect with nature.
Calamigos Guest Ranch & Beach Club: Malibu, California
Tucked away in the Malibu mountains, the historic Calamigos Guest Ranch truly feels a million miles away from the hectic streets of Los Angeles (despite being only about 45 minutes or so outside the city). The luxury resort encompasses a 250-acre ranch in the heart of the area's wine region, an oceanfront beach club exclusively for guests, a spa, and the coziest accommodations that include private cottages, bungalows, and estate rooms. Spend your days wine tasting, pool- or beach-dwelling, and dining at the iconic Malibu Café and watch your cares and worries slowly melt away.
Hotel Grand Stark: Portland, Oregon
Brandon Berkson, founder of Hotels Above Par, a digital website aimed at sharing the best boutique hotels around the world, dubs Portland, Oregon, as one of his favorite city escapes and Hotel Grand Stark is a top pick of his. "Regarding boutique hotels that are design-centric in the city, Hotel Grand Stark Ranks high — the lobby's vintage furnishing, marble accents, and pops of hunter green thoughtfully pay homage to the Pacific Northwest." Berkson recommends checking out the medley of different walkable neighborhoods, including the Pearl District that hosts one of the world's best bookstores, and eating your way through its incredible food truck scene.
The Boca Raton: Boca, Florida
For those looking to escape Miami, The Boca Raton is just a quick 45-minute drive from the city. The property spans 37 acres, featuring everything from a 50,000 square foot spa to a private beach, and feels like its own personal island — even though it's so close to the city. The second you check in, whether it's to the private bungalows or the newly renovated rooms at The Tower, you won't have to lift a finger, which is what truly makes this resort magical.
Ghost Light Inn: New Hope, Pennsylvania
Sometimes, the secret to a restorative getaway is simply beautiful views and delicious food. Brian Kelly, the founder of The Points Guy, a digital publication aimed at helping readers maximize their travel experiences, recommends heading to the Ghost Light Inn. "It's in the center of New Hope, next to Bucks County Playhouse, and has one of the best restaurants in the area, Stella." The best part? It's right on the Delaware River, so you'll get unparalleled views from your room.
Castle Hot Springs: Morristown, Arizona
Take some time to recharge your social battery at Castle Hot Springs. Located just 50 miles outside of Phoenix, Arizona, the 1,100-acre hideaway is a 30-room desert oasis centered around natural geothermal hot springs. On-site, you'll find guided horseback rides, hiking trails, and an extensive wellness menu with treatment therapies and body rituals based on maximizing the benefits of the hot springs. In addition, all the dining at the property is farm-to-table, which only adds to the true wellness experience that you'll have there.
El Encanto, A Belmond Hotel: Santa Barbara, California
Perched on top of the Santa Barbara hills, El Encanto, A Belmond Hotel, offers yet another perfect getaway from Los Angeles (about two hours out of the city). With 7 acres of private gardens, the resort is the ideal spot to lounge poolside, stroll through nature, or enjoy a glass of local wine while taking in the breathtaking views around you. Spend some time perusing the lush grounds, arrange for the hotel to take you on a tour of some local wineries, or do a beachside sound bath meditation to maximize the experience.
White Porch Inn: Provincetown, Massachusetts
For a family-oriented getaway, head to Provincetown, Massachusetts. Kelly dubs it as one of his favorite escapes, and considers it to be one of the most charming towns in America. "It's a great place to get your dose of Americana and cuteness, and White Porch Inn is within walking distance of everything." During your visit, you can spend some time relaxing on the porch, take a boat tour of Cape Cod, or lounge around on one of the nearby beaches during the warmer months.
Thompson Denver: Denver, Colorado
Whether you're into resetting with a hike through the mountains or relaxing your mind with a tour of incredible street art, you'll want to head to Denver, Colorado. "It's one of the USA's most underrated cities," explains Berkson. Specifically, he advises heading to The Beer Spa, a one-of-a-kind pampering experience that offers treatments using different healthy ingredients found in beer. And, while you're there, Berkson recommends staying at The Thompson Denver. "It's my favorite boutique hotel in the city, especially with its sixth-floor cocktail bar Reynard Social — in addition to creative cocktails, the bar has sweeping views of the city from its floor-to-ceiling windows."
Nemacolin: Farmington, Pennsylvania
Slip away from New York City or Pittsburgh with a jaunt to Nemacolin. The 2,200-acre property houses an outdoor sculpture garden, pools, and a holistic healing center that does treatments like saltwater float therapy and acupuncture, along with traditional facials and massages. Head up for a weekend away with your friends or take advantage of one of the property's different retreats, which range from yoga to healing arts.