Level Up Your Summer Drinks With These Cocktail Syrups
@liberandco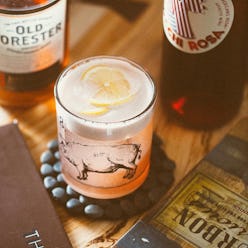 We may receive a portion of sales if you purchase a product through a link in this article.
In the world of craft cocktails, innovative flavors and creativity reign supreme. Which is why cocktail syrups are so crucial to taking drinks from "good" to "wow." These vibrant add-ins truly elevate the sipping experience to new heights. In fact, in 2022 the global cocktail syrup market size reached 5.19 billion USD and it's expected to hit 7.39 billion USD by 2032.
Robert Higginbotham, co-founder of cocktail syrups company Liber & Co.,shares his theory on this surge in popularity. "I think as millennials start to gain disposable income as they age, they have shown that they want to spend their money on experiences like travel, eating great food, and drinking great drinks," he says. "Many folks aren't intimidated by making restaurant-quality meals in their own kitchen. That goes for experiences at the bar, too."
MariElena Raya, who owns cocktail syrup brand Tippleman's with her husband Joe, believes the boom in the category can be attributed to the syrups' easy ability to enhance a cocktail and make it complex without any fuss. "Syrups are a great way to impart interesting flavors in a cocktail that can pair well with specific spirits while balancing the composition by adding sweetness," she says. "Why add just sugar (simple syrup) when you can impart more flavor through the manipulation of ingredients that go into making that syrup?" she points out. "A well-rounded cocktail has a balance of sweetness, acidity, and bitterness."
With all of the fanfare over cocktail syrups, it's worth learning more about this crucial ingredient. The process begins with simmering a liquid base, like water or fruit juice, with sugar and creating a standard simple syrup. Next, imagination comes into play in the form of fruits, herbs, spices, botanicals and more.
For those unfamiliar with craft cocktail, the only syrups that may be familiar are likely the classics, like simple syrup, ginger syrup, and grenadine. Higginbotham says that the more "exotic" supplements have "gained popularity over time" but the brand doesn't "chase trends" when it comes to flavor pairings. Instead, the label prefers combinations that will stand the test of time. "Our Chai Spiced Tea Syrup and our Caramelized Fig Syrup are both flavors that are super versatile and tasty in a wide variety of cocktails and may not be flavors that bartenders have had access to before without putting in a lot of effort and time in order to produce," says, offering an example.
Cocktail Syrups Rules Of Thumb
When it comes to using cocktail syrups to become a maestro of mixology, there are a few simple guidelines to follow that help ensure every drop elevates your libation. First and foremost, Higginbotham recommends looking for a bottle where the ingredient list is straightforward and easy to read. "If you see a long list of ingredients you don't recognize, ask yourself if these are ingredients the bartender at your favorite cocktail bar has on hand to make their syrups with," he says. "If the answer is no you could probably find a better syrup. Also, ingredient lists should be listed in order of the most abundant to the most scarce. That's always a good clue as well."
Raya advises avoiding some key ingredients. "I would never buy a syrup that has corn syrup in it or food coloring. It's bad for your body and your taste buds," she says. The expert also suggests that when you're shelling out hard-earned money on cocktail syrup, it should be on the more interesting or unique side. "Make sure that it has something in it that you wouldn't just easily make at home," she says.
When it comes to pairing your syrup with a cocktail or creating your new unique drink, she has a preferred jumping-off point. "I like to start with the syrup, and pair the syrup to a spirit," she says. "Lighter syrups like our Tippleman's Ginger Honey pairs well with vodka for a riff on a mule. Our Tippleman's Smoked Maple is strong and robust and pairs really nicely with aged spirits like Bourbon."
Raya wants to mollify any newcomers' fears and encourage risk-taking when embarking on cocktail syrup experimentation. "I don't think there is any wrong or right formula for creating a cocktail," she insists. "The syrup should merely enhance the spirit, not outshine it. Most likely, you've spent the most money on the bottle of liquor versus the other ingredients in the cocktail, so make sure your cocktail is allowing the nuances of the main spirit to come through."
For those who prefer to experiment using classic cocktails, Raya provides a few tips for making your experimentation foolproof. "A simple way to start is to take classic cocktails and make ingredient swaps to create really unique variations," she explains. "A standard shaken cocktail ratio is 2:1:¾. By that, I mean 2 ounces of spirit, 1 ounce of simple syrup, and ¾ ounce of freshly squeezed citrus juice (typically lemon or lime). Add lots of ice, shake, and strain. You can play around with different ingredients in this ratio and come out with hundreds of different cocktails. It's sort of like a 'choose your own adventure' cocktail recipe."
Raise your glass and cheers to a world of flavor possibilities with our expert-created cocktail syrup picks ahead.