Brandy Is So Much More Than An Evening Liquor
It's perfect for all-day entertaining.
Getty Images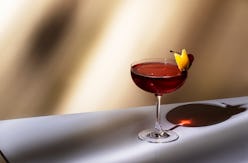 Most people's introduction to brandy was likely overhearing an elder's request for "a touch" of it after a meal. While brandy does make an excellent nightcap, it's so much more. The rich spirit is expected to grow annually by 6.8% through 2027, which means it's basically blowing up. Though it's been around for centuries, there's still some confusion about what the versatile liquor actually is. The name "brandy" comes from the Dutch word brandewijn, which means "burned wine." So, the brown spirit is essentially produced from distilling wine, traditionally sourced from grapes but also can be made with other fermented fruits like apricots, cherries, peaches, and apples, among others.
Brandy encompasses all distilled wine but has popular regional varietals like cognac, which is a version of the spirit that must be made in the Cognac region of France (like the distinction between sparkling wine and Champagne). Its other varietals like grappa, pisco, and armagnac follow the same regional convention.
The process of brandy production can vary greatly between brands, as evidenced from producers like the California-based E & J Gallo Winery. The label's brandy brands Germain-Robin and Argonaut are made exclusively from locally grown grapes and are each crafted a bit differently. "The core of our California brandy products starts with and centers around the use of the finest, premium California grapes such as pinot noir, riesling, viognier, sémillon, colombard, and more," says David Warter, vice president of winemaking and distillation at E & J Gallo. "From there, we typically move into the distilling and fermentation process. For Argonaut, we distill in both Alembic and Coffey stills, and with Germain-Robin, we distill exclusively in Prulho Alembic stills."
Rita Hansen, head distiller at E & J Gallo, adds to this, sharing how these stills play an integral role in providing the specific flavor profiles for the liquid. "As you can imagine, this is a very important step in our tedious process," she explains. "From there, the liquid is moved to the barrel, where it rests to achieve its final character and color before a master blender chooses the final batch from more than 100 lots."
But, you may ask, how does production differ when creating flavored brandy from another fruit? Natalie Filice, senior brand manager of spirits at Riboli Family Wines, is happy to expound on the process. The brand recently released its first spirit portfolio: Stella Rosa Premium Imported Brandies. Filice explains that fruit-forward brandies can be achieved by using diverse techniques in the fermentation, distillation, and aging processes.
"After raw fruit materials are fermented, the distillation process is closely monitored to amplify or enhance the natural fruit sugars and flavors," she says. "The unique fruit-forward flavors and aromas of our brandies are made using a proprietary technique mastered by the Riboli family, gained with generations of experience in winemaking. Real, fresh fruit is vaporized and integrated into the distilling process. Alcohol is very solvent, so the essences from the fruit absorb and hold the natural aromas very well, similar to how a tea bag steeps in water." The use of fresh fruit and lack of artificial flavoring in their brandies helps to achieve "a premium spirit with a smooth finish." She adds, "With real fruit flavors, the result is an enhanced [liquor] that can be enjoyed neat or in a mixed cocktail."
Brandy Rules Of Thumb
So, what should at-home drinkers and amateur mixologists know about purchasing the right brandy for cocktails? Filice encourages consumers to take the leap of faith but try something safe. "Being new to brown spirits can be intimidating, especially as you walk up to the shelf and see a variety of different brandies from around the world with different classifications," she says. Despite her "obvious bias," she continues: "Fruit-forward brandies are great for someone new to brown spirits because they can start by mixing the spirit into a cocktail. Often time, fruit-forward brandies will include the primary fruit in the name on the label, for instance, our peach-forward brandy is called 'Stella Rosa Honey Peach Brandy.'"
Warter has a different suggestion for those new to brandy. He recommends that consumers use their palate and the similarities and connections between wine and brandy as a base or "jumping off point" for exploring the brown liquor. "For example, if you're typically drawn to the plush mouthfeel of pinot noir, our Germain Robin XO Brandy is crafted with 70% pinot noir grapes," he says. "Our flagship product, Germain-Robin Brandy, is a blend of expressive, aromatic grapes like viognier, gewurztraminer, and riesling blended with the traditional cognac varieties of French colombard and semillon to craft a distinctly fruit-forward product."
When it comes to actually making a brandy cocktail, Filice emphasizes keeping it simple. "When pairing flavors to brandies, we recommend sticking to the traditional cocktail formula: your spirit base, a bitter, and sugar. Stick to natural fruit juices; something to add carbonation like flavored sparkling water or soda; of course, a bitter; and finally, a fresh garnish."
Hansen echoes the same sentiment. "For newcomers as well as those who have an experience with cocktail crafting, we always say that simple is the best way to go when beginning to experiment with brandy in your drink. Playing around with bitters, fruits, and fun garnishes like the Argonaut cherries we sell at our California Brandy House is a great place to start as they all bring out natural flavors that already lie within the liquid." Hansen encourages people to let their imaginations run wild. "There is no limit to what, and how you can experiment with brandy," she says.
Ahead, some new twists on classic cocktails picked by our experts will make the at-home-drinker more familiar with brandy.
California Old-Fashioned
Hansen didn't hesitate with her go-to brandy-infused cocktail. "With our cocktail brandy Argonaut, we always recommend using Argonaut Speculator to mix up what we call a California Old Fashioned."
Ingredients
2 ounces Argonaut Speculator Brandy
0.25 ounce simple syrup
2-3 dashes of aromatic bitters
Garnish: Expressed orange peel with a brandied cherry
Instructions
Add ingredients into a mixing glass filled with ice and stir together to combine and chill. Strain into a double old-fashioned rocks glass filled with rock ice. Express the oils of an orange peel over the glass, rubbing the peel around the rim. Add the peel into the cocktail along with a brandied cherry.
Put The Petal To The Metal
Filice encourages at-home mixologists to give this cocktail a try. "Our Petal to the Metal is perfect for anyone to make at home because it requires few ingredients to make and amplifies the natural peach flavor profile of the Stella Rosa Honey Peach Brandy."
Ingredients
Instructions
Build in a rocks glass. Add ice and stir. Garnish with a lemon twist.
The Smooth Talker Sidecar
"The sidecar is fantastic because the ingredients can be modified to enhance any fruit flavor that your brandy naturally exhibits in the flavor profile," Filice explains.
Ingredients
Instructions
Combine all ingredients in a cocktail shaker. Add ice, shake, and strain into a glass. Garnish with an orange twist and cherry.
Gold Rush
This refreshing cocktail is another favorite of the E & J Gallo Winery family.
Ingredients
2 ounces Argonaut Saloon Strength Brandy
0.75 ounce fresh lemon juice
0.75 ounces honey simple syrup
Garnish: Expressed lemon peel with a brandied cherry
Instructions
Add all ingredients into a cocktail shaker filled with ice and shake together to combine and chill. Double strain into an ice-filled rocks glass. Garnish with an expressed lemon peel and brandied cherry.