This 2023 Travel Trend Is All About Reliving The Past
Nostalgic stays to help you escape the present.
The Dive Motel / Instagram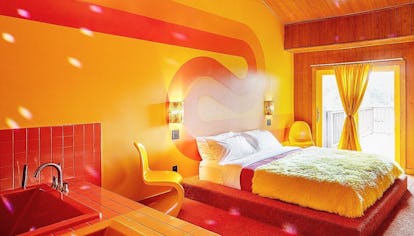 There's no question that travel is absolutely booming these days — all you have to do is watch the news for 10 minutes (and witness the overloaded airports around the world) to see just how true that is. After years of lockdowns and uncertainty, it's not surprising that that's the case. And what's even less surprising? That people are increasingly turning to nostalgia through "vintage vacations" for their escapes.
What does that mean, exactly? Research commissioned by Booking.com (with more than 24,000 travelers across 32 countries and territories), combined with insights from the platform, reveals the details behind this trend. According to the travel site's report, released Oct. 17, 2022, more and more people will be "glamorizing the good ol' days" this year. "Amid global instability and the desire for escapism, people intend to carve out travel experiences that harken back to simpler times, with nostalgic getaways (88%) that provide the thrill of reliving the glory days at the top of the wishlist in 2023." The brand expands further on this, explaining that many now desire to "disappear into the romanticism of a pre-digital era," with 23% of travelers chasing experiences that evoke (faux) emotive memories of days gone past.
Booking.com notes that these may include landmarks or attractions shown in iconic retro films, or destinations previously popular in the '80s and '90s. However, don't let those examples hinder your imagination: While mid-century-inspired hotels are undoubtedly fun, there are also endless opportunities to travel much further back in time to experience, say, 18th-century French court life.
Be it an old Irish estate or a retro motel, the trendiest stays of 2023 are all about escaping the present to transport yourself to the past. A few of the best places to do that, ahead.
The Establishment: Palm Springs
The Establishment, part of Foxden Hospitality, isn't just a three-bedroom rental home — it's a veritable time machine taking guests straight back to the late 1960s and all its colorful splendor. The spot was designed by Cary Bigman, built by Milton Seidner, and features interior decor by Vera Seidner, and is described as "meticulously preserved." Thus, you'll find original vintage furnishings and details such as a hot pink main suite, an emerald green carpet, and more of the decade's finest details.
Carton House: Kildare, Ireland
It's hard not to feel like you've walked into the past when you step onto Carton House's grounds, and that's undoubtedly intentional. The estate has a history that spans more than eight centuries, and, according to the property's site, Earl FitzGerald commissioned renowned architect Richard Castle to build Carton House itself in 1739. You're immersed in remnants of centuries gone everywhere here, from the Rose Garden that Lady Emily is said to have designed as a secret hideaway for her children to the jaw-dropping Gold Salon with its Baroque plasterwork. It helps that the staff talks about the past residents as if they're old friends — by the end of your stay, you'll feel as if you know them, too.
Airelles Château de Versailles Le Grand Contrôle: France
If immersion in the past is what you want, you'll hardly find a more appropriate destination than Le Grand Contrôle. The luxury hotel is located on the grounds of the Château de Versailles, but proximity to royalty isn't all you'll get here. First, the accommodations: There are 11 rooms and two Signature Suites, all decorated in traditional 18th-century style and fit to make you feel like a queen. Even the experiences will transport you; take a private tour of the Domaine de Trianon, or live as Marie-Antoinette for a day.
St. Pancras Renaissance Hotel London: England
St. Pancras Renaissance Hotel London first opened in 1873 as the Midland Grand Hotel, and was meant to accommodate travelers passing through the St. Pancras Rail Station. Designed by Sir George Gilbert Scott, it features High Victorian Gothic architecture and is known as one of the city's greatest landmarks. You'll definitely feel like a glamorous traveler of the past walking its halls, especially if you're on your way to stay in one of the 38 Victorian suites within its historic Chambers or heading to eat at Booking Office 1869, the station's original, 19th-century ticket hall.
Strater Hotel: Durango, Colorado
The Strater Hotel is a historic landmark in Durango, CO — and the property will not let you forget it. It's all about experiencing the Old West in this 1887-built hotel: The spot boasts handcrafted woodwork, period wallpaper, and "the largest collection of American Victorian walnut antiques," and there's even a Wild West-themed saloon you can visit. It's no wonder it's referred to as a "living museum."
Borgo Santo Pietro: Tuscany, Italy
According to its site, Borgo Santo Pietro in Tuscany is 800 years old; in fact, it once served as a "healing stopover for medieval pilgrims." Since then, the luxury farmhouse hotel has no doubt changed — yet it still feels very much tied to an earlier time, and it seems dedicated to carrying its heritage forward. The property is proud of its healing origins, so there's ample opportunity for guests to improve their wellbeing, just as the medieval pilgrims did before. Plus, just existing within the hotel feels transportive; the 13th-century villa is furnished with antiques, fireplaces, and frescoes, providing a modernized (and probably more luxurious) version of days past.
The Dive Motel: Nashville, Tennessee
Nashville's The Dive Motel is located on the Old Buffalo Trail and brings the best of vintage style to life. It features 23 wildly colorful rooms, such as the Honeymoon Suite with its shag carpet, sunken platform king bed, and disco balls, plus a swim club that looks straight out of a mid-century film. You even get a bit of real history here: The spot was once a dilapidated 1956 motor inn originally called The Key Motel, which the site says saw "Johnny Cash, Dolly Parton, and Hank Williams in its heyday."
The Beverly Hills Hotel: Los Angeles, California
The Beverly Hills Hotel is the epitome of a nostalgic stay — and a glamorous one at that. More than 100 years old, it's acted as the backdrop for many iconic movies and hosted droves of legendary stars — Marilyn Monroe and Elizabeth Taylor among them. While it's undergone refurbishments and restorations over the years, you can still spot its famous Martinique banana-leaf wallpaper and the signature pink exterior. And, of course, you can head to the Polo Lounge to dine like the stars of past and present.