Wine-Based Cocktails Are Trending For Summer 2023
Shutterstock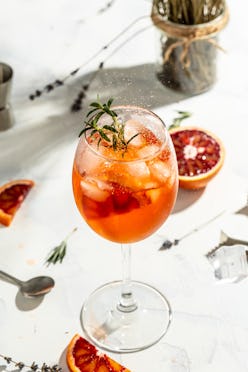 Who doesn't love indulging in a cocktail as a means to unwind at the end of a long day or as the accompaniment to a delicious meal? When most people think of mixed drinks, their mind automatically goes to spirit-based mixtures where vodka, tequila, and gin are the typical stars. But times they are a-changing, especially as the temperatures start heating up for spring and summer. Wine-based cocktails (where wine is either combined with a spirit or is the sole booze in the beverage) are emerging as the latest cocktail trend ... and for good reason.
Mariya Kovacheva, master sommelier and regional wine education manager Americas at Pernod Ricard, believes there are multiple factors contributing to wine cocktails' recent popularity surge. "There have been a lot of trends of self and well-being, sustainability, and consciousness," she explains to TZR. "And wine being much lower ABV [alcohol by volume] than other spirits I think plays a perfect role here. Also, many consumers look at wine as a quite sustainable and natural product."
Another theory about how wine-infused concoctions have become such an entertaining juggernaut comes from Fabio Raffaelli, master mixologist and North American brand ambassador for Martini & Rossi. "I think that the trend started with the spritz," he says, explaining that this type of drink is classified as a wine cocktail with some sort of sparkling, carbonated, or bubble element, be it a varietal of sparkling wine, sparkling water, or tonic. (It can also include liquor, but it's not necessary.) "The spritz is a cocktail that was created in the area of Veneto [Italy], and the capital is Venice, of course. So originally the spritz was a glass of white wine with just a few ice cubes with some sparkling water," he explains.
Raffaelli also credits the millennial-loved Aperol Spritz with making wine cocktails mainstream in the U.S. Before it became a craze, "Americans were not used to having something red, that is very appealing to the eye, and that is also sparkling, and one other point is it's low-ABV, so they launched the trend of the aperitivo culture using sparkling wine" he adds.
Whether sparkling or still-based, wine cocktails aren't a flash-in-the-pan trend. According to Raffaelli, this trend is still in the midst of its origin story and isn't going anywhere, with bar menus even featuring a spritz category now. "It hasn't even reached [its] alpha potential. It's going to explode," he shares. Kovacheva agrees and has an even grander prognostication. "I would love to see [the wine cocktail trend] continuing, and even wine driving ahead of spirits," she says with a laugh. "I think it's kind of ambitious."
Wine Cocktails: Rules Of Thumb
For those who want to experiment with making wine cocktails at home, the sheer number of options can be overwhelming. Before even going to the store, Raffaelli suggests figuring out if you want to make a cocktail with sparkling or still wine. If you decide on sparkling, he recommends going with something Italian, like Martini & Rossi Prosecco. "They are a little bit more crispy, a little bit more [acidic]," he explains. But different varietals of sparkling wine pair better with certain spirits because the grapes are completely different. He continues, "Champagne generally is a little bit more buttery. You have a more rich taste. So, it combines very well with dark liquor. So rum, cognac, Armagnac."
In cases like this Raffaelli explains that price does indeed matter with sparkling wines. "The only suggestion I can give to consumers is to find the quality," he offers. "So, if you find a bottle that is $5, it's probably not the best quality," he says. "It's not that the price always makes the difference, but $5, means that it's a very massive production. It's probably just a single fermentation. And it is getting difficult to find a product that is a very good quality. My recommendation is always to use a Cava and any Italian sparkling wine to experiment for the cocktail because you don't break your wallet and you always find the taste that everybody [likes]."
If you opt for a still wine for your cocktail, Kovacheva has some advice regarding the price point, too. She advises choosing an "entry-level to mid-market" wine (up to $10) when making a large, pre-batched cocktail for a party. And make sure you go more premium: "Brancott [Estate] can step in for driving a little bit of excitement and flavor-driven cocktails." If price is less of a concern and its versatility you're looking for, Kovacheva "likes wine with more intensity and flavor. Sauvignon Blanc is a great representative of that." She adds, "Many of the other ingredients that can be used in the cocktail can have that intensity, so we don't want to have that overpowering effect. We are looking for a little bit more balance. So, I usually love intensity and texture in wine. I [also] love acidity because it brings that freshness and crispness to the cocktail."
As far as rules for how to make a wine cocktail, Kovacheva tends to, "Stay away from rules." In fact, the pro says she sees cocktail making like cooking in that she likes to put "together flavors that make sense — they're exciting and there's also a balance." She encourages people to stay away from complexity and too many ingredients. "Focus on convenience, and also just like with cooking, have your ingredients ready, have your glassware prepared, and have fun with making and preparing [the drink]."
Ahead, our experts' favorite recipes for spectacular wine cocktails to sip and swirl at home.
Brancott Twist
Kovacheva loves this, "So very simple, very manageable, super delicious, and refreshing cocktail." It also fits into the wellness, sustainable, and conscious trend categories she mentioned before.
Ingredients
0.5 oz Monin Passionfruit Syrup (optional)
1 oz pineapple juice
1 slice jalapeño
0.5 oz half a lime, cut into wedges
Instructions
Add half a lime and a slice of jalapeño to the cocktail shaker and press with a muddler until the juice of the fruit has been released. Add Brancott Estate and pineapple juice to the cocktail, add ice to the cocktail shaker and top cocktail shaker with a large rocks glass, shake cocktail 3 to 4 times and pour drink back into a rocks glass. Top glass with ice if necessary.
Negroni Sbagliato
Raffaelli loves this low-ABV take on the classic negroni. "Instead of using one part of gin, one part of the Sweet Vermouth, or one part of Martini bitter, you just remove the gin and substitute that part with the Prosecco," he says.
Ingredients
1 oz. Martini & Rossi Riserva Speciale Rubino
1 oz. Martini & Rossi Riserva Speciale Bitter
1 oz. Martini & Rossi Prosecco
Instructions
Fill a rocks glass with ice. Combine all ingredients directly in the glass. Stir gently.
Brancott Bloom
This "very simple" cocktail uses a lower alcohol, lower calorie Sauvignon Blanc from Brancott Estate. Kovacheva shares it's that's about 9% alcohol and 20% fewer calories, so it's perfect for people who are trying to consume less of those things.
Ingredients
3 oz elderflower soda (or elderflower tonic)
0.5 oz squeezed lemon juice
Recommended garnish: flowers
Instructions
Top a highball glass with ice cubes and add all the ingredients. Garnish with flowers.
Campo Viejo Red Sangria
Classics are classics for a reason. This traditional Spanish wine cocktail pairs a dry red wine with fruity notes and packs the perfect punch for a crowd-pleasing Sangria.
Ingredients
5 parts Campo Viejo Tempranillo
1 part Martell VS
1⁄4 parts sugar
1⁄4 parts lemon juice
1⁄2 parts orange juice
1 orange, sliced into wheels
1 lemon, sliced into wheels
1 bunch of grapes, halved
1 apple, sliced
Instructions
Combine liquids in a large pitcher. Add sugar and stir until it dissolves. Add fruit. Let the mixture rest for 15 to 30 minutes. Add ice right before serving.
Fiero & Tonic
A simple spritz with refreshing flavor to pair with your meal or as a relaxing way to end the day.
Ingredients
2 oz. Martini & Rossi Fiero
2 oz. tonic
Lemon, grapefruit, or orange peel
Instructions
Pack a balloon glass with ice. Pour in an equal ratio of Martini & Rossi Fiero and tonic water. Stir gently for a few moments. Garnish with a lemon, grapefruit, or orange peel, and enjoy.