I Missed Brunch So Much I Recreated 4 Fancy (& Famous) Scrambled Egg Recipes
Shutterstock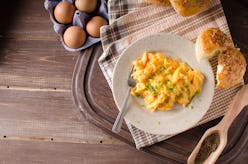 I know I'm probably not alone in saying that one of the things I've missed most during quarantine is brunch. Not just the idea of overpriced, fancy takes on staple breakfast foods, but the act of getting dressed up to go eat out at a restaurant that's even a tiny bit out of my price range. With that in mind, I've been doing my best to recreate some of my favorite decadent dishes at home — I think I've finally perfected my poached eggs and hollandaise sauce — and now, I'm on the hunt for the perfect scrambled egg recipe.
People who know me know that eggs are one of my favorite foods in the world: I love them cooked all kinds of ways, and will happily eat them at any time of day. Scrambled eggs have been a staple in my diet for as long as I can remember (they were one of my dad's favorite things to make for me when I was a kid), and over time, I have found different ways to dress them up to make them a little fancier.
While I'm social distancing and staying away from restaurants (and also attempting to save a bit of money), I decided to find four different scrambled egg recipes from acclaimed chefs and try them out for myself. Full disclosure, I think I'm a decent home cook (probably a 6 on a 1-to-10 scale), but these recipes are easy enough for anyone to try.
Below, check out each recipe I sampled and all of my thoughts on them. Bon appetit!
I know that I rated all of them, but really, I thoroughly enjoyed each of these recipes immensely. Since this trial, I've mixed and matched each of them to create my own combinations: I've added smoked salmon and dill to both Chef Georges' and Chef Akiyama's egg recipes, and I've tried Chef Akiyama's double boiler technique with Chef Ramsay's eggs.
Though Los Angeles is slowly starting to re-open restaurants for in-person dining, you might still be apprehensive about going out to eat, and that's totally okay. It might take some practice, but these recipes are wonderful alternatives to your weekly DIY brunches. Make some for all of your roomies, and enjoy the tastes of fancy restaurants from the comfort of your home — all while safely socially distancing.