Make This Simple Dinner Tonight Using A Few Ingredients You've Probably Already Got In Your Kitchen
Lisovskaya Natalia/Shutterstock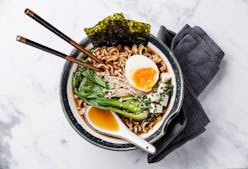 There's a reason that so many people find themselves clicking their Postmates app several times a week, and that's convenience. With busy schedules that include work, a social life, and keeping up with domestic duties at home, sometimes getting dinner delivered feels like the only option. While there's nothing really wrong with outsourcing on those days when you just can't, it's also nice to have a home-cooked meal. And if you think you're too exhausted or inexperienced in the kitchen to whip up a hearty, wholesome dish you can be proud of, think again. There's a slew of 5-ingredient dinners that even chefs turn to for days when both time and resources are scarce.
It's a common misconception that healthy and delicious meals need to be complicated, and that can be intimidating when you don't have a fridge stocked full of produce and other fancy ingredients or if your skills in the kitchen are moderate at best. Top chefs will tell you that often simplicity is the way to go, and you'll find them relying on some easy-to-prepare, minimal-ingredient meals quite often, given their long, late work days. That said, who better to turn to for learning some go-to recipes that will save you from ordering takeout again? From slow-cooker magic to breakfast-inspired dishes you'll want to eat at any hour, ahead are seven 5-ingredient (or less) dinner ideas that chefs suggest trying out next time you're craving a home-cooked — but totally simple — meal.
Spinach & Feta Frittata
Ria Dolly Barbosa, Executive Chef at LA's Paramount Coffee Project, turns to a traditional breakfast favorite for her minimal ingredient dish du jour. To create her spinach and feta frittata, all you need are eight eggs, one half-cup of milk, one pound cleaned spinach, three quarters of a cup of crumbled feta, and two tablespoons chopped fresh dill, plus a little salt and pepper to taste.
"Warm a 10-inch cast iron skillet over medium heat and wilt spinach with a tablespoon of olive oil," she explains. "Remove from the pan and squeeze excess moisture, then return pan back to the stove and preheat your oven to 350 degrees Fahrenheit. Add another few glugs of olive oil to the cast iron pan and return the spinach to the pan with the feta and chopped fresh dill. Pour the egg mixture over the filling and cook over medium heat until the outsides set. Place in the oven and cook until set, about 15-20 minutes." Cool and enjoy while still nice and warm, or nosh on the leftovers the next day, as Barbosa suggests the dish is just as delicious hot or cold.
Strawberry-Tomato Salad
When it's super hot out, the last thing you feel like doing is turning on your stove or oven. And for those days, Executive Chef Dan Black of Equinox Resort in Manchester, Vermont has a fresh, seasonal option that's totally tasty.
"A quick no-oven meal is a simple strawberry and tomato salad," he says. "Take strawberries, tomatoes, some rice wine vinegar, and basil and drop some burrata on right before you serve. Almost no real prep and it will hold for a few days easily."
Slow-Cooker Catalan Beef Stew
Beef stew is a classic, but Executive Chef Galen Duckles of barcito in Downtown Los Angeles offers a twist that will add some new dimension to this old favorite — plus you can throw it all into your slow cooker to make things super simple. "This dish adds castlevetrano olives (or any green olive), fennel, and orange zest to bring a bright and sunny finish to this hearty stew," he says. "Using the slow-cooker makes this dish a breeze and perfect for people without a lot of time that still want something amazing. In the morning, simply brown the beef and add it to the slow cooker with fingerling potatoes, diced fennel, and beef stock, set it to low and go to work. Before serving, garnish with olives and orange zest."
Aglio e Olio with Cherry Tomatoes
Aglio e olio — otherwise known as spaghetti with garlic and olive oil — is about as simple as they come, and this dish is a classic for good reason. "This is about as summer as you can get with a pasta dish," says Duckles. His twist involves roasting the garlic and cherry tomatoes. "I like to use a torch — fire is fun — but they can just as easily be roasted on a sheet tray with some good olive oil and sea salt," he adds. "As with any great Italian dish the end result is dependent upon the quality of the individual ingredients: Fresh garlic, summer cherry tomatoes, good pasta, and great olive oil deliver a simple and delicious dish."
Spruced-Up Ramen
As the CEO and founder of JINYA Ramen Bar, Tomo Takahashi naturally has a few tricks for making the most out of something that's probably already in your pantry: instant ramen. "There are so many ways to upgrade instant ramen at home," he says. "You can add almost any vegetable you like — cabbage, sprouts, lettuce — that will enhance the flavor and make it more nutritious. For a little heat, top it off with hot sauce."
And Takahashi also has an easy option for those craving a little meat in their ramen. "Ground beef is also an easy, affordable way to transform instant ramen into a standalone dinner at home," he adds. "Because instant ramen doesn't have a lot of flavor, add ground beef that has been cooked with mushrooms, salt, pepper, sake, soy sauce, sugar and Chinese chili bean (simmer until the liquid is absorbed) and you will end up with a rich, delicious ramen."
Cauliflower "Risotto"
At Little Dom's in Los Angeles, the super popular cauliflower "risotto" is actually a side dish, but Chef Brandon Boudet says it's totally worthy of a main course as well. And it just so happens to be pretty simple to make. The recipe calls for one head of shredded cauliflower, four green onions, three ounces butter, two ounces olive oil, four ounces grated Parmesan-Reggiano, and salt and pepper to taste.
Simmer the green onions in olive oil and then add in the shredded cauliflower. Add a bit of stock and cook until tender, then finish off with butter, cheese, and your seasonings. Low-carb or gluten-free eaters will love this one.