3 Days In Chicago: How I Explored This Iconic City With Limited Time
I covered a lot of ground.
Shutterstock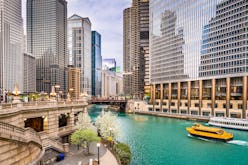 In recent years, I've been hyper-focused on exploring the world, stepping my toes into exotic locales ranging from France, England, and Scotland to Aruba, French Polynesia, and Bali. In a strange twist, the more I charted and learned about other countries, the more I realized I hadn't really invested too much time exploring my own. So, I've made it a personal goal to pay homage to some of the U.S.' most legendary cities. In 2022, I spent some time in Dallas and New Orleans. This year, I crossed Chicago off my list, spending three food- and architecture-filled days in the windy city.
Now, because I tacked my visit onto a family reunion in nearby Indiana, I only had about 72 hours to take in the highlights of the iconic cultural epicenter. And, if we're being honest, as a food-motivated person, Chicago cuisine was certainly a top priority for my to-do list. However, as I tapped some friends who are native to the city, I quickly realized my trip would be much more well-rounded than I expected, including boat tours, museums, and some great shopping. Yes, my timeframe only allowed me to scratch the surface of what the city had to offer, but it did allow me to take a big bite out of it (literally).
Ahead, read on about how I spent three fast and furious days in Chicago.
Where To Stay
For my three-day visit, I had the exciting opportunity to test out the city's newest luxury hotel, The La Salle Chicago, Autograph Collection. Located in the heart of downtown, the property is as logistically convenient as it is chic. A vintage modern vibe, its aesthetic and decor spotlights lush textures and finishes by way of velvet accent chairs, rich leather bar seating, dark cherry wood tables, and ivory marble countertops. Upon entering the lobby, my mother (who accompanied me on my trip) even commented on the space's elevated atmosphere that somehow still felt approachable and cozy.
Also a bonus is the hotel's proximity to some of the city's major touchstones like Millennium Park, the Art Institute of Chicago, and Willis Tower, which are all less than a mile away and attractions like Museum Campus, Soldier Field, and the Magnificent Mile, which are just about two miles away. I love a walkable city, so being able to step outside and easily get to a destination sans bus or Uber was a selling point for me. And in an architecture-rich city like Chicago, a casual walk around town is an experience in itself (especially with a coffee and the city's signature popcorn in hand — but more on that later).
Also worth noting is the La Salle's designated work and meeting spaces. Because I was working during my visit, it was nice to have a quiet corner with outlets and great Wifi outside of my room to be productive and take a few meetings in peace.
What To Eat & Sip
As I mentioned before, my culinary journey through Chicago was a top priority and the first thing I grilled my Chicago-born and based friends about. A unanimous recommendation was Lou Malnati's Pizzeria, a family-owned local chain that specializes in classic Italian dishes and, most importantly, deep-dish pizza. One of the first spots I hit on my trip, I'm happy to report this local institution did not disappoint. Between the pizza's buttery crust, gooey mozzarella, and tangy-sweet tomato sauce, I practically licked my plate clean. For a more artisanal take on classic deep dish, local foodies swear by (and prefer) Pequod's Pizza, known for its caramelized cheese pizza crust and chocolate chip cheesecake.
For a great burger, upscale diner Au Cheval is another downtown favorite. "Insane burger, but no reservations, so expect a wait unless you go at an off time," said one of my Chicago-born pals. For tasty Mediterranean complete with whipped feta, sweet corn hummus, and za'atar crusted beef tenderloin, head to Aba. And for a great cocktail and an elevated take on classic tavern food, I loved The Dearborn — I strongly suggest the famous fish and chips and Desert Flower cocktail.
Also worth mentioning is La Salle's Grill on 21, where my mother and I frequented for brunch and the occasional late dinner and drinks. Yes, convenience was a factor, but the offerings will definitely bring me back upon my return to the city. Think classic indulgences like Swedish pancakes, grilled mahi sandwich, lobster thermidor, and steak frites.
Also, for a quick nibble, snacks like Garret Popcorn, a hot dog from Gene & Judes, or lollipop chicken wings from Great Sea Restaurant are perfect options.
What To See
With only three working days to fit in my sightseeing (and jam-packed eating schedule), I made sure to prioritize experiences and attractions that truly appealed to me. At the top of my list was an architecture boat tour to explore Chicago's diverse buildings. If you have an eye for art or design, this is a can't miss, despite it being a very touristy activity. For an hour and 15 minutes, you are guided down the three branches of the Chicago River, taking in iconic structures including the Wrigley Building and Willis Tower (formerly the Sears Tower).
Also, if you head to Chicago in the summer, Navy Pier is a great place to spend the day. While the waterfront destination is certainly alive and well in the winter and early spring, it truly shines during the warm weather months. Shop local businesses and artisans for unique souvenirs and one-of-a-kind items, taste authentic Chicago cuisine, sip on some lager at the beer garden, try some of the amusement park games and rides, or work on your fitness by walking or running the pier's Wellness Way trail, which runs along the perimeter, making for a picturesque stroll.
At this point, you may be wondering: What about The Bean? Yes, Millennium Parks' popular art sculpture (formerly titled Cloud Gate) is a tourist fave, but I chose to opt out this time around — probably for that exact reason. However, I recommend this attraction if you're one for a classic photo op and some people-watching.
I do enjoy an interesting museum, particularly those focused on ancient history. And, luckily, Chicago is chock-full of them. For nerds like myself, try The Institute for the Study of Ancient Cultures, which houses artifacts from Egypt, Nubia, Persia, Mesopotamia, Syria, Anatolia, and the Levant. Also worth noting are the American Writer's Museum and the International Museum of Surgical Science.
Art lovers can also pass the time at the National Museum of Mexican Art, which is currently featuring an Indigenous Art exhibit or the Heritage Museum of Asian Art, featuring its "Dragons Revisited: In Memory of Charles Kinsey" exhibit this summer. Other art museums to hit while you're in town include the Museum of Contemporary Photography and Intuit: The Center for Intuitive and Outsider Art.
And even with limited time, retail therapy is always a good idea, and Chicago offers a shopping smorgasbord. For luxury boutiques, head to the Gold Coast district, where you'll find designers like Chanel, Hermes, Prada, Harry Winston, and Buccellati. To shop small, hit up local brands and artisans — and great vintage stores — in neighborhoods like Andersonville, Hyde Park, Lincoln Park, Wicker Park, and Logan Square. Some gems include Lost Girls, Knee Deep Vintage, Kokorokoko, and Ragstock.
While my visit to this iconic American city was a whirlwind, it certainly left an impression — and very full stomach — that already has me plotting my return.