Yan Yan Chan Breaks Down Her Go-To Fashion Month Look
It's the perfect mix of sporty and vintage.
Jeff Thibodeau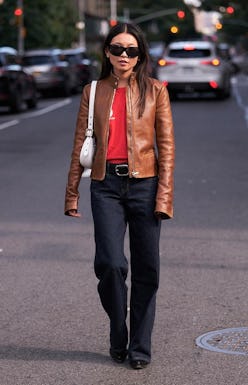 We may receive a portion of sales if you purchase a product through a link in this article.
Few feelings ignite more panic than running behind because you don't know what to wear. File away some fail-safe outfit ideas to fall back on with TZR's Fashionably Late series, where we tap our favorite tastemakers for the looks they reach for in a rush — and, naturally, the exact products you need to follow suit.
From September to the beginning of October, the fashion crowd is preoccupied with attending runway shows and parties hosted by designers and brands. With so many activities on the docket, it's important that you have the right outfit, or outfits, for every situation. However, when you're already running behind on schedule and need a quick cute, but pulled-together look for shows, what do you do? For some sound advice, TZR spoke with content creator and street style star Yan Yan Chan to get her take. After all, Chan is a regular at fashion week, attending presentations from the likes of Ralph Lauren, Chanel, and Valentino.
Her fallback outfit formula for NYFW is simple: a pair of lived-in jeans, something a little sporty like a leather jacket with a pop of color by way of a T-shirt, and an elevated boot. "Because [wardrobe space is tight in NYC], I've been forced to curate a tightly edited selection of good fitting jeans, particularly a darker wash, that I rotate over and over again," she tells TZR over email, sharing that she typically sizes up for a more relaxed feel and relies on denim in general throughout fashion month. And while her sporty-casual outfit certainly fits in with the effortless cool-girl looks at fashion week, this whole combo could very well work for every day activities too, whether she's running to a client meeting or refueling at her local coffee shop.
"A leather jacket with an interesting detail and low-waisted tailored denim with a boot is my uniform," she shares. "And, I never leave the house without a sporty piece. I've been collecting vintage Adidas T-shirts and merchandise from my travels, so this [red] tee is from a go-carting track in Majorca. I love weaving in pieces that hold special memories."
In addition to incorporating more sentimental pieces into her looks, Chan shares another way she makes sure her items stand out, especially during fashion week. "A lot of brands dress their guests in head-to-toe looks for their shows, so I always think it's important to inject pieces of yourself through accessories," she explains. "Footwear, leather, jewelry, vintage [pieces], and denim I source are [always in my] suitcase." As fashion month continues — the next stop for celebrities and tastemakers is London — keep your eyes on Chan and her impeccable sense of style. And should you love her go-to uniform, shop the key pieces below to recreate it.