The World Of Women's Bespoke Suiting Just Keeps Getting Better
The right fit is a game-changer.
Natasha Lyonne in Wolk Morais; NBC/NBCUniversal/Getty Images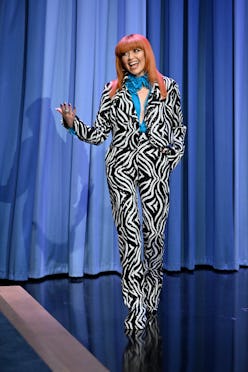 Once you've broken into the elite world of white-shoe firms, it goes without saying that there's some pressure to look the part. The male partners at Emily Meyer's corporate law firm had tailors coming in and out of their corner offices, laying out beautiful fabrics and taking their measurements to craft interesting, impeccably fitted bespoke suits. She tapped one such tailor to make a custom suit for her, though he noted he didn't typically make them for women.
"Needless to say, it ended very poorly," says Meyer, who later left her job to become designer and founder of her own namesake custom suiting brand that specifically caters to women. "But that was the first time I thought, 'Well, why doesn't anyone do this?'"
Her experience is one that most any woman in search of a suit can likely relate to, whether they're shopping off-the-rack or even going the bespoke route. Traditionally, the space has been dominated by tailoring-focused brands that cater to men, from the most luxurious made-to-measure services to a crop of direct-to-consumer labels (see Indochino and Bonobos) and affordable off-the-rack chains (ahem, Men's Warehouse). More often than not, options for women are folded within larger ready-to-wear collections that are very specific in style and fit — so options are limited.
Perhaps thinking of suiting as "menswear" is part of the issue here. The distinction may have seemed a bit more necessary about 100 years ago, when Chanel's first suit set was released in the 1920s, marking a seismic shift at the time. About a decade later, actor Marlene Dietrich caused a stir by wearing a pantsuit on a cross-Atlantic steamer headed for France in 1933. Legend has it that Parisian authorities considered arresting her if she dared wear trousers in Paris, so scandalized were they by her brazen decision to don the traditionally masculine garb. (She showed up in a suit and a beret anyway and it seems she remained a free woman.)
Fast forward several decades and you have the power suit boom of the '80s, the sharp shoulder pads of model-musician-icon Grace Jones, and former United States Secretary of State Hillary Clinton's years-long dedication to the pantsuit as uniform dressing. And today, there's a slew of celeb suiting superfans on the red carpet — see Oscars frontrunner Cate Blanchett, who just this past week was seen in a plunging neck Loewe set at the Independent Spirit Awards and a highlighter-yellow Stella McCartney suit dancing in a new music video — cementing the notion that suiting is pretty popular across the board.
"I think it's really hard for people to talk about suiting without using 'masculine' and 'feminine' or 'menswear-inspired' or, you know, 'borrowed from the boys,'" says Meyer. "Those are just loaded words that are losing their meaning. In a world where you have, like, Harry Styles and Bad Bunny, Timothee Chalamet, sometimes I'm like, well, what does [menswear-inspired] mean? I don't know."
Zendaya wearing Fear of GodEmma McIntyre/WireImage/Getty Images
Angela Bassett in MoschinoMonica Schipper/Getty Images Entertainment
For plenty of fashion fiends across the gender spectrum, suiting is less of a style "borrowed" from men and is instead, increasingly, a wardrobe staple in its own right. Fashion Snoops Vice President & Creative Director Melissa Moylan points out indicators on both the consumer end as well as amongst luxury brands on the runway suggest "a strong return to tailoring." She cites sharp, broad shoulders or "linebacker" styles sported on Fall/Winter 2023 runways at Tods, Gucci, and Saint Laurent as well as some building excitement around the return of the skirt suit. "From the consumer level, we have to consider that Gen Z is entering the workplace for the first time, and what's interesting is that they're actually the ones dressing up styling a bit more — which feels fresh after so much lounge-to-street post-[lockdown] dressing," she observes.
Alexander McQueen Fall/Winter 2023
Saint Laurent Fall/Winter 2023Giovanni Giannoni/WWD/Getty Images
A return to workwear with a renewed emphasis on dressing sharply for fun rather than out of obligation is a trend Meyer has seen in action. "[The last few years were tough] for manufacturing; I think we're free of that now and I will say the biggest change to my business — I think one of the biggest changes in America — is that [question of]: Are people going back to the office? And I feel like suiting used to have a 'have to' around it. And I feel that now and going forward it is absolutely going to be a 'want to,'" she says.
Sustainability is another strong selling point for incorporating suits into one's wardrobe, particularly the bespoke model. When a garment is made-to-order, there's a lot less room for overproduction and, in turn, less wasted fabric. And while the custom route is obviously the more expensive option than purchasing off-the-rack, the wearer is likely to get more use out of a bespoke house's quality handpicked fabrics. The most famous bespoke suiting street is London's storied Savile Row, which is where Kimberley Lawton worked as a cutter before opening up her own tailoring house, Lawton. She says she's seen changing attitudes around suiting and the ways women are approaching it.
"I'd say a third of my business is now women," Lawton says on a video call from her studio in northeast London. "It's been great to see women embracing the suit and wanting to not only respect the craftsmanship of what I do compared to ready-to-wear, but also to feel confident."
She's encouraged her clients to view suiting for women the same way it's treated for men, meaning that the suit is not an outfit in and of itself that gets worn once and goes to the back of the rotation. A suit is a starting point, and you can take it in any direction and wear it five different ways throughout the workweek — the same way scores of businessmen have for ages.
"Especially from a sustainability point of view, a man can wear a suit [multiple times] and no one looks at him twice, because he's in a suit," Lawton explains. "If he brings it out again, it's fine. I think there are women clients that are realizing that as well, that they don't need a new dress for every occasion. They can wear the same suit again and style it up differently — maybe a silk shirt one time, a T-shirt the next. It's been nice to guide my clients to something that's going to be striking but also classic and can stand the test of time so that they can wear it on and on."
Building a strong capsule wardrobe certainly appeals in an era overstuffed with trends and "-cores." It's a dignified strategy that saves time putting together outfits, saves money (if you're doing it correctly...), and helps preserve the planet by not contributing to the churn of fast fashion. For the capsule wardrobe-inclined, bringing a perfectly tailored suit into the mix unlocks a whole new world.
"Speaking to sustainability, what we are witnessing is a greater emphasis on the concept of wardrobe builders," Moylan says, noting the number of reinvented wardrobe staples on the catwalk this past fashion month. "This is easily becoming one of the most viable and pragmatic messages of the Fall/Winter 2023 runway season, with examples like Prada tapping into uniform inspiration and Bottega Veneta progressing basics and strong outerwear. While these examples don't offer a bespoke approach, what they do [put forth] is wardrobe longevity on a broader scale, with garments intended to last and build upon each season. It feels like the right time for consumers to latch on to this concept, after so many seasons of excess and fast trends."
Sustainability is a top concern for Brian Wolk and Claude Morais, the minds behind celebrity-beloved suiting label Wolk Morais. The designers use all reclaimed textiles for their collections, all sourced within 12 miles of their West Hollywood studio. The brand makes a variety of garments but it could certainly be said that suiting is its, ahem, strong suit. The tailored pieces have been worn by the likes of Viola Davis, Julia Roberts, and Blanchett throughout her Tár press tour looks. Blanchett, in particular, is famously a suiting devotee but it's an especially fitting look for this awards season, given the opening image of her Oscar-nominated film depicts the cutting and fitting of a custom suit for her titular character, the problematic conductor Lydia Tár. Her wardrobe, orchestrated by costume designer Bina Daigeler, has earned plenty of praise from the style set, as the actor spends a healthy amount of the movie's 168-minute runtime clad in sumptuous bespoke suits, sharp button-downs, and luxe cashmere.
In real life, Blanchett's wardrobe throughout this awards season proves that one can reach for a suit again and again and still present a fresh new take each time. Sure, she's got a much wider selection of options than most will in their own personal collections. But to her credit, she's also the Hollywood paragon of the reworn look. Blanchett is known for eschewing the notion that highly publicized red carpet ensembles are only meant to be shown off once, often going back to her own closet to give her outfits another spin for the cameras.
Wolk and Morais profess their love for Blanchett on a quick phone call whilst en route to Desert X, the biennial outdoor art exhibition held in the Coachella Valley. I ask if they've detected any sort of Tár effect over the past year. (To me, and I assume some others, the film was not only an incredible showcase of Blanchett's talents but also a very long advertisement for bespoke suiting.) They agree that the movie may have opened viewers' eyes to the beauty of suiting and tailoring, and in fact, the duo themselves found their muse in the splendor of Hollywood. Wolk Morais' fabrics speak the language of the city by virtue of the fact that they're all sourced from the area, but beyond that, the designs draw inspiration from Tinseltown past and present.
"When we started our brand and moved out to Los Angeles [from New York], we really wanted to focus on creating a brand that was authentic to Hollywood," Wolk says. "From the history of cinema and from the community of creators and artists we surround ourselves with. Whether it's 1920s architecture, or films that happen to be on background on TCM at our studio, or situations that are going on in the city, all of those influence our creative process. We look to Hollywood silhouettes, whether they be current street silhouettes, or costumes by Adrian or Edith Head from a movie. That kind of juxtaposition and postmodern attitude is what informs our aesthetic and tailoring."
The label does both bespoke and ready-to-wear. What really sets them apart from the pack, they believe, are the fabric choices. "I think we bring [to the table] textiles that are different, or unusual, or not necessarily the first thought when you think of suiting," Morais says. "We like to explore and find older textiles and fabrics, vintage silk or some moiré, and the colors. I think that's what we've been known for."
Even if you're not in search of an unconventional material or a standout color, finding the right suit can be a little daunting, given the knowledge there will be many rewears. It's a lot of pressure on one foundational outfit. But for Meyer, the type of client that comes in knowing nothing about what kind of suit would suit them is often the challenge she enjoys most of all.
"My wife calls me the sartorial sherpa," Meyer says with a laugh. Like Lawton, she cherishes the process of guiding someone to find their own personal style. "The first appointment with somebody is honestly me just talking to them for like an hour and a half, about them: asking them questions about what they do, where they are from, the colors they like, just everything about them so that I can get a sense of who they are. My goal always is to take someone's sense of self and then basically make it into something tangible that they can then show to the world."
The conversations usually spark some idea in Meyer's head that leads her to pull some fabrics and make suggestions to the buyer. Once they've taken measurements and landed on fabric choices, she describes the process of designing as collaborative: "I can be heavy-handed or not; if someone has a very firm point of view that resonates with mine then I can be very hands-off. But we design the garment together, I take the body measurements. My tailors make a unique pattern based on your body measurements. And then we get together about two months later, to try on a muslin of the suit, we do like an intermediate fitting with the muslin and do all the nips and tucks that we need to adjust the pattern and then I have a client's pattern on file forever, not pending like a material body change."
First-time customers become regular customers because, Meyer says, they can get a little "hooked" on the magic of bespoke suiting. And why wouldn't they, in a classic garment that was literally made for them? It's the whole point of clothing, to fit your body, to wrap yourself in a fabric that sits a certain way on you and makes you feel like yourself. In the perfect bespoke suit, a woman doesn't feel like she's in "menswear," per se, but in her very own ideal uniform.
"I think everyone has that one thing about their body that makes it really tough to shop at retail," Meyer says. "And so when you can eliminate that and you put something on where you don't have that problem, you can just walk out the door, it gets very addicting. It is an investment of course but, yes, I have lots of repeat clients!"