The New What Goes Around Comes Around Flagship Is Taking Vintage Resale To The Next Level
Live luxury shopping broadcasts? Um, yes please.
BFA/Madison McGaw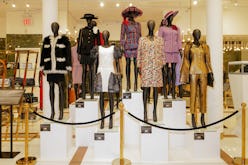 These days, collecting designer vintage pieces has become a way to signal that you're an eco-conscious fashion enthusiast. But in 1993, when legendary vintage resale business What Goes Around Comes Around first opened its first outpost, the concept was still rather novel. "Our early days were very different, people didn't understand the idea of vintage, except for the high fashion people who always embraced it. It was designers, models, and editors, who wanted unique and special pieces," says co-founder Seth Weisser. But now, what started out as a scrappy business upselling secondhand Ralph Lauren and Levi's jeans with his partner Gerard Maione has morphed into shops in New York and Los Angeles devoted to impeccably curated finds from the likes of brands such as Chanel, Louis Vuitton, and Hermés. Their latest destination, a 5,000-square-foot flagship in SoHo, is the pair's third location and serves as a hub for their bustling online shop, including daily live programming.
Unlike the other locations, this new flagship goes beyond designer clothes and accessories; it represents the store's first foray into becoming a true lifestyle brand. Over the years, Weisser and Maione have seen the potential for expanding WGACA as their clients frequently asked if they could buy the furniture and display cases. Their new space is an opportunity to make that a reality — everything you see from the moment you walk in is available for purchase — from the bouclé-covered couches and étageres displaying handbags to the glassware in the bar area.
Vintage Chanel bags at the new WGACA flagship.BFA/Madison McGaw
Co-founders Seth Weisser and Gerard Maione at the store's opening party.
When I received a tour of the flagship, Maione was eager to show off the special items they've sourced from fashion insiders to round out the lifestyle concept. "We were just at [late fashion editor] Andre Leon Talley's house and went through all his books including a whole series on Dali. Another collection we bought [from an art gallery owner] was incredible — it's perfume bottles that were large samples made in the '80s," says Maione. Since the items aren't on display yet, he scrolls through images on his phone featuring everything from 3-foot tall Chanel No. 5 figurines to Chloé, Schiaparelli, and Dior. There's no actual fragrance in them, of course, but the sculptural accents would be perfect for a fashion obsessive looking to decorate their home.
Speaking of interiors, no expense was spared on the new flagship. Upon entry, you'll see walls lined with glass cases brimming with fancy handbags — all Chanel flaps in one while another is solely Hermés Birkins, Kellys, and Constances. Along the walls are rails of designer clothing, grouped by color or designer with pristine Fendi jackets alongside Carolina Herrera gowns. While the clothes may be pre-owned, it's no less a luxury experience than if you were to walk into a ritzy Fifth Avenue designer boutique.
Details matter to the duo, and Maione giddily points out all of the minutiae that have taken up his time over the last few months. Those green walls are specialty porcelain, sourced from Spain. The wood panels? Also porcelain, which is a weird mental disconnect since it looks and feels like expensive oak. Everything from the massive brass doors that adorn the dressing room walls to the gilded mirrors that line the area by the cash register is meant to convey that this is a boutique that belongs on the same street as neighboring shops Louis Vuitton, Tiffany & Co., and Chanel.
To make the most of the space, its center will serve as a hub for rotating exhibitions. The first will coincide with this year's Met Gala theme, "Karl Lagerfeld: A Line of Beauty." "We hope to depict how Karl most likely would have been envisioning the future, as he was always so far ahead of everyone else. The exhibit shows the craftsmanship of his piece through every decade of work — [it's] difficult to replicate," says Maione. This sentiment translates to 28 plinths topped with mannequins lining the center clad in pieces from the designer's time at Chanel, Chloé, and Patou. Technology also plays a role in the space: There will be an interactive photo area courtesy of photographer Steven Sebring as well as projections featuring the campaign that stars Helena Christensen and holographic towers showcasing other pieces. To cap off the display, a mannequin clad in a lace Chanel couture gown will dangle overhead. Of course, everything is for sale, although pieces will be kept on hold until the exhibit is over in a month.
While the top floor of the new WGACA location may be ambitious, the downstairs is an even larger undertaking. While the idea of selling curated vintage was cutting edge when WGACA first opened up shop in the '90s, it's become a progressively crowded marketplace, with new resale spots popping up seemingly overnight. "The business has changed tremendously over the past few years. Modern resale has brought accessibility to the luxury market and an element of sustainability that is undeniably alluring," explains the duo via a follow-up email. A physical presence isn't enough, and while online plays a huge role in converting sales, the best way to hook new customers is by entertaining and educating them via social media.
To that end, the brand is taking accessibility to a new level with a full-fledged studio in the basement, complete with a sound studio, elaborate lighting, and three separate staging areas. Weisser and Maione asked Mason Howell, a handbag specialist who has worked at the likes of Christie's and Sotheby's, to play host. The plan is to livestream two shows a day, five days a week, on their site with plans to expand to YouTube and TikTok, like a fancy QVC for the internet generation. One area is for dialing down on handbags, while the other two feel like more traditional setups — Watch What Happens Live was quoted as a source of inspiration.
Go on social media and you can see that there's a hunger for this sort of knowledge, which is exactly what What Goes Around Comes Around is banking on. "We hope to address the growing interest in live digital shopping on platforms that we have received from our clients," they said, with the idea that their collective 30 years of knowledge will set them apart from newer players. Given that their customers range from teens who are looking for their first major designer purchase to older individuals who spare no expense, it's a safe way to ensure that Weisser and Maione's company will go on to celebrate another 30 years.
Looking to the future will have to happen later, though, as the co-founders' current focus is on getting WGACA's new flagship up and running. But that doesn't mean they don't have big, global-sized dreams. "We still see so many opportunities to be a disruptive leader and push into the international marketplace," says Weisser. It might be SoHo, New York today but don't be surprised if that turns into Soho, London, in the near future.