These Trending Hair Accessories Are Giving Me 2010s Twee Energy
Time for a New Girl rewatch.
John Sciulli/WireImage/Getty Images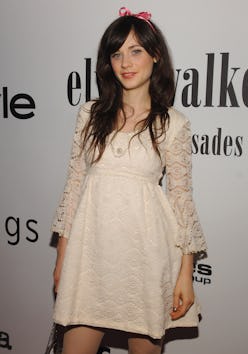 Think back to the early 2010s when Zooey Deschanel's signature look popularized A-line dresses, Mary Janes, and patterned tights. Known as "twee" style, this quaint fashion trend has made a recent reappearance thanks to TikTok and everyone's Sunday night obsession, Euphoria. And if you're looking for an easy — and surprisingly chic — way to incorporate the style into your closet, these bow hair accessories are set to become your latest must-have.
With over 78 million views of #twee on the app, TikTok trendsetters are resurrecting twee style and its vintage-inspired, soft, feminine aesthetic. Meanwhile, on Euphoria, underrated style icon Lexi Howard (played by Maude Apatow) has been rocking plenty of satin ribbons and sweet sweaters as of late, awakening a nostalgia for Wes Anderson movies and New Girl reruns.
While you could go thrift shopping to pull together a full-on twee-inspired outfit (think: puff-sleeve blouses and dresses you can spin in), the bow hair accessories I've been seeing all over my screens can be incorporated into looks you already own for a subtly twee statement. Of course, you could also pair them with the signature twee hairstyle of long, thick uneven bangs — although a trip to the salon is totally optional!
Whether you prefer clips, headbands, barrettes, or ponytails, there are bow hair accessories curated here to suit your preferences. And with chic details like unexpected materials and hardware, they're totally updated for 2022.
Scroll on to see and shop eight bow hair accessories you'll want to add to cart ASAP.
TZR Shop is The Zoe Report's shoppable guide to editor-approved buys in fashion, beauty, wellness, and lifestyle. We may receive a portion of sales if you purchase a product through a link in this article.
TZR Shop brings you the editor-approved buys we can't get enough of and think you'll adore, too. Best of all, you can shop all of the products above directly on this page without visiting multiple retailers. Simply click on an item to learn more, choose your size or favorite color (if applicable), and then hit "add to cart." When you're done, you can click over to your cart in the top right corner of your screen to purchase all your stellar selects at once. How easy is that?
Questions about shipping, returns, or your order in general? Click here for more information.
Explore more of TZR Shop (and our fashion, beauty, and lifestyle must-haves) here.