The Grown-Up Way To Wear Printed Tights This Season
Christian Vierig/Getty Images Entertainment/Getty Images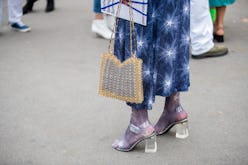 There's nothing quite like opening a fresh pair of tights at the start of the season. And chances are, this simple act taps into the deep depths of your childhood memories — back when their sole purpose was to keep your legs covered during the cold-weather months. However, this notion that tights are purely functional likely dissipated as you got older and realized that a well-curated collection of hosiery is key to maximizing flawless fall style. Enter: All the best tights trends of the season and the many ways you can work them into your everyday wardrobe.
If you keep up with the latest collections, then perhaps you're already acquainted with the thought of tights for Fall/Winter 2019, considering that there was a generous hosiery offering from both big and small design houses alike; from Gucci's pretty lace pair interwoven with its signature double-G logo, to cult-brand Marine Serre's inky iteration, emblazoned with its crescent-shaped motif (which has earned the Kendall Jenner stamp of approval), the scope is far more wide than you'd expect. Not to mention, most of the beloved styles you saw on the runway are available, now.
There are a total of six, overarching trends to partake in this season, a few of which, can be combined to allow you to embrace more than one at a time. But the key to successfully pulling off each one is ensuring that they're styled in an elevated way that feels grown up.
1. Abstract Patterns
Styling bold prints can be tricky in general, so when it comes to styling patterned tights in a way that doesn't feel reminiscent of your schoolhouse days, less is definitely more. Finding the right design to try is half the battle, so experiment with classic motifs in more subdued color-ways that can be paired with a well-tailored skirt-suit or oversized shirtdress for a leg-lengthening effect.
2. Bold Colors
Certainly not for the faint of heart, solid-colored tights in vibrant hues look best when they're peeking from underneath your favorite midi dress or skirt. If you're opting for a printed frock, choose one shade to accentuate, whether it's a perfect match or simply, complimentary. Just be sure to style them with an equally as bold shoe, like a pump or chunky platform to really lean into the retro vibes.
3. Pretty Lace
The best part about having a pair of pretty lace tights in your arsenal is its ability to change the mood of your outfit instantaneously. Gucci's deep-red iteration from the runway has the range to be dressed up with a party dress for the festive holiday season (with open-toed shoes, no less, for full exposure), but can just as easily be worn with a chunky brogue and mini skirt.
4. Embellished
Like pretty much anything else that sparkles and shines, embellished tights are a great styling piece when dressing up is required and long-time Calzedonia ambassador, Chiara Ferragni, confirmed it. "For more special occasions, I like the polka-dot [tights] or something with a little more glitter", the business mogul explains to TZR backstage at the brand's Fall/Winter 2019 show in Verona, Italy. Mimic Ferragni's style by investing in a pair for yourself, paring them back with a little black dress or tailored shorts.
5. Logo-Mania
If logos aren't really your thing, try adding a pair of tights designed with your favorite brand's motifs into the mix and you might feel differently. As seen on Fendi's fall 2019 runway, the house's nude logo tights are subtlety styled under an ankle-grazing hemline. Follow the design house's lead and keep yours partially concealed, adding just the right amount of flair. Not to mention, there are several options in both neutral and eye-popping shades, it just depends on how much of a statement your'e trying to make.
6. Barely-There
For the minimalists that would also like to take part in the fun, sheer and semi-sheer tights have a distinct sophistication about them that requires little to no guesswork when it comes to styling on the day-to-day. "I love 30 denier tights as it's not too subtle and it's also not too heavy. It's like the most basic pair, but they really go with everything", Ferragni goes on to say about her go-to pair of the season. Wear yours with everything from an oversized sweater and combat boots to a blazer dress and stilettos for after hours.