Target's Spring 2023 Designer Collaborations Are Here To Usher In Vacation Season
TZR chatted with the brand founders.
Target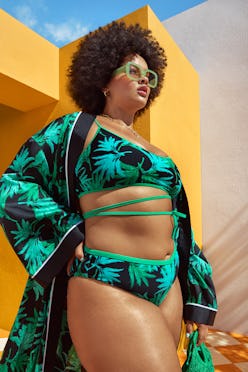 We may receive a portion of sales if you purchase a product through a link in this article.
On March 29, Target revealed its latest installment of designer collaborations for spring 2023 and the brands are (drumroll, please): Fe Noel, RHODE, and Agua Bendita. These women-founded labels are all recognized for their vibrant, resort-ready looks — and each limited-edition collection is filled with swimwear, dresses, sets, and beach accents that exude carefree vibes. In other words, consider the retailer's latest capsules a one-stop-shop for all your summer needs.
All the items in this design partnership range from $15 to $48, with sizing available in XXS to 4X. The pieces will be available to shop in select Target stores and online April 15 at 3 a.m. We'd suggest you set your alarm now, as these looks are worth waking up in the middle of the night for. Ahead of this exciting drop, TZR caught up with the creatives behind each brand — Fe Noel's Felisha Noel, Agua Bendita's Catalina Alvarez and Mariana Hinestroza, and RHODE's Phoebe Vickers and Purna Khatau — to chat about the forthcoming collections.
Scroll ahead for their thoughts on their collaborations, plus the pieces they personally love the most. Then, make sure to note down your favorite dress or swimsuit picks, so once the 15th rolls around, you're ready to virtually check out.
RHODE
How does this collection reflect your brand's breezy, beachy aesthetic?
PK: Working with Target was a true collaboration, and our brand's DNA is infused into every piece in the collection. It's all really versatile, so you can wear the pieces from the beach to work to a wedding. And we have swim, which is really exciting, and that adds to the whole breezy aesthetic because [swim is] something we've never done before.
What was it like to launch your first-ever swimsuit assortment with Target?
PV: Target is known for their swim, so launching something like this with them is such a dream because they really understand their customer. And just with the rest of the collection, there are elements of our design DNA and aesthetic incorporated into the swim as well.
What is your favorite piece in the collection and how would you style it?
PV: My favorite piece is the Zinnia Floral Print Bell Sleeve Midi Dress. I would wear this with sneakers or with a pair of heels — it's super versatile.
PK: I'm wearing one of my favorite pieces: [the Rope Tie One-Shoulder Mini Dress]. I wear it without the belt and styled with loafers or with a little jacket. You can make the look your own.
Fe Noel
What or who inspired the collection?
I'm from Grenada, so the collection was inspired by my heritage. I want people to feel like they're getting a piece of the Caribbean when interacting with the styles. It's a place that's really, really dear to my heart.
What was the design process like?
The design process was really thinking about 'What is Fe Noel? What are the things that people love about us? What makes it feel unique and special?' When I first started talking with Target, they were like, 'We want you and all that you've built. We want to showcase that in this collection.' And that's what made this partnership so much more special because I felt like I could be my authentic self in such a global space.
You're known for your prints — did you create any new patterns for the collab?
Yes, so many new prints. One of the main new prints we love is the palm; it feels like Fe Noel, but we've never done it before. And the palm is all over the Caribbean, so it's important for us to have this. And a Fe Noel statement piece is the caftan with the ruffles. It feels very extravagant, but you can be cool, calm, and chic in it.
Agua Bendita
What or who inspired the collection?
CA: For this collaboration, we started thinking, 'What will we bring [to the table]? We're going to bring the best fits that can fit any woman in the world, but we'll keep all the illustrations and hand-painted prints. We have an artist in-house, and they paint every single detail. Every inspiration comes from our Colombian culture; when we wake up, we see colors, mountains, spirits, and flowers. Everything around us is colorful and [sparks] happiness.
How did you come up with the color palettes for this collection?
CA: When you're a designer, you try to create a color palette that, even if [the customer] doesn't have my specific personality, they can still mix and match the pieces to how they want to wear them.
How would you wear these looks from the beach to the streets?
CA: Pareos are so good. I love the pareos because you can wrap them around your head, or [you can style them] with a swimsuit, pants, jeans, shorts — whatever you want.