Louis Vuitton's Cruise 2024 Collection Takes Us On A Fantastical Seaside Journey
Aquatic monsters and mermaids get the runway treatment.
courtesy of Louis Vuitton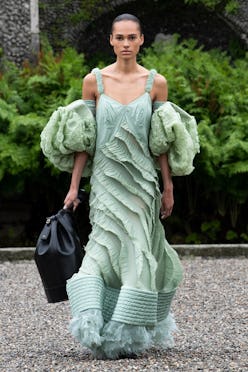 Cruise season is tricky, both in defining what it is and who it for. Also known as resort or holiday, the yearly drop was originally intended for a certain class of wealthy globetrotters, people in need of beautiful things to wear to far-flung locations (and the money to spend on them). And while that certainly still counts for a significant portion of the cohort shopping these luxe-yet-leisure-driven styles, the last several years have seen lines blur on who lives a jet-setting lifestyle, and how a normie dresses for vacation. Travel these days is more a peacocking opportunity for anyone with a camera phone and social media account than anything else. And Louis Vuitton's Cruise 2024 collection, which offers a little piece of wearable fantasy for everyone, reflects this.
Take in the label's scuba styles, for example: creative director Nicolas Ghesquière began his line-up with wet-suit-like pieces reimagined with sea creature-eerie frills and scaly prints. Hardly workable options for diving into the ocean or even hanging out by the pool, they would look killer in a beach photo, and seamlessly break down into separates to be mixed and matched with other items. These are pieces for the women who, yes, might have a Sardinia trip on the books, but is loathe to buy things she'll only wear once for the occasion.
Aquatic references were also quite the fitting opening for the show, which was held on Italy's lush Isola Bella island (the pre-filmed show video was made outside, and the IRL presentation moved indoors due to inclement weather) on May 24. Surrounded by a verdant Mediterranean landscape, one could imagine the otherworldly models had strutted onto the runway straight from the sea. The same could be said for the girls in full skirts covered in iridescent, scale-like sequined skirts, dramatic, feathery headdresses, and flouncy silk gowns — they were the embodiment of the modern day mermaid aesthetic that's suddenly omnipresent on all of our feeds.
courtesy of Louis Vuitton
"A Cruise that gives rise to contemporary tales, populated by drifting creatures that abandon aquatic dwellings for the discovery of terrestrial wonders," the brand writes in the show notes, speaking to the blend of mystical and surprisingly concrete references found throughout the offerings. "The Cruise 2024 collection is a narrative of transformation. Sartorial characters that renew themselves, each in contact with the other."
In many ways the looks felt lighter and brighter than the neutral-leaning and hardware-heavy fare we've seen from Ghesquière in recent seasons: There were slouchy pastel sweaters — complete with sheer panels — elegant satin draped mini dresses in rich jewel tones, and breezy culottes layered with bike shorts underneath. But the designer didn't fail to weave plenty of signatures touches throughout his creations. Cocoon-like tops, opulently embellished layers, and slope-sleeve blazers all played key parts in the range, although in a louche, undone way that lent the silhouettes an air of sci-fi-meets-Bridgerton cosplay.
To balance the chimerical clothes, it seems that Ghesquière leaned hard into practical accessories; one must remember, of course, that the French house he helms is rooted in a history of durable steamer luggage. Bags ran the gamut from candy-colored bucket shapes that would work just as well for commuting as jaunting around Capri, to sturdy quilted top handle shoulder purses, complete with the LV emblem. And while the sleek, soccer-chic sneakers anchoring a number of outfits are destined to be crowd-pleasers for shoppers of all stripes, it could be said that the real unsung hero of the shoe selection was a series of flat, strap-covered boots that would go straight from a mid-summer adventure around Europe to anchoring all your favorite skirts come fall. Who, after all, invests in Louis Vuitton to wear it for just one season? Certainly not us.
Scroll below for a sampling of TZR's favorite looks from the show.