Kickstart Holiday Party Season With These 7 Sparkly Dress Trends
Styles you'll take a shine to.
@cocobassey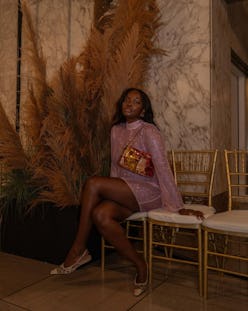 It's hard to believe, but fall is in full swing, and the end of the year is just around the corner. This means a steadily growing anticipation of all the festive gatherings to come — and, naturally, deciding on what to wear to each of them. So if your social calendar is already beginning to fill up with seasonal outings, we suggest stocking up on the MVP of the holiday party wardrobes: sparkly dresses.
"It's all about the magic they bring to a moment. Sparkly dresses have ... a dreamlike quality to them that transports you to a reality of fantasy and allure," says Jannine Vinci. Her line Oseree, co-founded with Isabella Cavallin is known for its bold collection of dresses adorned in light-catching embellishment like sequins, glitter, and crystals. Cavallin agrees with Vinci, noting that shimmering and glittering styles have a canny way of changing your state of mind the second you slip them on. "It's not just about the aesthetic but also the way they make you feel: confident, charming, and ready to take on the night," she says.
One surefire way to get the look? "Sequins are a classic choice that never goes out of style," Vinci notes. But of course, even if you're not a fan of sequins, there are still plenty of equally eye-catching materials to choose from — more on that below! Keep scrolling for a rather glitzy guide to getting dressed up these next few months.
Sequins
Perhaps the most ubiquitous of shiny dresses are of the sequined variety — but they are enduring for a reason! "Their shimmer and texture instantly evoke a sense of celebration, making them perfect for holiday parties," Cavallin says. You can opt for a neutral-hued option to keep things slightly pared-back, or go for head-to-toe color for a full-on statement.
Paillettes
Traditionally speaking, sequins are small and have a hole in the center where they are stitched onto fabric. On the other hand, the paillette tends to be larger (sometimes in a disc shape) with no hole in the center. These can be sewn on in overlapping rows for a fun effect that catches the light just so, making them the perfect material for dancing all night.
Rhinestones & Crystals
If you're on the hunt for glimmering piece that doesn't feel too precious, go for rhinestone and crystal accents. These dresses tend to feel a bit edgier and aren't as overtly shiny as sequins or paillettes. To tie the whole look together, accessorize with metallic heels.
Glitter
If you want something that shimmers and shines with every turn, a glitter effect is a good way to go. Ready to take things up a notch? Double down on celebratory embellishment by opting for a design with feathers or fringe as well.
Metallic
A perennial classic, a slinky metallic dress is both sultry and sophisticated. And while a timeless silver or gold silhouettes will always work well for a December affair, these's also plenty of rainbow bright iterations worth trying this season.
Disco Ball
There's no better time of year to channel a disco ball than during the holidays, and silver dresses crafted from materials such as sequins, mirrored panels, and tinsel are all fabulous and fun to wear. Since this is such a strong look, keep the rest of your outfit simple with a silver, strappy heel.
Fun Fringe
Imbue your holiday party style with the spirit of the 1920s with a shiny dress that shakes and shimmies with you all night. This sparkly look is best-suited for get-togethers that end with a spin on the dance floor (for obvious reasons). And if you want to wear yours to more staid a cocktail party? Just layer a black boxy blazer on top.