11 Perfect Places To Shop For A Party Dress No One Else Will Have
@shoprhode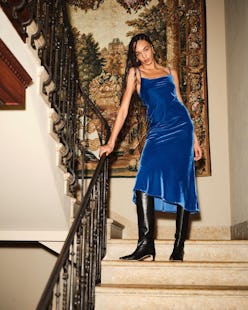 We may receive a portion of sales if you purchase a product through a link in this article.
There are times in life when it's perfectly fine to show up wearing the same thing as someone else — sibling portraits, graduation, bridesmaids — but generally speaking, it's preferable to be the only person in the room wearing what you're wearing. And the time of year when this kind of concern perhaps feels most valid is around the holidays. It's a brief window when parties and themed gatherings are dense and there are multiple occasions for slipping into a glitzy dress all throughout the month.
Sure, there are more catastrophic events that could happen than arriving to a white elephant soirée dressed in the same velvet mini as your coworker, but why let that happen? This year, skip the staple brands that everyone else turns to for a festive frock (you know the ones) and invest in a new piece from the best insider-favorite designers. Better yet, look for a festive number no one will have and that you can style with a smattering of different accessories — that means you'll be able to reuse it a few times (the more mileage out of a single purchase, the better, right?).
Keep scrolling ahead for 11 infinitely cool labels that'll help you survive the months ahead without an unwelcome twinning moment.
Rhode was founded in 2014 and has since become a staple for those with a proclivity for free-spirited patterns and feminine fits. Among the more thrilling arrivals of the season is a metallic taffeta puff sleeve dress featuring a romantic rose print. (We suggest wearing it with the matching scrunchie.)
Since its 2015 inception, Oséree has come to be known and beloved for its resort-wear offerings. But it has recently introduced a slew of party dresses that are perfectly-suited for a holiday soiree as well. Feather trims, crystal embellishments, alluring lace — it's all there, ready for the dance floor.
Andreeva
Brought to life by mother and daughter Olga and Marina Andreeva, this company serves up hand-knit silhouettes in energetic colors with super fun details like feather trims and tinsel-like tiering. If you're looking for a statement party look to stand out this season (and beyond, really), Andreeva should be on your radar.
This San Francisco-based brand is a go-to for those who love sweet and ethereal designs, thanks to its floaty shapes and extra-special fabrics (like organza). Except to find plenty of details that feel aligned with a cocktail hour aesthetic, like ruffles and bows; meanwhile, the see-through quality of some of their selection means you can experiment with the season's ever-popular sheer trend.
Hanifa is not for the shy at heart — this vibrant line screams a confident "look at me" with its zippy color palettes and unapologetically body-con cuts. What better way to embrace the celebratory spirit of November and December than with one of the collection's lavish creations? The tomato red minidress with a flounce hem feels especially fitting.
This Ukrainian label is known amongst minimalists who still want to wear something that stands apart from the crowd. If your closet tends to skew on the less-is-more side of the spectrum, Bevza's has more than a few dresses for you — but we suggest starting with the black column design with fringe that lets out from just below the hips.
Founded in 2019, Par Moi works with deadstock fabrics to produce its made-to-order line-up — all of which is designed, drafted, cut, and sewn by the founder (hence the 'By Me' translation of the brand name). The dresses are especially ideal for a glitzy going out moment, although the pink bow-bedecked mini is a top TZR pick. It feels like something Twiggy would've worn in the '60s, no?
This New York City-based label was founded by two sisters — Marina and Francesca Moscone — and is an industry darling due to its use of luxurious fabrics and uncompromising craftsmanship. The items somehow feel both modern and timeless (you could easily wear their bubble mini dress for decades to come), and beautifully employ texture by way of hand-embroidered pearls and beads.
Born and raised in Nigeria and trained in Paris, designer Abiola Olusola draws inspiration from sleek architecture and African sub-cultures for her work. Her assortment of dresses are well-suited for those who want to feel like the life of the party. Take one of the brand's latest arrivals for example: a pink tube cut with embroidered tassels from head to toe. How's that for a style destined for the dance floor?
This Australian company has swiftly become a reliable source for unique celebration styles, full of voluminous shapes (think dressed with full skirts and tiered ruffles) and thoughtful details (like ruching and bow embellishments). If you're looking for a crimson-hued frock for your company's annual dinner party, the organza Asra dress below is sure to elicit a much-coveted 'where'd you get that?'
When it comes to holiday wardrobe fare, Rebecca Vallance is a master of her craft. The Australian designer is a favorite among celebrities like Chrissy Teigen, Sienna Miller, and Hailey Bieber thanks to her charming collection of dresses that incorporate accents like bow embellishments, crystal straps, and intricate beading.