Rely On These Red Boots To Make A Memorable Entrance
We found 10 unforgettable pairs.
Jeremy Moeller/Getty Images Entertainment/Getty Images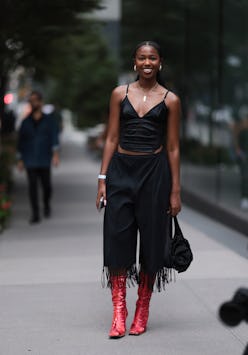 We may receive a portion of sales if you purchase a product through a link in this article.
If you've scrolled through a trend report or street style round up in the last six to eight months, you've probably seen a lot of one color: red. The bold and passionate hue was near-omnipresent on the Fall/Winter 2023 runways — and now that the season's officially arrived, its popularity is only picking up steam. But while there's no way to not make a notable entrance when dressed in all manner of carmine and scarlet, we'd argue that the most impactful approach to wearing these fiery shades is via bold boots.
Simply look to Patou, who employed plenty of candy apple over-the-knee stompers with separates in the same cheery color; consider the deep cardinal fitted suede silhouettes at Hermés (and the elegant way they anchored silky dresses and skirts). And over at Bora Asku, the lace-up vermillion footwear held their own, even when set against coordinating tulle confections. These fiery styles will work wonderfully with a head-to-toe crimson outfit, or as the cornerstone piece within a combination of understated basics. Either way, there's just something so cool and confident about wearing red boots, like you are declaring to the world that you aren't afraid to make a big statement because obviously you know how to carry it off.
Start turning heads now with the 10 perfect pairs below.