How The Fashion In 'Polite Society' Celebrates Sisterhood
The movie's stars and costume designer break down the best looks.
Parisa Taghizadeh/Courtesy of Focus Features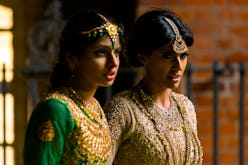 Polite Society, opening in theaters on Friday, April 28, could be described in a multitude of ways: It's a coming-of-age comedy, a genre action flick, and a mystery thriller. Written and directed by Nida Mansour, the Sundance darling follows teenage aspiring stuntwoman Ria Khan (Priya Kansara), who — along with her best friends Clara (Seraphina Beh) and Alba (Ella Bruccoleri) — is on a mission to sabotage older sister Lena's (Ritu Arya) wedding to dreamy doctor Salim Shah (Akshay Khanna). Sisterhood, be it by way of siblings or besties, is also an overarching theme, helped along with eclectic, self-expressive, and culturally-authentic fashion by costume designer PC Williams.
"It's so cool to work so closely with PC," says Kansara of the Central Saint Martins alum, who also won a BAFTA TV Award in 2022 for Mansour's all-women Muslim punk band sitcom, We Are Lady Parts (streaming on Peacock). "She's so brilliantly talented and also just one of the coolest people."
In the opening scene, Ria speeds through the bustling Shepherd's Bush Market on her bike, like an adrenaline-fueled scene straight out of a Bond or Bourne. Determinedly cycling, she wears a rugged Miss Selfridge shearling-lined jacket over her school uniform. "Nida's words were, 'It needs to be badass,'" says Williams, who referenced Top Gun for the aviator style.
"Ria loves movies," says Kansara, who imagined her character — dreaming of success in a male-dominated profession — would take fashion inspiration from leading men action stars. "So there were a lot of cargo pants and things that made her feel like Indiana Jones, like she was on a heist herself."
Ria's variegated stripes on oversize T-shirts and short-sleeve button-ups help illustrate her counterculture attitude toward expectations from her teachers, fellow students, and society at large. But the biggest source of inspiration came from a personal place for Williams. "Ria reminds me of a younger version of myself where I was wearing my dad's four-XL polos, a Nike tracksuit, and then jellies, as opposed to trainers," says Williams. The teen's relaxed silhouettes, sourced from brands like Quicksilver, Dickies, and MM6, allow flexibility for her dedicated martial arts training, and high-octane fight scenes that represent her anxiety of growing apart from Lena.
Williams also wanted to recognize Ria's second-generation Pakistani British experience through a confident and individualistic Gen Z style. "Young girls in London who come from minority backgrounds, we're influenced by cultural identity and the town that we live in. And, London is such a cosmopolitan, multicultural space," says the costume designer, relating as a second-generation Nigerian Brit.
Kansara points to Ria's beloved thick gold chain nodding toward her heritage. "It's usually something that is inherited or passed down, particularly in South Asian families," explains the actor. "I know Ria would have picked the heaviest gold chain that made her feel like she was on The A-Team. Because she holds her family very dear, putting that on every morning was a reminder that Ria loves her family and she will go to the ends of the earth for them."
Of course, Ria can't pull off her scheme to "save" Lena without her ride-or-dies, Alba and Clara, who also express their distinctive talents through wardrobe. Overachieving drama nerd Alba characterizes the "throwback girl" in an Urban Outfitters cow-print fleece and adorable '60s-daisy print overalls from Lucy & Yak. Hacker extraordinaire Clara embodies a goth-meets-arty-cool Camden girl aesthetic, with thrifted plaid skirts and a purple frowny-face emoji-covered sweater from Weekday. "Then you've got our sporty one with Ria," says Williams. "Those three girls in any other space don't make sense, but in our world they're the perfect complements to one another."
However, one wardrobe trait unites all three, sartorially: their school uniforms, which are heightened and stylized like the film, with poppy red Peter Pan-collared shirts and adorable hair-bows. Williams studied on-screen homogenous dress, from K-dramas to The Handmaid's Tale, and wanted to avoid the "overly sexualized" schoolgirl uniform trope because it clashed with the movie's messaging. So, the marled gray skirts have "a dropped hem and awkward length," plus intricate pleating to create "loads of movement when they move through the air," says Williams, who kept a Matrix-level fight scene between Ria and her nemesis Kovacs (Shona Babayemi) in mind. Well, until Ria suffers a humiliating public defeat in the school library in front of her friends and classmates — a brutal metaphor for universal teen experiences.
"[The uniforms] would revert me back to being a kid again and helped me explore [Ria's journey]," says Kansara.
But the (albeit very cute) uniform isn't so conducive to Ria achieving her preeminent move: a 540-degree aerial spinning jump kick. The movie begins with Ria enlisting Lena, who just dropped out of art school, to help her train and film content for her YouTube channel, "Khan Fu." The sister bonding time also energizes a listless Lena, who hasn't changed out of her black slouchy hoodie by Pakistani (and Riz Ahmed-approved) brand Rastah for days.
"I thought, what an amazing opportunity to open our movie with a young designer [Rastah founder Zain Ahmad], who's working creatively from that part of the world and give them this platform to really show what they can do," says Williams, who custom-designed Lena's PJ-patterned stovepipe jeans.
Suffering a crisis of confidence, Lena finds a safety net in the rich and handsome Salim, thus setting aside her artistic dreams. "She's wearing cardigans!" wails Ria, about her sister's pivot, sartorially and in terms of life goals. Lena evolves from, well, her sweatshirt, into demure cardigans, like the white fuzzy Bershka knit for her first date with Salim. "She goes on this transition of becoming more feminine, but also not very comfortable in her own skin," says Arya, who actually embraces cardigans in real life ("I love a cardi!"). "She's trying to be something that she's not."
As Lena steps further away from her true self, and the rift between her and Priya grows, she begins wearing more color and primmer silhouettes, like a magenta-hued button-down from Topshop for breakfast with future mother-in-law Raheela (Nimra Bucha). "She becomes 'The Stepford Wife' and then you see her fully transformed into this golden ideal of a South Asian bride," says Williams.
With their earlier attempts to undermine the engagement quashed (but kudos on the pretty sophisticated efforts, though!), Team Ria puts their grandiose plan into action during the sumptuously climactic wedding sequence. For the spectacular nuptials costumes, Williams heavily researched Pakistani weddings and collaborated with tailors and suppliers in London South Asian hubs, Green Street, and Southall. A cultural consultant was also on-site to help ensure authenticity and respect for traditions.
Williams created a "bridge" between Western and South Asian wedding styles when conceptualizing Lena's champagne gold and glass-bead-embellished gown and jacket. With the ornate embellishments, Lena's dress weighed upwards of 35 pounds. "I don't need to go to the gym in the morning because I'm gonna be wearing the wedding dress," says Arya, with a laugh. "Sometimes, in the break between scenes, people would just come over and hold my dress for a bit."
To create a distraction, Ria performs a stunning dance to Maar Dala by Kavita Krishnamurthy, from the 2002 Indian Hindi-language movie Devdas. Paying homage to Bollywood icon Madhuri Dixit's dance sequence in the doomed love epic, Ria wears a similar vibrant green and gold-embroidered anarkali. "That's so old-fashioned. No young people would wear that now," says Williams, recalling the tailor questioning the storytelling decision for Ria's wedding look.
"Yeah, young people wouldn't wear it as much, but Ria just loves movies," says Kansara. "I can just imagine her being like, 'Well, I might as well just look like the actress that does it,' and then make this a whole spectacle because she's just about that life, and she's the main character in the movie in her head."
Williams was also drawn to the nipped waist and full-skirted silhouette because of the "fluid circular motion" achieved in Ria's dance performance, and perhaps a sensational martial arts move that Ria and Lena have been working toward — together, as a reunited team.