Meet The 'Work Wife' Co-Founders Behind Your Favorite Fashion Brands
Business and pleasure do mix.
OpéraSPORT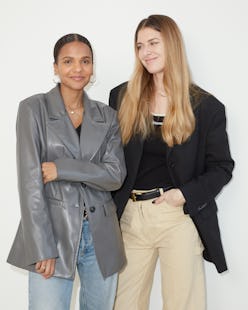 There's no relationship quite like a workplace friendship. Having a co-worker who you enjoy spending time with (like 40-plus hours of your week) not only makes your day-to-day grind more enjoyable, but some studies have shown it can make you more productive and, in turn, more successful. Just look to the fashion industry for proof: The space is full of "work wives," many of whom have taken their connection a step further by building an entire company together. While some individuals might be wary to mix business with pleasure, they have found great benefit in having a special bond with their collaborator.
In the case of the five industry-beloved labels ahead, camaraderie was the foundation for their now-thriving businesses. Some met through their kids, others were college dorm-mates, and some stayed in touch from previous corporate roles all the way into starting new ventures together. Their backstories are varied and unique, but there is one common thread: a mutual appreciation and respect that can withstand the test of deadlines, budgets, and creative challenges.
Read on to hear how labels like Nomasei and Rhode found their footing through friendship — and their advice on building a brand with your own work wife.
It's easy to fall in love with a brand like Nomasei. Designed in Paris and crafted in Italy, this direct-to-consumer footwear label has quickly became an editor-favorite when co-founders Paule Tenaillon and Marine Braquet launched in 2019. "We met while working at Chloé, where Paule was a designer and I was a collection manager," Braquet recalls to TZR. "Our first day of work together was directly at the factory and it was a professional love at first sight."
When the two made the decision to build Nomasei, their goal was focused: to offer seasonless luxury footwear — which spans boots, loafers, and heels — at an accessible price point. They work with a family-owned factory in Montopoli, a village in Tuscany, and the hand motif you'll discover throughout the collection symbolizes the different hands that help bring each design to life.
Together, the pair have found that having shared history is helpful in navigating the ups and downs of running a recently launched label. "We know and understand each other most of the time, and we are considerate of each other," Tenaillon says of the partnership. "We very much want to maintain healthy work and friend relationships! We also have similar life stories so we understand what the other one is feeling when dealing with certain situations."
Four years later, since introducing the brand to the market and growing their audience exponentially, their advice for following a similar path is simple enough: "Always keep in mind that in this case, it is not just business — it can be personal, if your goal is to keep a friend in your life," Braquet says. "Talk, talk, talk — communication is definitely the key."
Copenhagen- and Paris-based creatives Stephanie Gundelach and Awa Malina Stelter founded OpéraSPORT, which blends sporty silhouettes with modern detailing, in 2019 after a chance encounter. "We originally met through our boyfriends. My boyfriend Jens was friends with Stephanie and her boyfriend Mikkel, so he was the one who introduced us," Stelter tells TZR. The two shared a desire to build something from the ground up, but it took some nudging from their respective partners to get the ball rolling. "It was actually our boyfriends who asked if we should consider starting something together," Gundelach says. "Eventually we became aware of the fact that we shared the same dream."
Each founder had a different backgrounds in fashion — Gundelach was a freelance stylist and Stelter worked in production and design — which made teaming up a smart choice. "Awa is my dream partner — she is sharp, ambitious, has extensive experience in production and design, and is good at everything with numbers and Excel sheets," says Gundelach, who jokingly considers herself more of a "creative mess with a lot of ideas and with a focus on branding and marketing." Where their two roles overlap is the design, creating a unified focus for their business partnership and their friendship.
"Being great friends and working together is a huge strength," says Stelter, who references a vacation to Mallorca last summer as a strong example. "On that trip we found the inspiration for Edition 13 that drops in May, it was work and pleasure!" The two are also sharing another life-changing moment together: motherhood. "We could sit and breastfeed together at a shoot we had, when Stephanie just had her second child and I, my first child," Stelter adds.
One of their favorite memories is the first shoot they did in the suburbs of Paris, the location for their inaugural campaign. "We had tried to envision the universe of OpéraSPORT for so long and seeing it come together before our eyes was a big moment for us," Gundelach says. Stelter agrees. "It was so exciting," she remembers. "The first month, where it was so new and everything just went so fast. Kim Kardashian wore one of our styles, and it was really amazing to experience that together."
In 2019, Julia Brown, Sasha Martin, and Katie Hobbs launched Cara Cara, a line beloved for its exuberantly printed pieces. "We met in Manhattan through our children," Brown shares. "We all have boys around the same age and Sasha also has a little girl. I had always enjoyed spending time with both Katie and Sasha and appreciated their respective backgrounds in fashion and marketing." When Brown left her design job of over 20 years to work on her own brand, Martin and Hobbs — who didn't know each other at the time — were the first ones she contacted. "They clicked immediately, and the rest is history," she recalls. "It was incredibly serendipitous."
The trio's friendship didn't truly blossom, though, until after they began working together on Cara Cara. "I think we benefited from not having a ton of layered history together, but a genuine respect and admiration for each other and our respective strengths," Brown explains. "It was easier for us to carve out our lanes as well as be collaborative. We are now incredibly close — and even our families are close, which has been one of the many amazing things to come out of this partnership."
Of all the moments they've experienced together since 2019, Hobbs points to the launch party in Charlotte as a shared highlight. "Laura Vinroot and her lovely team created a fairytale tablescape, complete with orange floral arrangements draped from the ceiling and assembled the loveliest guest list of inspiring women." The event is particularly memorable because of when it happened. "The date was March 12, 2020, and the entire world changed over the course of a week. We were so grateful to have had that moment to properly celebrate this collection which we had worked so hard on. Fast-forward to summer of 2022, and we celebrated coming out of [lockdowns] intact with a trip abroad with our husbands."
Their advice for founding a business? Don't overanalyze. "Considering you have the proper experience and budget to invest in the company, don't get caught up in trying to plan absolutely every scenario because you will become overwhelmed and scared," Martin says. "There will inevitably be unknowns as well as situations that you didn't account for. What's important is to be passionate, nimble, and have the grace to learn from every situation. Pivoting is a real workout when starting a company!"
Based in New York City and known for its refined collection of vegan apparel, Apparis is an insider go-to. French duo Amelie Brick and Lauren Nouchi founded the brand in 2016 after having worked together at Louis Vuitton. "One evening in Paris after a lot of wine, we decided to ditch our corporate job and start Apparis," Brick shares. "It was really all born from the idea of disrupting the fashion industry by offering high quality, attainable vegan fashion." Now, years later, the brand is expanding into new categories like homewares, accessories, and a cruelty-free ski capsule. "We've done this all while staying completely vegan through the use of materials like recycled plastic bottles. We're even exploring an apple 'leather' fabrication for future collections — it's all very exciting."
Having known each other for over 15 years now, the two are deeply established in their partnership. "I think my favorite part about working with Amelie is knowing that there is deep trust between us, it allows us to be more daring and creative," Nouchi explains. "We have the same work ethic and passion for what we do. Building a brand is like raising a child, so it is key to have faith and be aligned with your partner."
For Nouchi and Brick, the key to starting a company with a friend is the ability to separate your friendship and business relationships. "When things get tough you need to have the ability to set personal feelings aside and do what's best for your brand, without worrying that it will ruin your friendship," Nouchi explains. "Also, never forget how lucky you are to work towards your dreams with an amazing partner by your side."
Not every business partnership begins with a platonic meet-cute fit for a Hollywood plot line — but in the case of Rhode, it definitely does. "Phoebe and I first met at the corner of 6th Avenue and 18th Street in Manhattan, outside of the Bed, Bath & Beyond where, after being randomly assigned as college roommates, we linked up to shop for our dorm room together," Purna Khatau says. She and Phoebe Vickers would go on to found Rhode in 2014, a brand now known for its vibrant colors, celebratory prints, and ultra-comfortable fabrics.
"It was kind of like the ultimate blind date that ignited a long-distance friendship spanning two decades," Khatau adds. "No matter where or what we were working on — Phoebe was a travel photographer and producer at a New York-based agency and I was a fashion buyer in Dubai — we would find the time to reconnect through out our travels."
One common thread throughout these two decades was their shared frustrations over finding the right kind of wardrobe for their busy, globe-trotting careers. "We would always commiserate on what was lacking in our suitcases: special, unfussy pieces made for both high summer heat and off-the-grid dining destinations," Khatau says. So they set out to change that. "We eventually quit our jobs and honed our love of travel and style into our vision for Rhode: a line of timeless pieces that are ready for anything."
As the duo reflects on their shared professional successes, a few themes stick out. "We're both really different but complement each other so well," Khatau says. "Phoebe and I know each other better than anyone, so having each other as thought partners has made building Rhode together so special and so fun." And while the last almost-10 years have resulted in countless occasions for the books, one of their favorite memories goes back to their very start. "One that stands out in particular is attending our first ever trade show together and securing our first big account: Shopbop," she says. "We'll never forget how exciting that day was!"