Found: The Best Street Style Looks From Paris Fashion Week Fall/Winter 2021
French Girls do it better.
Darrel Hunter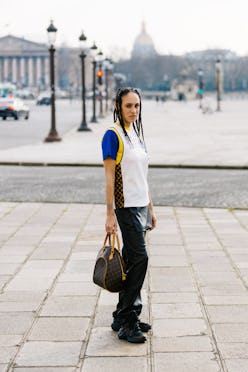 This season in the City of Lights, there's a good chance you won't be seeing the usual roster of A-list celebrities sitting front row at shows or quite so many models off-duty hanging out outside. However, you do still have the Paris Fashion Week Fall/Winter 2021 street style to provide the dose of outfit inspiration needed to get you through winter. Fortunately, even with many top influencers staying home this season, the streets remain filled with mesmerizing ensembles.
Paris is arguably the most anticipated fashion week on the calendar for a reason. That's because, on the schedule, you have a mix of heavy-hitters like Louis Vuitton and Chanel, as well as emerging fashion girl-favorite labels such as Coperni and Marine Serre. And, you can't forget about outside the shows, where signature French-girl style is seen everywhere. In fact, day one displayed just that. From berets to chic structured blazers, trendsetters were dressed in all the classic items the city is best known for. With all that being said, below you'll find the best street style from Paris Fashion Week Fall/Winter 2021, captured by photographer Darrel Hunter. And, of course, keep coming back every day until March 10 for more looks captured outside of the shows.
PFW Fall/Winter 2021 Street Style 7
To keep a floral dress and bow from feeling too romantic, opt for edgy boots.
This show-goer commuted from show to show in Nodaleto's Babies Bulla Ceramica heels.
A full Prada look is always a good idea.
Make a hot pink look appear more relaxed by finishing off with chunky sneakers and high socks.
This attendee wore a Louis Vuitton top, sneakers, and bag to the brand's show at the Louvre.
This spring, add some color to your pants drawer with a fun pattern trouser. This attendee arrived at the Louis Vuitton show in the label's Game On LV Ace Pocket Mom Pants.
Fitted black jeans, a tee, and a blazer are an instantly polished combo that doesn't feel too fussy.
PFW Fall/Winter 2021 Street Style 6
Instead of buttoning it, tie your go-to white button-down into a knot to make it feel different.
This show-goer rocked a Prada top under a cool patent leather jacket.
This attendee wore a flashy multi-color Dior earring.
Belting your jacket is a huge (and easy to replicate) trend on and off the runways lately.
Chloé Harrouche sported a sleek winter white ensemble.
Sports and fashion don't typically mix, however, this attendee made a convincing case with her Steelers jacket.
Consider lime green and maroon the next unexpected color combination to test drive.
This show-goer's tan Telfar bag stood out against her all-black outfit.
Swap out your white socks for a visually pleasing pastel purple style.
Maria Bernad took a call in between shows while wearing vintage trousers and By Far's Bougie Bag.
PFW Fall/Winter 2021 Street Style Day 5
If you're not one to branch away from your go-to black and white separates, start slowly by adding a mint green jacket into the mix.
This street style star took the streets of Paris in a head-to-toe Chanel ensemble.
Another Chanel look, however, this one was far more colorful.
Maria Bernad wore a Marine Serre printed jacket and funky trousers in a clashing pattern. The influencer completed the ensemble with soft pastel pink accessories.
A gold belt and jewels instantly give your ensemble extra oomph.
Bernad knows a thing or two about accessorizing — which is apparent through the way she styled her flared jeans with a Paco Rabanne bag and Simon Miller High Raid Boots.
Ellie Delphine wore a Gucci floral blazer and coordinating green trousers.
This show-goer brought some much-needed florals to the streets with her long shirt jacket. She completed the look with a Gucci bag.
Influencer Emmanuelle Koffi wore a full Dior look to the label's show.
Come spring, instead of a statement coat, opt for a fun printed cardigan.
Multi-color sneakers (like these from Nike's Sacai collab) are all you need to add a little pep in your step (quite literally).
A zebra print mini bag is a cool contrast to red leather separates.
PFW Fall/Winter 2021 Street Style Day 4
Orange accessories easily brighten up a neutral jumpsuit.
When it's still a bit chilly out, layer a cutout tank over a sporty long sleeve tee.
Proof that black and brown can be paired together.
A turquoise corduroy suit works almost any time of the year.
White booties give any ensemble a fresh touch.
Stick to creamsicle colors throughout your look while you're patiently waiting for summer.
Tone down hot pink accessories with a trendy animal print jacket.
Chunky square-toe loafers offset a fitted knit dress.
Dress up your athletic sneakers and sweats with a chic glossy coat.
PFW Fall/Winter 2021 Street Style Day 3
This show-goer coupled her Louis Vuitton bag with a polished white blazer.
Couple slouchy leather pants and a vibrant graphic tee for a slightly edgy, yet chic ensemble.
Oversized buttons add a fun detail to a solid jumpsuit.
This attendee brought preppy vibes to the streets with her plaid skirt and Dr. Martens Mary Janes.
White sneakers are the perfect addition to a relaxed pastel suit.
A Prada cutout turtleneck makes for a cool base of an ensemble.
This show-goer coordinated her Jacquemus mini bag with her trousers.
This attendee wore a Jacquemus bucket hat over a hoodie — and looked so cool doing it.
Maria Bernad clashed her red Coperni bag with sporty purple leggings.
Géraldine Boublil paired her stirrup pants with Prada loafers.
Chloé Harrouche arrived at the shows in a neon pink jacket layered under a long black coat and finished off with a glossy white Prada bag.
Forget tights — try cool sheer pants under a shirt dress.
For a quick walk around the block with your pup, opt for a bright orange belt bag and bomber jacket.
PFW Fall/Winter 2021 Street Style Day 2
Influencer Ellie Delphine displayed how to incorporate pops of red and yellow into a bright blue ensemble.
For an eye-catching outfit, try matching your top to a scarf. Ground the floral prints with a sleek leather jacket.
If you're in a pinch, throw a long coat over an easy jumpsuit. This show-goer finished off her look with Converse sneakers.
More animal print made its way to the streets in Paris. This time, the attendee opted for a cool zebra print maxi dress and a Loewe woven bag.
Dress up your cozy separates with a luxe crossbody bag.
This attendee styled her platform Dr. Martens with flared trousers and an adorable scarf hanging from her bag.
Even for more casual occasions like walking the dog, cool accessories, like the Sporty & Rich hat above, can instantly pull an ensemble together.
PFW Fall/Winter 2021 Street Style Day 1
A long printed coat adds a dressed-up appeal to your wide-leg jeans.
Fringe wasn't just a huge trend in Milan. In Paris, fringe jackets were the go-to for show-goers as well. This look was punctuated with a structured Gucci bag.
A pair of Off-White Nike sneakers were the cool finishing touch on this playful ensemble.
This attendee presented the perfect way to pull off a beret. Even if you aren't located in Paris, try wearing the hat with an all-black ensemble and finish with a pair of Doc Martens.
This show-goer wore Marine Serre's mask detailed with its signature print to the brand's show, styling it with an oversized Balenciaga sweatshirt.
This attendee is bringing back the "stick of butter" trend, choosing pieces within the same subdued color family.
Proof that animal and floral prints do pair well together.
If you're not quite keen on neon hues, try electric blue. The color almost looks like a neutral when coupled with black.
This show-goer got the bucket hat memo and opted to match the accessory with her jacket.
Make a blazer a dress by wearing tights underneath it. Finish off with chunky black boots to balance everything out.
This article was originally published on