6 Style Rules French Fashion Editors All Follow
Edward Berthelot/Getty Images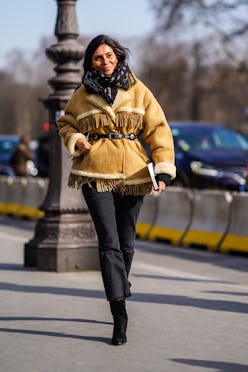 When the fashion crowd convenes for fashion month, it's instantly obvious who hails from which country. The Italian editors arrive at shows dressed to the nines in bright prints and sky-high heels. The editors from New York pack pieces from their favorite indie NYC designers — often in neutral colors. And as for the French, they're all about sophisticated uniform dressing. French style rules, as demonstrated by some of Paris' most high-profile editors, are surprisingly simple — in fact, most looks follow loose parameters that are basically interchangeable from person to person. The good news? You can follow them too with the right inspiration (and the shopping options to help you out, too).
Below, you'll find street style looks from three key power-players in France: Emmanuelle Alt, the editor-in-chief of Vogue Paris; Carine Roitfeld; founder and editor-in-chief of CR Fashion Book, and Jennifer Neyt; Vogue Paris' Fashion Market Editor. Over the careers of each of these top editors, there have been plenty of notable street style looks worth adding to your everyday dressing moodboard, but many of them stick to the same style tenets. For the French, simplicity trumps all. Though they never look sloppy or under-dressed, they find ways to make staples like skinny jeans look effortlessly cool. So, no matter if your own language capabilities don't get much further than oui or bonjour, you can still look the part with the Parisian style rules below.
The French Way: Stick To The Classics
There's a reason the classics have earned their timeless reputation, it's because simply put, they work. French editors including Neyt keep a heavy rotation of these simple staples in their closets proving that dressing to impress doesn't have to be complicated.
The French Way: Add In Bohemian Details
Floaty bohemian dresses and western-inspired accessories are favorites of french fashion houses like Isabel Marant and Chloé, so it should come as no surprise that the trend translates into the wardrobes of Parisian editors like Alt too. The ease of a floaty maxi or fringed jacket offers balance to the sharp tailoring that these trendsetters also favor.
The French Way: Wear All Black
Uniform dressing doesn't have to be boring. Opt for an all-black outfit, which allows for focus to fall on the fit of an ensemble instead of a bold color or print. To add a little variety, try a colorful heel like Roitfeld's burgundy pumps.
The French Way: Dress Up Jeans And Boots
If you ever needed proof that denim can be polished, look no further. Skinny jeans tucked into over-the-knee boots or cropped denim styled with sleek ankle boots are both editor-approved pairings. Style them with a blouse or blazer and t-shirt and you have the ideal day-to-night look.
The French Way: Pay Attention To Fit
Tailoring is a trick that often flies under the radar, but can make all the difference in the way an outfit fits and looks. When adding simple staples like skirts, jeans, trousers, and even T-shirts into your closet, consider having them tailored, especially if you plan to hold on to them for a while.
The French Way: Find Your Key Statement Piece
To elevate an all-black uniform, a simple solution is to layer on one chic statement piece, whether it be a bag, coat, or cool pair of earrings. Roitfeld's sage-green suede coat pops against her sleek ensemble, allowing it to shine as the hero piece of her look.