This November Is Jam-Packed With Thrilling Fashion News
@sandyliang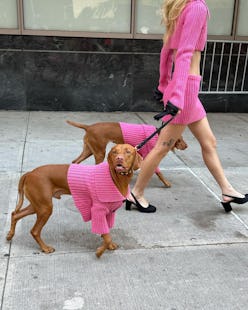 As I write TZR's monthly On The Pulse series (if this is your time first here, welcome!), I think I may sound like a broken record to my coworkers, slacking them something along the lines of, "Wow, there's so much going on." And while I always mean it (October was truly a whirlwind), I'd argue this month is the busiest and most exciting so far this year. Case in point: We're not even halfway through November yet, and there's already tons of fashion news to cover, from first-ever brand collaborations to holiday campaigns.
Let's kick off the convo with the latest brand partnerships. For starters, Sporty & Rich and Adidas are continuing their partnership with a third collection. In their newest drop, the label's reimagined Adidas' iconic Stan Smith sneaker. "Arriving in an all-white make-up and swapping out the sneaker's classic leather upper for a canvas construction, the Stan Smith Sporty & Rich features green accents, including a Trefoil on the lateral and Sporty & Rich lettering on the tongue," Emily Oberg, the founder of Sporty & Rich, said in a press release. And if you're a pet parent (me, me, me!), you've likely already caught wind of the buzzy Sandy Liang and Little Beast collaboration, which dropped on Nov. 10. Matching bubblegum pink knits for you and your furry friend? It's a yes for us.
And because the holidays are drawing near, luxury labels are beginning to release their seasonal campaigns. Burberry, for one, just dropped its newest imagery, with adorable animals fronting the ads. That's right, the British fashion house skipped models this year and instead shot dogs and ducks alongside its holiday accessories, including fuzzy mules, silk scarves, and plaid blankets.
Ahead, read up on November's top fashion news, and continue checking back as we'll update this news feed throughout the month.
Warby Parker & Emma Chamberlain Release Limited-Edition Frames
Industry-favorite eyewear brand Warby Parker has tapped internet sensation Emma Chamberlain to debut limited-edition frames ($95) on Nov. 29. It turns out the 22-year-old has been a long-time fan of the company ever since she first bought matching glasses with her dad at a San Francisco store seven years ago (aww!). For the collaboration, Chamberlain helped reimagine three of Warby Parker's silhouettes — the Durand, Lonnie, and Braswell — in new colors, all selected by the influencer.
Stylist Dani Michelle Debuts Her Jewelry Brand
Dani Michelle, a celebrity stylist who dresses A-listers like Kendall Jenner and Hailey Bieber, added brand founder to her ever-evolving resume this month. On Nov. 16, the renowned fashion figure debuted her new brand, MÉGA Jewelry. Running the gamut from bold to understated, the inaugural collection — which includes sparkly pendant necklaces and dainty gold bracelets — is priced from $22 to $220.
Alaïa Teams Up With Rare Books Paris
Book worms, this one's for you: This winter, fashion house Alaïa is linking up with Rare Books Paris, a boutique that sells fashion and art's most sought-after tomes of iconography. From Nov. 27 to Jan. 4, a vetted assortment of books, chosen by Alaïa's creative director, Pieter Mulier, will be available to shop at the Parisian label's Paris Marignan and London New Bond Street stores. "Books lead to beauty. They are our best allies, and our most precious legacy. One of the objects I own and cherish the most is a book on Le Corbusier that used to belong to my grandfather," Mulier said in the press release.
Moncler Joins Forces With Sacai
Moncler is celebrating its 70th anniversary by way of a covetable collaboration with Sacai, which debuted on the runway during Paris Fashion Week Fall/Winter 2023. Now, the wait is finally over: On Nov. 27, the collection hit select boutiques. "Crafting life essentials for the next 70 years, Abe drew from Moncler's own brand journey, originating in the mountains and migrating to the city," the press release said, referring to Chitose Abe, Sacai's creative director. "A layered capsule of four looks is ready to equip anyone for that journey. It's a collection geared for shared experiences that bring about lasting memories; that make an impact that endures."
The four looks in question? Two full outfits for men and two for women, which include styles like puffer jackets, fuzzy vests, suits, and a pleated dress. One look comes in black, whereas the other is splashed with an off-white and ecru palette.
Christine Alcalay Launches Knitwear
It's an exciting month — err, year — for New York-based namesake designer Christine Alcalay. The brand opened a boutique in Park Slope, Brooklyn, back in May, and this November, it made its first foray into knitwear. In the new collection, you'll find oversized turtleneck sweater dresses, crochet cardigans, and slouchy ponchos. Style your piece with one of the label's printed trousers, and your outfit is complete.
Rachel Zoe Releases Her Winter Box Curation For CURATEUR
Struggling with gift ideas? Allow Rachel Zoe to lend a hand. The style guru's six-piece winter box curation for CURATEUR is chock-full of luxe items for both the style obsessed and fashion curious. The Leeada Bryn Pearl Lariat Necklace, for instance, is a must-have piece everyone should have in their jewelry box. "I love this lariat for dressing up everyday winter looks, like a cashmere sweater and jeans. It's even more of a standout when worn with a v-neck or plunging neckline," Zoe said in a press release. And if they're more of a homebody, try the The Show Me Your Mumu Harlow Robe. "Even when I'm just hanging out at home over the holidays, I like to feel a little fashionable. This patterned robe is equally stylish and comfortable, so I'll be wearing it all season," said Zoe.
Best of all, the whole product assortment is worth $650, but with the CURATEUR box, you can score everything for $125. Plus, first time purchasers can use the code STYLED for $25 off of the curation box membership (valid through Feb. 1).
The Jaeger-LeCoultre Exhibition Comes To New York
Should you be in New York this November, make plans to stop by luxury watch brand Jaeger-LeCoultre's Reverso Stories exhibit, which was first created in 2021 to celebrate its iconic Reverso style's 90th anniversary. "A fascinating retrospective that leads visitors through nine decades of timeless modernity, 'Reverso Stories' reveals the craftsmanship, innovation and design behind the celebrated timepiece and also explores the wider creative and cultural universe surrounding it," the press release explained. The installation is taking place at Iron 23 in Chelsea until Nov. 22.
Barrie & Sofia Coppola Collaborate On A Collection
Sofia Coppola teamed up with Barrie on a limited-edition 17-piece collection. "I've always been fascinated by Sofia's precision in terms of looks and attitude," Barrie's creative director, Augustin Dol-Maillot, said in a statement around the collab. "She always finds the perfect balance between timeless pieces and a modern silhouette. The collaboration seeks to achieve this same effect by focusing on the tiny details that transform apparently simple pieces to make them timeless and desirable at the same time." A few key items from the cashmere-heavy assortment include striped pullovers, neutral trousers, and pastel beanies.
To celebrate the partnership, Coppola hosted a party at Invisible Collection in New York on Nov. 14, with guests like Margaret Qualley (who fronted the campaign imagery), Anna Sui, Gucci Westman, and Kate Young in attendance.
Sydney Evan Partners With Wequassett Hotel
Are you dying to get out of town for a weekend? Well, as luck would have it, jewelry brand Sydney Evan joined forces with Cape Cod's five-star resort, Wequassett, to offer customers two can't-pass-up hotel packages, which you can purchase from Dec. 1 to Feb. 29. The first experience features a two-night stay in a Signature Suite, a private dinner for two, a limited-edition diamond Cape Cod script necklace and porcelain seashell jewelry tray from the jewelry designer, and more. Then, the second package includes a three-night stay in the Round Cove suite, a diamond charm necklace, and other perks.
Presley Oldham Launches His Winter Jewelry Collection
This month, Presley Oldham dropped his winter 2023 jewelry collection. "I pushed myself to play with new textures this time around, and embrace materials like faceted gemstones and chunky glass [in] ways I haven't before," the namesake jewelry designer said in a press release. As a result, the lineup includes a number of new pearl pieces, as well as other gems like lapis, aquamarine, and sapphire. The label also debuted its first-ever hoop earrings in its latest collection. "Our classic hoop is hand-hammered in sterling silver or 14k gold fill wire, and adorned with a plenitude of pearls — 100 pearls per hoop to be exact." Fun fact: Oldham tapped his uncle, Todd Oldham, to shoot the stunning campaign imagery.
Susan Alexandra Releases Its Judaica Collection
On Nov. 6, beloved New York-based accessories label Susan Alexandra launched its Judaica collection. "In light of the current climate, Susan Alexandra embraces the Jewish concept of Tikkun Olam, or 'repairing the world,' infusing her creations with hope, love, and a commitment to healing," the statement explains. "At the heart of this collection are beautifully crafted menorahs, mezuzahs, dreidels, and yarmulkes, each adorned with Susan Alexandra's signature use of vibrant colors and humor, rich with symbols of the Jewish heritage."
A few standout looks from the assortment? A dirty martini menorah and sterling silver "Chutzpah" bracelet. What's more, proceeds from the brand's newest collection will go to World Central Kitchen, an organization committed to providing meals to people in need during humanitarian, climate, and community crises.
Burberry Drops Its Holiday Campaign
Burberry's creative director Daniel Lee's first holiday campaign with the luxury label was one we won't soon forget. Shot by Roe Ethridge, the campaign shows playful imagery like a duck next to a sleek, soft yellow bag and a beagle pictured with a furry shoe. The duck was a fitting choice for the brand, as it has been a signature Burberry symbol since Lee took the helm (remember the yellow duck print for Fall/Winter 2023?).
Valentino Opens Its New Flagship Store
The next time you're in the Upper East Side, make sure to stop into Valentino's new flagship store, which officially opened its doors on Nov. 8. Located at 654 Madison Ave, the boutique has three floors, with each focusing on "a distinctive visual narrative based on chromatic compositions and carefully curated materials palettes, with special attention given to the Maison's iconic use of red through an exploration of some of its most vivid declinations," said the press release. Inside, you'll find ready-to-wear, menswear, accessories, and footwear. Plus, the building's mezzanine has temporary art displays, which feature work from various galleries and institutions.
Sporty & Rich Launches Third Collection with Adidas
Did you miss the past two Sporty & Rich and Adidas collections? Great news: You have another chance to get your hands on a look (or a few), as the duo are back at it again for a third drop. Available to shop on Nov. 10, the assortment is "an ode to vintage aesthetic as well as holistic rest and replenishment, offering the return of the Samba OG Sporty & Rich colorways: white with burgundy accents and white with mustard yellow accents," the press release says. In addition to the beloved kicks, the collection includes other athleisure essentials, like crewnecks, hoodies, pants, tees, and accents.
Jenny Bird & Favorite Daughter Release A Collection
If your jewelry box could use some new everyday pieces, the Jenny Bird and Favorite Daughter collection will surely have just the thing. Available on Nov. 7, the limited-edition lineup features gold and silver sets, which feature a pair of hoops and a single, hand-formed ear cuff. "Our collaboration with Favorite Daughter was a natural fit given their expertise in core wardrobe curation," namesake jewelry designer Jenny Bird says in the press release. "Our modern hoop earrings and ear cuff are cool and effortless — something that aligns beautifully with both brands."
Merlette Introduces Its Pre-Spring 2024 Denim & Jersey Collection
Get your credit cards out: Merlette's pre-spring 2024 denim and jersey collection, which drops on Nov. 15, is now available for pre-order. The assortment includes four denim silhouettes (a fitted straight-leg, cropped wide-leg, relaxed shorts, and a jean jacket), priced from $300 to $480, as well as a selection of 100% cotton tees ranging from $140 to $180.
Completedworks Partners With Dover Street Market
London-based label Completedworks and Dover Street Market have come together for an exclusive seven-piece capsule collection, priced from $335 to $545. Made from recycled silver and brass plated with 18k gold, the drop includes luxe pieces like a knotted chain necklace, mismatched drop earrings, and understated bangle.
As of Nov 2., the pieces are featured in store installations in Dover Street Market's New York and Los Angeles locations. "Dover Street Market was one of the earliest supporters of Completedworks, putting us in their stores across the world and giving us a platform to explore our creativity and ideas. It's been special to have the opportunity to collaborate on an exclusive capsule," Anna Jewsbury, atistic director at Completedworks, states in a press release.
Hello & La Ligne x Oetker Collaborate On A Collection
On Nov. 8, New York-based label La Ligne and Oetker Collection, the hospitality brand behind Masterpiece Hotels, launched limited-edition pajamas. "This collaboration is the perfect marriage between one of La Ligne's most recognizable items, the Bonne Nuit Pajamas, and Oetker's dreamy locations, resulting in the ultimate escapism, blending comfort and sophistication in perfect harmony," Molly Howard, CEO of La Ligne, lays out in a statement. The sleepwear ($250) is decorated with symbols that nod to the Masterpiece Hotels locations, like a China teapot for The Lanesborough in London and a vintage Volkswagen, the signature ride at Brenners Park-Hotel & Spa in Baden-Baden.
Sandy Liang & Little Beast Team Up For A Collab
Sandy Liang fans will lose it over the brand's first-ever pet collection with Little Beast. The products hit sites on Nov. 10, and to no one's surprise, they're going incredibly fast. Luckily, a few styles are still up for grabs — see the aforementioned pink sweaters and bow-adorned tote bag. Fingers crossed for a restock! In the meantime, get your hands on a coordinating look and be prepared to garner attention as you stroll around the neighborhood with your fur baby.
Cariuma & Marie Kondo Launch A Sneaker
On Nov. 9, eco-friendly sneaker brand Cariuma released a sneaker in partnership with Marie Kondo. Featuring the footwear company's fan-favorite OCA Low silhouette (which currently has a waitlist of 109k people!), the kicks are covered in cute, teeny-tiny star motifs. Add these comfy, cool style to your sneaker rotation — you won't regret it.
Cleobella & Katherine Schwarzenegger Collaboration On Second Collection
On Nov. 1, ethically-made label Cleobella and author Katherine Schwarzenegger released their second collaboration, this time honing in on holiday-ready clothing, loungewear, and kitchenware. "One of my favorite parts of having daughters is being able to have mommy and me matching moments and that's why we designed this collection to have minis to all the outfits. I can't wait to match my girls for a holiday party and lounging around the house over the cozy holiday season," Schwarzenegger shares in the press release.
This article was originally published on