Molly Goddard's Spring 2024 Show Was A Ruffled Dream
All hail the cupcake skirt.
Gareth Cattermole/BFC/Getty Images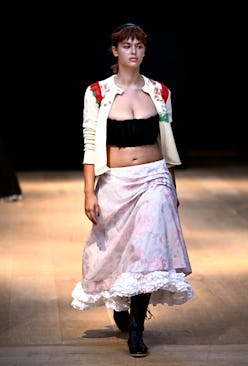 Sure, this month's NYFW's runways displayed a more whimsical take on warm-weather dressing, complete with bows, slinky sheer creations, and voluminous silhouettes. But one could argue that American designers are simply playing catch-up in a game that Molly Goddard has been dominating for years. Truly, the British designer staked her claim on dream-like, fanciful creations since she started her namesake brand some eight years ago. And while the label's Spring/Summer 2024 presentation was expected to be yet another frou-frou extravaganza, in a surprising turn of events, Goddard took her typical playbook in a more subversive, risqué direction.
To be clear, the Sept. 16 show (set in Christie's London) stayed true to the brand's traditionally feminine design codes. But, in a princess-meets-punk move, the designs traipsing down the circular runway had an edgier, racier tone than the candy-coated, youthful themes of past collections.
The first sign of a changing wind was actually the hair. Goddard typically sticks to effortless, fresh-faced beauty looks with tousled waves, light makeup, and the occasional statement lip. This time around, the designer went for bold with shocking color-blocked bangs (likely a nod to the color-blocked styles displayed, but more on that later) and dark, charcoal-shaded eyes. Ribboned headbands kept the hair away from the face, so the focus could fall to the alluring, midriff-baring ensembles.
Indeed, this latest presentation seemed to be a celebration of the human form, as much of it was prominently displayed via cropped, bustier-style tops and barely there bralettes. Lightweight cardigans, a brand signature, were worn open or single buttoned at the top, allowing for full torso exposure. Natural curves were hugged by drop-waist and strategically gathered midi-skirts with cupcake-like ruffled finishes at the hem. Speaking of the childlike detailing, frilly micro-shorts, resembling the bloomers peeking out from toddler playsuits, also made an appearance. From the looks of it, ruffled bottoms — in skirt form or otherwise — could be the trend to look out for in 2024, as Goddard is certainly signaling its imminent takeover.
"I have always loved the internal workings of garments, hand-sewn adjustments and finishings," says Goddard in the official show notes. "I started this collection at the National Theatre costume hire, focusing on underskirts and underwear — crinolines, 1950s bras, Victorian christening gowns, Georgian underskirts."
Gareth Cattermole/BFC/Getty Images
Always game for a balancing act, the designer also dabbled in shade play and contrast, pairing sherbet-colored gowns with sturdy, black riding boots. Conversely, simple black and/or white ensembles were brightened with colorful lace-up ballet flats and multi-colored waders. Yes, tiered tulle and taffeta were embraced, but Goddard took pains to ensure no look was overtly precious or — on the other end of the spectrum — too plain or humdrum.
"Frills explode from seams of tailoring and from underneath heavy canvas cotton," says Goddard of her approach. "Pin tucks are cut on the bias creating new silhouettes and draping. Domestic qualities also feature satin trim, felted wool knits reference old fashioned rich pastel blankets, a faded upholstery rose print on lightweight cotton organdy, wadded cushion bags, a duvet dress."
If you're in the market for some feminine looks with a bit of grit this spring, take in Molly Goddard's latest, which are sure to help you think outside the floral-printed box in 2024.