J.Crew's Latest Vintage Collection Offers Popular Pieces From The '90s
Courtesy of J.Crew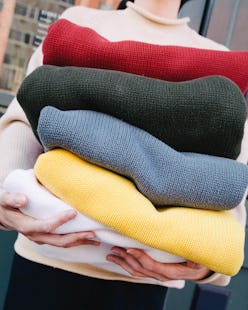 We may receive a portion of sales if you purchase a product through a link in this article.
If you're on TikTok or Instagram, you know over the last year there's been a renewed interest in old J.Crew. There's an Instagram account called @lostjcrew that resurfaces past ads from the brand while the label's Head of Women's and Kids Design, Olympia Gayot, has reinvigorated people's interest in wearing the brand again. She often posts minimalist looks that harken back to its classic, prep days. Given everyone's current fascination with '80s and '90s J.Crew then, its latest vintage collection will come as no surprise. On March 23, the retailer announced that it's bringing back some of its most iconic pieces from the past for shoppers.
Starting on March 24, J.Crew will release a limited amount of its '90s Cotton Rollneck sweater, followed by its vintage '90s Bicolor Anorak, and '90s Spring Barn Jacket. The Rollnecks will come in varying shades of pink, navy, and white. "I have always found such inspiration in looking back at the J.Crew catalog archives; specifically The Rollneck," said Gayot in a statement. "The iconic sweater is part of our brand DNA and is one of the items that people ask about the most, season after season."
Start brainstorming which color to get and how to style the knit because chances are, these tops will quickly sell out. This minimalist wardrobe staple can be styled in many different ways — over a slip dress, with blue jeans, or with a voluminous skirt for example. The sweaters, as well as the other vintage items will be available to shop at the J.Crew Bowery store location in New York City and online.
Along with the new drops, the retailer also launched a spring campaign to celebrate its 40th anniversary. The direction for the ads looks back to the brand's simpler catalog days, which draws a nice parallel to its vintage collection. "Back in spring 1983, the very first J.Crew catalog launched a new era of American style. Forty years later, we're celebrating all the hallmarks of our heritage — elevated classics, mood-boosting color, rugby stripes — with some familiar faces and new friends," read the press release.
Shop J.Crew's nostalgic vintage collection, ahead.