Start The Year Strong With These 31 Perfect January Outfit Ideas
@aniyahmorinia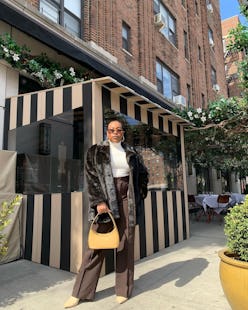 We may receive a portion of sales if you purchase a product through a link in this article.
Today's the first day of both the month and the year, which means, at least in theory, an opportunity to start anew. In reality, however, this annual moment in time can cause one to feel slightly sluggish: The holidays have all passed, the first snowfall has likely hit, and it's awfully cold and dark outside — or at least colder and darker than usual. (Hey there, temperate climate dwellers — we see you and we're a little jealous.) Getting dressed can start to feel more like an exercise in staying warm and skating by, rather than expressing your inner sartorial desires. But the perfect January 2023 outfits ahead are sure to change just that.
To help get you out of a mid-winter style slump, TZR editors have gathered 31 foolproof looks worth copying to get you through the month and, of course, shopped out the hero piece for each look. Whether your sensibility skews in a daring, feminine, or completely classic direction, these outfits are insider-tested and approved. And, even more, there are smart and easy ways to switch things up if you've found yourself in a jeans-exclusive rut (including new ways to wear your beloved blues). Keep scrolling to get inspired.
Cropped Shearling
ICYMI: hip-grazing jackets are definitely having a moment right now, and no option feels better suited to deep winter than a sweet shearling-detailed one. Layer it with your favorite chunky sweater and channel some aprés-ski energy.
Super Scarf
Scarves, in general, are a mid-winter necessity. But you can definitely squeeze some extra outfit opportunities out of the style by opting for a zesty orange color.
Plush Coat
Fact: A luxuriant fur coat makes most any outfit feel about 100 times more glamorous, especially if you include chocolate brown trousers and a cream turtleneck.
Pink Puffer
There's something about squishy, quilted outerwear in bright and bold tones that's just plain cool. And if you go for magenta, it's feminine and fun, too.
Non-Boring Beige Layers
Make a mix of tan and ecru more exciting by introducing patterns and materials with slight visual variations.
An Equestrian Coat
Tap into the horse girl trend with a cushy quilted barn jacket — leggings and riding boot optional (but definitely an A+ addition).
Wide-Leg Jeans
Keep your skinny jeans (if you still have them) in the back of your closet. The momentum for relaxed silhouettes, especially wide-leg bottoms, are still strong for 2023. For an effortless pair, look to a classic brand like Levi's for options.
A Knit Skirt Set
After spending the holidays in sweats, you're slowly getting back into the groove of dressing up, which is totally understandable. For a "I tried, but not too hard" slip into a cozy knit skirt set.
A Logo Bucket Hat
Your sweater outfit feels like it's missing something, so perhaps a luxe bucket hat will address that dilemma? The topper will keep the wind from messing up your hair while the logo gives your ensemble that certified designer touch.
A Sweater Vest
Snuggle into your sweater vest. The best part about this style of knit is that it's easy to layer with, whether you decide to pull it over a turtleneck top or a voluminous dress.
A Pair Of Puffer Pants
Puffer pants are everywhere this winter season. So if you love the fashion trend start the year off right with a pair from Baum und Pferdgarten.
Furry Boots
If you're not afraid to make a playful and dramatic style statement with your outfits, then the extra furry boot look is for you.
A Cropped Cardigan
Don't underestimate the power of a cropped cardigan, especially if you choose one in a punchy hue like red. This knit can be styled with everything, from slip dresses to jeans to leather pants.
Statement Earmuffs
Don't risk exposing your ears to the winter elements this season. Keep them warm and happy underneath statement earmuffs. (Look for options that are either covered in logos or come in bright colors.)
Dressed Up Leggings
Luckily, January still calls for lots of winter layers so it's easy to dress up (or hide) your black leggings if styled out properly. Start by picking out a pair that doesn't resemble workout pants, like this faux leather moto style, then add on the appropriate separates like a dressy, tailored coat and cute bag.
Green With Envy
You might be encouraged to step outside of your comfort zone at the start of the month and experiment with colors, prints, or silhouettes you normally don't wear. If that's the case, test out the verdant green shade either by wearing a head-to-toe look in this hue — or ease into it via a pair of emerald-colored earrings.
An Oversize Half-Zip
Give your favorite crewneck sweater a break and slip on your oversized half-zip knit. This casual piece lends itself to unlimited layering ideas — perhaps you can style it over a floral motif turtleneck top or a bright green neon mock neck.
Whimsical Pants
Take the first month in a new year as a sign to try a look outside of your comfort zone. If you typically don't wear a lot of colors or patterns, dive right in with a pair of whimsically designed pants. You can easily tone down the busyness with a simple white T-shirt or the aforementioned gray half-zip sweater.
Not Your Average Button-Front Shirt
You live in your button-front shirts and don't foresee that changing in the new year, which is totally fine. (It's your signature!) When adding a new addition into your rotation though, look for unexpected styles that either feature an asymmetrical fit or cutouts.
Striped Socks
Socks are often an afterthought in an outfit, but don't have to be. Challenge yourself to style a look around the psychedelic printed socks you bought last season and still have yet to wear. Or, if you want to start with a more classic design, opt for multicolored striped socks.
A Lounge Set
For the homebodies who want to feel cute while sipping on their matcha lattes on Sunday morning, slip into an easy loungewear set.
Accessorize With A Tie
A tie can be worn by anyone, so feel free to add one into your look if it makes you happy. A patterned option in particular allows one to show off their experimental style and personality.
Balaclavas
You didn't get a chance to properly test out the balaclava fashion trend last season — don't worry, you can still wear one in 2023. 'Tis the season to wrap your face and head up to protect yourself from the snow and wind.
A Chunky Sweater
There's nothing like sinking into your chunky knit sweater, and with the low temps in January (if you reside somewhere cold), this is a must-have staple.
Leather Pants
When you find the perfect pair of leather pants, you won't even miss wearing your jeans. Instead of going with a pair in black, try brown since it's still a versatile shade you can wear every day.
A Fuzzy Vest Jacket
There are so many ways to wear a fuzzy vest, like layering it over a winter dress (as pictured above) or over a simple long-sleeve top.
A Strapless Leather Top
Add a bit of spice into your wardrobe with a strapless leather top. Should you want a more modest feel, layer a blazer or cardigan over it.
A Trapper Hat
Trapper hats are quintessential to a wintertime outfit and it can easily become the accessory in your look — just opt for a colorful topper.
A Two-Tone Sweater Dress
A knit dress styled with your favorite pair of boots is an easy outfit idea to keep in your back pocket. Look for a silhouette with unique details, like a two-tone color palette, to stand out with little effort.
Print Mixing
Pull a Portia from White Lotus by mixing and matching loud clashing patterns together. Take her zebra print bikini styled with a rainbow shrug on the show — it shouldn't work, but strangely it does. Similarly, tartan and horizontal lines play well together, too, as seen above on content creator Courtnee Ruth Crews.
Textured Neutrals
One way to make a minimalist outfit feel less mundane is to play with pieces in contrasting textures, like stylist Sissy Chacon did here. The bumpiness of her knit sweater played well with the smoothness found in her ivory leather pants.