The Couple Behind James Veloria Prove Fashion Needn't Be So Serious
Style with a side of fun.
@jamesveloria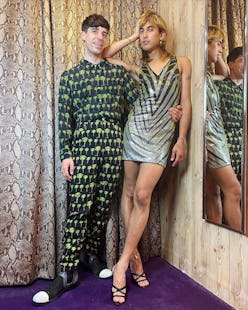 We may receive a portion of sales if you purchase a product through a link in this article.
Tucked away in a nondescript Chinatown mall, James Veloria is an IYKYK shopping destination. Countless fashion editors, insider tastemakers, and celebrities (ahem, Naomi Campbell and Beyoncé) have bought pieces from the NYC-based vintage and archival store, run by a cool and very stylish married couple: Collin James Weber and Brandon Veloria Giordano.
The store, a natural progression from the duo's eBay habit-turned-online business, is an intimate and welcoming refuge for shoppers. Hidden away from street level on the shopping center's second level, the boutique is filled with primary colors, maximalist prints, and tinsel curtains. The discreet location provides a certain level of anonymity for those who want or need it. "A lot of queer, especially trans people [shop here]. There aren't a ton of spaces specifically designed to support them, says Giordano, naming a pro in having a semi-secluded storefront. "And the one thing that makes me the happiest is that this is a place where people can really feel safe trying on all different types of clothes that maybe in another shop, the experience would be more intimidating or unwelcoming."
Much like the shop's personality-packed decor, the co-founders radiate an unforgettable sense of style. It's not out of the ordinary to catch Weber (who loves slinky pieces) rocking a plaid Moschino set, or Giordano (a fan of updated classics) flaunting a cutout top and miniskirt from Comme des Garçons — the two always look fabulous. They're both big fans of experimenting with colors and prints throughout the season, too — their James Veloria IG page reflects this — and have a joyful approach, never-too-serious way of putting pieces unexpectedly together like, say, teaming a lacy top with slouchy pinstripe trousers.
As one might guess, many of Weber and Giordano's outfits on social media often come right off the racks of James Veloria. A perk to running your own vintage shop, after all, is snagging the good stuff for yourself first. But there's plenty of perfect pieces to go around, as Giordano and Weber diligently source and curate avant-garde items for their loyal customers from around the world on the daily. You can often find coveted labels like Jean Paul Gaultier, Vivienne Westwood, Comme des Garçons, Prada, and Gucci often at wallet-friendly prices both in stores and online. This Moschino Couture skirt will set you back $180 for example, but this isn't unfathomable compared to the high markups for luxe brands at other consignment shops.
If you want to see what else James Veloria is carrying, keep up with the co-founders on IG, where they always share the latest designer drops. In the meantime, read on to get to know Giordano and Weber up close and personal — from how they shop to what they're doing for Pride Month — as you continue to support small businesses this month and beyond.
What are some memorable moments since starting James Veloria in 2014?
Giordano: My favorite memory would be the opening of our new space in July 2021. We moved into a much larger store down the hall and did the Todd Oldham collection for it. This moment was just a culmination of all of this work we had put into something — all of our friends from the beginning of our business, like the eBay days, until now came and it was really special. I was like 'wow, we really created and build this thing and now it is thriving, I feel really lucky.'
Weber: The pandemic was such a scary time, especially being in the mall, where we had no access to the store at all. We had to get everything out in one day and bring [the merchandise] into our apartment. We were selling stuff on Instagram and on our website, and really didn't know if things were going to pick back up. Shortly after we opened back up the store in August 2020 though, there was a line of [customers] down the hall and we were letting only five people in at the time or something like that. I think just seeing that the store could come back and exist and that there was more interest than ever in James Veloria, it felt like there was so much potential from that point on, for the second phase of what our store could become.
Where do you source the products for the store?
Weber: There's no one magical way we source, that's what we've learned. It's like an accumulation of every possible way you can shop for secondhand things: [we go to] people's apartments and go through their closets to help them get rid of stuff, we browse online, we travel to other places [to source] and go to thift stores in NYC every single week. Shoppers can also bring in their merchandise to sell in stores in exchange for cash or credit, adds Giordano. "We are pretty selective in [what we accept and sell]," he says, explaining the pieces need to hit their overall not-too-serious, colorful, avant-garde aesthetic.
How would you describe your style?
Giordano: I'm very first day of school [vibes] every single day. You won't even catch me taking out the garbage without some sort of look on and right now I am channeling L.A. hot mom on the go. Like today I'm wearing my Junya [Watanabe] trousers with a backless little slinky top and a Miu Miu bag with studs all over it. [Collin and I] are going on a date later on the Upper East Side so I'm like 'OK, this is the lady I am today' but she's definitely considered. The older I get, the hotter I want to look — show it when you got it, you know?
Weber: I show a little less skin and I'm more covered up, but I try to keep my [outfits] fun and interesting. What I'm always drawn to are classic pieces with a little twist, maybe deconstructed a little bit, like Comme des Garçons [pieces].
What are you shopping for this summer?
Giordano: I feel like so many designers are making reworked clothing out of existing garments, and they're doing it really, really well. I want everything from Conner Ives because he just makes the most amazing, wearable, easy but sexy pieces out of existing garments. And ethically I've always shopped vintage, so this is a great way for me to buy new pieces and still feel like I'm being sustainable. There's also the brand All-In, I want a cute body suit from them, and Chapman Newnum who's been making really hot tops out of reworked T-shirts that I love — I bought two of them already.
Weber: I'm feeling a little less into color and print [this season] and more into texture. I love a deconstructed moment, definitely like old Margiela, taking really classic garments, shirts, pants, whatever, and just chopping them up, putting them back together. I find it interesting when textiles are manipulated or shredded [then used to] create something a little bit more special, but still maintain a classic shape.
What are your three wardrobe staples?
Giordano: I sort of have a uniform and it doesn't change. It's like a '90s Prada loafer, halter tops — my closet has an unreal amount of halter tops in it from every designer — and great suiting pants. This is such an important staple because it's not easy to find, but just so classic. I also love a sassy shoulder bag I can just throw on with everything so today I'm wearing my studded Miu Miu purse.
Weber: I love a white button-up and have a million variations on this. I love a slip-on boot in winter and summer. My bags are functional, so something that can carry a lot of stuff.
Do you have any vintage shopping tips?
Giordano: The best tip, for me personally, is get to know the people that you're shopping from because they'll hook it up. Strike up a conversation and become friends with the shop owners or the people working there, especially the ones that you're already drawn to. Even before we had [James Veloria] I knew all of the shop girls in all of the [vintage] stores I'd go to, and they would give me hot tips like, 'oh my god, someone just sold in a bunch of crazy Gaultier or whatever.' They'll let me know and they're more prone to giving me a deal on something.
Weber: I feel like you should just start looking and see what you're attracted to right away. If you think about it, the more time you give it, the more likely you are to come up with something that you're really going to wear. I know Brandon's tip for everyone when they come into [James Veloria is] if the item already goes with the outfit you're wearing right now, then it's basically a sure thing you can work it into your wardrobe.
Are you planning any initiatives for Pride Month for James Veloria?
Giordano: We're finally making merch, which I feel like we never do. We have a collection of reworked vintage tees coming the second week of June and 100% of those proceeds are going to go to Ali Forney Center [an organization that helps protect LGBTQ+ youth from homelessness]. We're also going to be throwing a party for Pride on June 24 at Mood Ring in Brooklyn with just some of our favorite DJs and just a fun excuse to get together and dance.