Yes, You Can Still Wear Boots In The Summer — Here's How
Follow these practical tips for optimal comfort.
@matildadjerf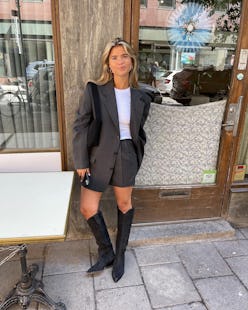 We may receive a portion of sales if you purchase a product through a link in this article.
For me, I don't automatically store away my fall/winter pieces right when summer arrives. In fact, this season is the best time of the year for me to mix my cold-weather staples, like a long-sleeve top, with warm-weather pieces, like jean shorts, or long pants with a breezy blouse. Along these lines, I've also come to appreciate wearing boots in my summer outfits. I know what you're thinking — boots? summer? — but hear me out.
The idea came to me last summer, when I was testing out different ways to style athletic shorts with my shoes. I didn't want to wear sneakers for fear of looking too sporty, and none of my platform sandals or mule heels looked right. Just as I was about to give up and toss my shorts back into the dresser, a pair of cowboy boots from the corner of my closet caught my eye. The moment I slipped on the first boot, I knew I had just stumbled across something big. From that point forward, I was wearing boots (and not just of the Western variety) with everything, like denim skirts, flowing dresses, and even bike shorts. This serendipitous styling move also made me excited to wear items I had previously grown tired of like floral midi dresses and linen shorts, breathing new life into my tried-and-true basics.
Another reason I'm so excited about wearing boots all throughout summer, too, is that this style is a pretty big purchase for me. Since I'm not afraid to invest my money in quality designs, I want to get the most wear out of them year round. Have I convinced you to follow my lead? If not yet, that's OK. Keep scrolling for my favorite ways to style boots come June, then perhaps you'll find yourself pulling your ankle booties back out of the closet come summer.
Keep It Simple
As much as I love maximalist fashion, there's nothing quite like a timeless, simple look. A pair of heeled Chelsea boots will make your slip skirt and tank top look so much more luxurious. Pro tip: even if you know you won't need it, tie a sweater around your shoulders to add a bit more intrigue to your outfit.
All Suited Up
I'm a BIG suit girlie. They make me feel so confident and put-together. Just because the temperatures are rising doesn't mean I'm going to give up my suits for summer, though. I keep my look weather-appropriate by swapping my tailored pants for light, linen shorts. For the shoe, I love the way a tall boot looks with an oversized blazer. This whole look screams "heading into the office, then ready for happy hour at 5 p.m."
Miniskirt Season
The thermostats are rising and the hemlines are getting shorter. Miniskirts are popping up all over my Instagram feed, and I've been influenced. The knee-length boot balances out the shorter hemline while the graphic tee keeps the whole outfit casual. While this exact look doesn't feature a purse, I'd keep it simple with a shoulder bag in a fun color as it's summer after all!