Bike Short Season Is Back — Here's How To Enjoy It Like A Fashion Girl
@anaasaber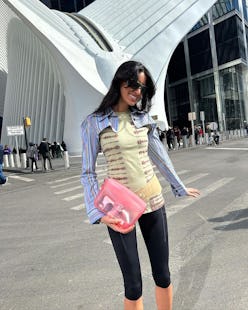 We may receive a portion of sales if you purchase a product through a link in this article.
Whether you are on the exercise wagon or off it, dressing like you might consider a little physical activity is all the rage. That's why it's probably time for you to start planning some bike shorts outfits before heading into summer. Over the last few years, there's been clear evidence that the style is more than just a relic from the Jazzercise era, as luxury brands like Prada, Loewe, Yves Saint Laurent, and Jacquemus have all recently put their stamp on the silhouette. Now, when I search for 'bike shorts outfit inspo' on Pinterest, it isn't only Princess Diana in a crewneck and sneakers that appears in my feed, it's actual runway inspiration.
Meanwhile, fashion insiders and influencers alike are doing more than running errands in the body-sculpting look. They are attending parties, events, fashion shows, and dinners wearing a piece of clothing that was once defined only by its sweat-wicking ability. As a creature of comfort and someone who has been a long time spandex enthusiast, I am thrilled. I've always thought biker shorts can actually be quite chic — just watch the first 30 seconds of the Chanel Spring/Summer 1991 show for reference.
There are so many different ways to wear the nostalgic bottom. In my case, I'd wear my favorite high-waisted black pair with a black tank top, and crisp white button down (kept open like a cardigan). Then I'd add a chain belt around the waist to accentuate my hips in all the right places, and throw on cat-eye sunglasses and ballet slippers to tie everything together. Sienna Miller, on the other hand, wore her bike shorts peeking out from underneath a cute black miniskirt while attending the Proenza Schouler show in New York back in February. (I'm unclear if hers was a skort or bike shorts under a miniskirt, but the outfit would be easy enough to recreate with separate pieces.)
To wit, I've gathered four TZR-approved ways to wear your biker shorts this season ahead. I promise everyone will know you are definitely NOT heading to a workout class in these 'fits (but it's nice to know, with a quick shoe change, you could).
With A Crisp White Top
Leave it to digital creator Amy Lefévre to style her bike shorts in the most major way. The strappy kitten sandals, the perfectly tied crisp white top, the woven clutch — not a flaw in sight.
With A Printed T-Shirt
One of my favorite ways to wear bike shorts is over my knee caps, and it doesn't get much better than Khaite's cropped legging style. Pair it with anything from a printed T-shirt, cropped jacket, and translucent pink bag to get the look.
With A Neutral Blazer
Well, well... if it isn't the most perfect biker short (or biker capris?) mash-up being served by the street style queen herself, Emrata. The camel-colored tailored blazer paired with a classic black mule and the subtle ivory bra is all I want to wear right now.
With Tights
Recreate influencer Leandra Medine Cohen's creative all-black outfit with sheer polka dot tights, cult-favorite, All Access bike shorts, a pointed-toe sandal, and a structured buttoned blazer.