How Hoka Sneakers Became A High Fashion Hit
Running shoes with serious styling potential.
TheStewartofNY/GC Images/Getty Images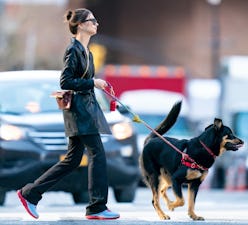 Product designer Jasmine (who prefers not to share her last name publicly) came to discover Hoka sneakers as many fitness-minded shoppers do, through the recommendation of a runner friend who was already a devotee. But while the shoe's ultra-supportive design was certainly attractive for workouts, she found herself even more drawn to its outfit-creating potential. The shoes seemed to be a stealth trend within the street style set, paired with everything from floaty dresses à la Copenhagen girls to anchoring a vintage pair of jeans. Jasmine not only ordered a pair, but ultimately began a personal fan page for the kicks: @HokaStreetStyle.
Fashion, however, was hardly top of mind for the Hoka team when the company launched in 2009. The brand, which was created by the former Salomon employees Nicolas Mermoud and Jean-Luc Diard, was committed to performance — i.e. shoes you can run faster and further in without pain — from the very beginning. But fans and collaborators quickly took note of the trainers' potential as style staple. "[Around four years ago] the calls started coming from Opening Ceremony and Outdoor Voices," says Colin Ingram, VP of Global Product at Hoka. "Everybody was seeing the opportunity before Hoka saw the opportunity."
Over the last few years, Hoka has courted partnerships with wide range of brands, from hip sneaker shop Bodega to free-spirited mega-chain Free People. "The fact that those feel so different, but they both think Hoka is something that [resonates with their customers is something] we see as a big success," Ingram explains. The label has also served as the footwear of choice on plenty of New York runways for edgy, downtown-cool favorites, like Collina Strada, Batsheva, and PH5.
Part of Hoka's success, of course, can be credited to good timing: Their rise came in the late 2010s, a time when chunky sneakers, and the athleisure look at large, was finally capturing the attention of the high fashion world. The tipping point for shoes may likely be in 2017, when Balenciaga's Triple S sneaker took the industry by storm, causing editor and influencers to ditch their high heels for space age-y clodhoppers. The footwear landscape hasn't been the same since. "The chunky look has become more ubiquitous," Ingram says. "Now it's not quite as stark as it used to be." The Hoka speaks to this shift in norms without being too over-the-top — plus, they are affordable (most pairs clock in under $150) and comfy enough that, once you're hooked, it's hard to let go. Since function and performance sits at the core of the brand's identity, its shoe silhouettes can bridge the gap between the sports arena and style world without being too susceptible to whims of either.
"I advise my clients to wear their sneakers with their everyday looks; I even have clients wear their Hokas with suits," says stylist Britt Theodora, who has worked with celebs like Pete Davidson and Elliott Page. "They are also a great shoe for long days on set so I'll often style them with their looks knowing they will be doing a lot of standing."
Hoka has managed to build a loyal community that crosses between athletes and those looking for a cool sneaker to run around in 24/7. "I decided to make the Instagram and it was a slow roll but once the community of runners who wear Hokas all day long and people who work at Hoka started following me and reaching out, that's where it really snowballed," says Jasmine. "The community is really fun." Also among that cohort? A number of celebs who have, according to Hoka, worn the brand organically (see: Harry Styles snapping a selfie at the gym).
Still, Ingram estimates that only about a third of US consumers are familiar with Hoka. Oftentimes while trying to explain his job to those outside his circles, he's initially met with a blank stare and the response, "I've never heard of that." After some explaining, though, usually he finds that there will be a moment of connection, when someone realizes that they do know the shoes because their mom or friend wears them. "Everybody knows somebody who has a Hoka and it's still kind of a secret club everybody wants to be part of."
Theodra, who wore Hokas during Men's Fashion Week in June explains that the sporty feel of the silhouette made it easy to casually mix with jeans and linen pants. "I also like to balance my outfits out with a sneaker if I have a skirt or a dress on so it doesn't feel as expected," she says. If you've heard of stylist Allison Bornstein's Wrong Shoe Theory, the idea applies here: Simply use an unexpected sporty sneaker to make a more fanciful outfit feel effortless.
Melodie Jeng/Getty Images
Jacopo M. Raule/Getty Images
Jasmine notes that in all of her internet scouring for Hoka inspiration, it's in big, walkable cities like Tokyo, Seoul, Paris, and New York that she's spotted particularly noteworthy looks, with locals pairing the trainers with everything from denim maxi skirts to tailored suits. "There's this [intersection] of style and functionality that I have noticed in the last couple of years," she notes.
Indeed, as dress codes for the office (and life in general) have become more relaxed, the line between on- and off-duty style has continued to blur. "In the past, you did something on the weekend, and then during the week you dressed as a business person," Jasmine says. "There was like a stark switch that you flipped." Now you can go for a morning run and head to your first meeting without changing your shoes. And who wouldn't love that?