H&M x Mugler Just Revealed All The Looks In Their Collaboration
Courtesy of H&M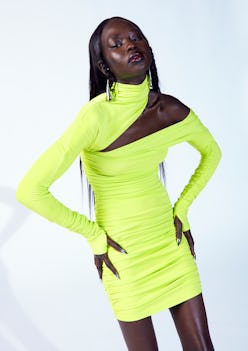 On Feb. 23, H&M and Mugler announced their design partnership and the fashion crowd was hyped about it. The much-anticipated collection, Mugler's Creative Director Casey Cadwallader will have a heavy design hand in it, is bound to sell out in a record-breaking time when it's available in stores and online on May 11. (Mark your calendar! Set your alarms!) And now, we have a first peek at what's to come, as the Swedish retailer just dropped the full lookbook today. To no one's surprise, the styles, which run the gamut from leather jackets to baggy jeans, are next-level good.
"The collaboration encapsulates the very essence of Mugler," the press release said. "The house of Mugler has always been a trailblazer, a rule-breaker: a champion of freedom of expression, high glamour, and daringly irrepressible style. Founded by the French designer Manfred Thierry Mugler in 1973, Mugler pre-empted the themes of body positivity, gender fluidity, transformation and confidence that dominate fashion now."
This looming partnership has been in the works for quite a while now. "Discussions for this collaboration began before Manfred Thierry Mugler's passing in January 2022," the press release shared. In addition, the statement said the collection will offer up many classic and signature Mugler styles.
And what exactly are these signature looks? Well, the collab will feature the luxury label's celebrity-beloved catsuits, which have been worn by Beyoncé, Dua Lipa, Kylie Jenner, and Cardi B — to name a few. "I actually didn't have one in there at first, but it had to be there — H&M asked," Cadwallader told Vogue. In other words? You'll be one step closer to looking like your favorite A-listers. In addition, you can expect top-notch tailoring by way of little black dresses and crystalized styles, and sultry after-hours looks like its lauded illusion denim in the lineup.
To promote its upcoming collection, H&M and Mugler dropped a new teaser music video, featuring a slew of talent like Amaarae, Shygirl, Eartheater, and Arca. Collectively, the cast recorded their own version of Stardust's 1998 "Music Sounds Better With You." The press release said: "The song choice nods to the sense of community that defines Cadwallader's vision for Mugler today."
Given that H&M has a long history of producing buzzy, limited-edition designer collections (we're still thinking about that Simone Rocha collab), this partnership with Mugler is one to watch, and shop. Make sure to scoop up the pieces the second they're available because they won't stay in stock for long. And don't forget to bookmark this post, too, as we'll update it with our favorite product picks once the items drop.
This article was originally published on