This Is Why Beyoncé Was Late To The 2023 Grammys
Yet, Queen B still broke history.
Christopher Polk/Variety/Getty Images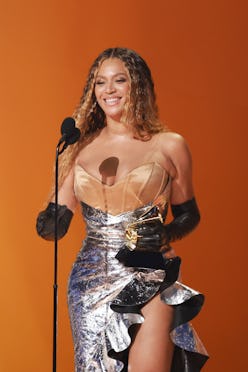 The moment fashion and music lovers had been waiting for all night on Feb. 5 finally came to fruition: Beyoncé herself made her grand entrance at the 2023 Grammys. Yes, the "Cuff It" singer was fashionably late to the point where she missed her first win of the evening. Her excuse for being tardy? Los Angeles traffic (hey, there's no arguing with that). Nevertheless, Queen B. stunned in a metallic gold and silver Gucci dress. Oh, and the 41-year-old *casually* just made history. Yep, with a whopping 32 trophies, she's been awarded more Grammys than any other artist. (It's Beyoncé's world, and we're just living in it.)
Despite being absent for the first one, Bey was the big winner of the night, winning multiple Grammys both on and off the show. As for her dramatic, high-shine look (pictured below), Beyoncé tapped into many emerging 2023 trends, and melded them together flawlessly. For instance, metallic finishes are poised to be everywhere this year, from street style to the runways. Then there are her opera gloves, which are another up-and-coming style loved by the fashion set. In other words, consider getting a head start on these looks, stat. And go ahead and use Queen B as your blueprint for style success.
The musician shared her excitement on Instagram with her 294 million followers: "We won 3 y'all! To my Hive, thank y'all so much for all of your love and loyalty! Big thank you for the BREAK MY SOUL and CUFF IT wins!!! To The Dream, Tricky, HOV, and Big Freedia. I love y'all!"
In the photo posted on her feed, Bey is wearing a sculptural pastel pink dress over matching leggings. Not to mention, the look coordinated with her gilded gold trophies, naturally.
Beyoncé's record-breaking evening comes just a few days after sharing the news of her Renaissance World Tour, which kicks off this May. If you're lucky enough to get your hands on a ticket, know they'll be worth every penny.