H&M Home's Spring Collection Is Already Here — And It's A Breath Of Fresh Air
Add some life to your space.
Courtesy of H&M Home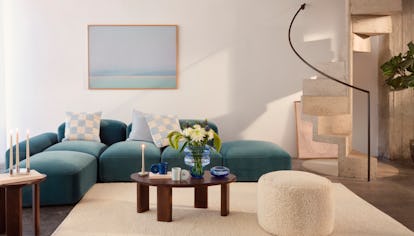 We may receive a portion of sales if you purchase a product through a link in this article.
You've probably heard the word "dopamine" thrown around a lot these days — people are dopamine dressing, dopamine gifting, and more. The trend is a movement toward joy-inducing actions: Wearing bright clothes that spark happy feelings, giving shiny presents that put a smile on people's faces. Obviously, this has made its way into interiors as well. And this year, H&M Home is jumping wholeheartedly on board with its just-launched spring collection.
As of Jan. 5, the brand's latest seasonal lineup is here, all of which is meant to welcome light back into the home and signal brighter days ahead. The offering spans categories, from shaped vases to patterned cushion covers to kitchenware. And with its sunny array of hues and lighthearted silhouettes, it's a veritable breath of fresh air.
While yes, you could stick to your minimalist ways with these new products, you won't want to once you've taken in the full collection. The most prominent color — a creamy cornflower blue — is impossible to resist with its hopeful demeanor. Especially in how it's used: It feels playful in the $34.99 checkerboard-print cushion cover, and just plain refreshing on stoneware pieces like this $24.99 kitchen utensil holder.
The launch isn't too over the top, however. The brand kept things balanced by including soft neutrals throughout, such as this beige, $29.99 duvet cover set and this $27.99 stoneware carafe that features a cream hue. This mix also makes it easy to transition your home from winter to spring: Add in the white and tan pieces during the winter, and slowly incorporate the brighter products as warm weather rolls in.
Clearly, H&M Home's spring drop is a great way to infuse much-needed vitality into your space. But as the brand notes, it's also perfect for trying out one of 2023's big trends. "This spring season's most important color is definitely blue," it writes on its site. The retailer isn't the only one to say that, either. Indigo was one of Etsy's recently named colors of the year — a richer shade that also makes an appearance in H&M Home's collection in pieces like this $64.99 fringed bedspread.
There are many reasons to shop this fresh lineup, from needing a little joy in your home to trying out a 2023 trend. Whatever your reason, you can start shopping spring pieces now in stores and online at H&M Home — or just find a few of TZR's favorites from the brand, ahead.