Hip-Hop Has Been All About Fashion From The Very Beginning
A timeline of the genre's ever-evolving aesthetic.
Jeffrey Mayer/WireImage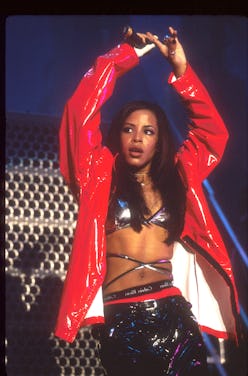 Over the last 50 years, hip-hop music and fashion's evolution have remained interconnected. Upon the musical genre's recognized inception in 1973, a new aesthetic emerged — one rooted in streetwear and laid-back clothing. You can see this through the lyrics from stars like Run-D.M.C. and Grand Puba, who rapped about clothing like Adidas sneakers and Tommy Hilfiger sweatsuits respectively. These musicians, and others, too, unintentionally started fashion trends that would soon flood the streets. From IYKYK looks like gold chains and leather jackets to Nike's iconic Jordans — sneaker culture and hip-hop have a long, entangled history — the connection between what artists wear and the music they create remains just as strong today.
For June Ambrose, famed costume designer and the current creative director of Puma's Women's Basketball division, hip-hop fashion is all about "putting looks to lyrics," meaning fashion should tell an artist's story. And as someone who has developed iconic outfits for industry legends such as Jay-Z, Diddy, and Busta Rhymes, she would know. After all, who can forget when she teamed up with Missy Elliott to dress the musician in a Michelin Man-inspired blow-up suit in her 1997 "The Rain (Supa Dupa Fly)" music video? "It was an exaggerated version of what a curvy, beautiful, full-sized woman could look like," Ambrose tells TZR. "Body positivity was something we addressed in the video and loving oneself in all shapes and sizes as women, without [using] words." This was just one of the ways that she helped hip-hop artists at the time tell their stories.
There's no one specific way to describe hip-hop fashion, as the artists, much like their wardrobes, greatly vary. But if you take a look back from the beginning, you'll start to notice certain throughlines and patterns in the category's evolution. Ahead, TZR breaks down the genre's influence on the fashion industry through the decades, along with some of its most memorable style moments.
1970s to 1980s
Hip-hop offered a new sound to music, and naturally fostered an equally unique look. Oversized proportions and bright colors in fashion slowly replaced the prim and polished look that Black artists like the Commodores wore in the late '60s/'70s — think pastel colors, collared shirts, and tailor trousers. Some key pieces that rose from New York's "B-Boying" or break-dancing community were fuzzy Kangol bucket hats, which LL Cool J helped popularize in 1987, when he wore multiple versions for the "I'm Bad" music video; baggy Adidas tracksuits; and the label's shell-toe sneakers. (The latter two pieces were featured in MoMa's 2018 fashion exhibit as defining cultural moments.) In 1986, Run-DMC released their hit song "My Adidas," which landed them a partnership with the brand, the first of its kind. This paved the way for future hip-hop artists to collaborate with big fashion names down the line.
In the late '80s, b-boy-turned-rapper Thirstin Howl the 3rd had an affinity for Ralph Lauren's Polo collections. According to a GQ article, he would go on to make the brand "a religion for hip-hop heads..." He became one of the founding members of Brooklyn's "Lo-Life" crew — a group of boosters or people who took merchandise from warehouses to either sell or rock themselves. "A lot of us came from broken homes and had a lot of problems so the clothing helped us to get through a lot of hard times," he said to GQ. "Cats would never know what you were going through when they saw you dressed in the Lo. The garments gave us new identities."
Sporting the RL preppy styles from head to toe, the group went on to influence the style of mainstream hip-hop artists like Raekwon in the early '90s. You can still see the impact decades later on names like Ye, formerly known as Kanye West, who famously wore the Polo teddy bear jumper. This design was in conversation with the "Dropout Bear" logo that would appear on the cover of his first three albums. Chance the Rapper even sported a "Lo -Life" inspired look at the 2021 Met Gala, where the theme was "In America."
1990s
This decade's hip-hop fashion was characterized by a sense of self-expression, rebellion, and individuality. According to Ambrose, there were lots of colorful prints, oversized silhouettes, and exaggerated proportions done in a more polished way. She cites Jay-Z as the catalyst for really "growing up" the culture of hip-hop fashion. "We took the button-down shirt and [paired it] with baggy jeans," she tells TZR, giving an example of how she styled the artist in the early days of his career. "It was a very big storytelling moment."
Alongside Polo Ralph Lauren, other preppy sportswear brands like Tommy Hilfiger became popular within the hip-hop community thanks to their visible bold logos. American rapper and emcee Grand Puba name-dropped the brand in his verses for songs like Mary J. Blige's "What's the 411?" (1992), while also wearing the clothes on his album covers. Adding fuel to the fire, in 1994, Snoop Dogg rocked a Tommy shirt during an appearance on Saturday Night Live. Singer and style icon Aaliyah appeared in a Tommy Hillfiger Jeans campaign in 1996 before becoming famously revered for wearing the clothes, like its logo-clad tube top and oversized cargo pants with exposed boxer brief bands.
Ye on stage during MTV's Total Request Live in 2004.Scott Gries/Getty Images
Aaliyah in Tommy Hilfiger Jeans campaign in 1996.Tommy Hilfiger
Additionally, she and the Notorious B.I.G., among others, made Timberlands a must-have fashion statement for hip-hop fans. According to a CNBC article, "Black artists were increasingly influential when it came to fashion trends," which explains the rise of this workwear shoe. Some notable moments for Timbs from this decade include Biggie Smalls rapping about the shoes in his 1997 song "Hypnotize." Meanwhile, Nas wore them throughout his 30-year career and rapped lyrics like "Suede Timbs on my feets makes my cipher complete" in his 1994 song "The World is Yours."
The footwear had such a strong reach that even Ambrose recalls dressing the women in Missy Elliott's "The Rain (Supa Dupa Fly)" video in the boots as part of her provocative storytelling. "The [female] dancers [in the video] were wearing Timberland boots with men's briefs, tank tops, and trenchcoats," she says to TZR. "That was [a symbol] of women saying, we wear the pants, too, or we're just as tough and that we have a place in this male-dominated [hip-hop music] industry.
2000s
Hip-hop fashion in the 2000s continued to evolve while building on some of the previous decade's trends. This era saw a mix of both casual and more over-the-top styles influenced by the celebrities and pop culture of the time. Rapper Cam'ron made the color pink his signature look in 2002 by sporting a custom mink fur in the shade after the Baby Phat runway show during New York Fashion Week. "It wasn't nothing I planned on doing or strategized," he told GQ in 2017 about the iconic moment. "But people showed me so much love for the pink mink I wore, I had to go out to Pantone and create my own color which is called Killa Pink."
This gave people, specifically men, the proverbial OK to flaunt the color without feeling overtly feminine. His stylist at the time, Monica Morrow, told MTV in 2003 that he was "daring to do something that nobody else was willing" to. "[Pink] has been a color that has been associated with not being masculine," Morrow said. "Anybody that knows Cam knows he's masculine. Plus it's a Harlem thing. They are uninhibited [there]."
The appetite for logos in the 2000s continued to grow outside of musicians wearing Tommy Hilfiger — European luxury brands like Gucci, Louis Vuitton, and Chanel were sought-after status symbols within the hip-hop community. "Luxurious brands, they wasn't always as accepting, which is fine," rapper and music executive Rick Ross said to the Robb Report in 2022. "You know, we came from the mud, we came from the bottom, so luxury was always one of the many goals." The dancers in 50 Cent's "In Da Club" music video (2003) wore Gucci and Versace while singer Cassie carried a colorful Louis Vuitton bag in the visuals for her song "Official Girl" (2012). Additionally, before her death in 2001, Aaliyah had formed a relationship with Italian brand Roberto Cavalli, who dressed her in the iconic tiger-print dress at the 2000 MTV Video Music Awards.
By the mid-2000s there was also a noticeable shift towards slimmer silhouettes in the clothing and shoes being worn. Tapered joggers and skinny denim, paired with oversized tees and Converse sneakers, were being worn by rappers like Drake and Tyga — which could be interpreted as an homage to Lil Wayne's rocker aesthetic. In 2013, West started styling skinny jeans with graphic band tees from groups like "Thrasher" and Chelsea boots. Towards the end of the decade he introduced the masses, fans or not, to elevated athleisure with YEEZY Supply. The collections were filled with nude and neutral color palettes and sweatsuit silhouettes.
The Present & Future
When looking at recent hip-hop fashion, there are several themes that come to mind: bespoke costuming and designer-heavy looks for both men and women. Star of HBO Max's streetwear competition show The Hype, Domo Wilkins is one such designer to have embraced this monumental task. He has created one-of-one pieces for artists like Go Rilla and Lola Brooke. Wilkins explains that a lot of his inspiration comes from his earliest memories of hip-hop in the '90s, naming Aaliyah as his ultimate muse for her effortless, yet timeless sense of style that has become synonymous with Y2K trends. "My family really exposed me to [these trends] as a kid with all the flashy clothes and jewelry," he tells TZR on what sparked his interest in designing.
Today, the relationship between designers, brands, and artists has become a symbiotic environment for business and creativity. Still, one should remember that it wasn't always this way. "[Early on] the high fashion houses didn't see the [business] opportunity [in hop-hop culture]," Ambrose tells TZR, adding that they didn't pay attention to this type of music. As a result, the hip-hop community created their own mode of dressing with the items they already owned, like Tims or tall tees.
Now, "you have Cardi B in couture Schiaparelli, Chanel, and Balmain," Ambrose said in a Robb Report interview. "When I was coming up, we couldn't even get them on the phone. Matter of fact, we didn't even try. They got on board after we told the story. We didn't ask for permission. They came after [us] because we had already done everything we needed to do. This is our narrative."
So what's next for hip-hop and fashion? According to Wilkins, he predicts trends that were popular in past decades coming back around, like Nike's all-white Air Force 1s. Scrolling through TikTok, too, you'll already see a slew of people wearing some iteration of tiny tops and baggy pants, à la Aaliyah.
Meanwhile, Ambrose surmises that technology, especially A.I., will play a big role in how people — including hip-hop artists — will dress and shop. You've likely already seen these advancements penetrate the fashion market through the debut of A.I. Fashion Week, back in April. The week-long event, held in New York City featured a group of fashion luminaries competing to have their computer-generated designs produced and sold exclusively by Revolve. Meanwhile, Nike uses A.I. and 3D V.R. to generate unique shoe designs and experiment with different materials for its sneakers, like the Air Max Scorpion.
These are just a few of the ways in which artificial intelligence is being utilized. And while the long-term impact on hip-hop fashion is anyone's guess — one thing Ambrose knows for sure is that she plans to stay on top of it. "I'm always on the pulse of moving into the future," she says, adding that innovation is crucial for hip-hop culture and style to exist 30 years from now. "I don't think [A.I. is] going to go away, but hopefully we can coexist and not be erased. That's the big thing right there. How do we not get erased, right?"