Dive Into The History Between Hip-Hop Culture & Sneakers
The Adidas "Superstar" has entered the chat.
Lynn Goldsmith/Corbis/VCG via Getty Images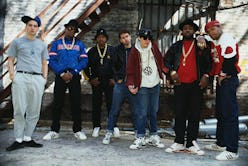 When one thinks of hip-hop fashion, oversized tracksuits, Timberland boots, and iced-out jewelry likely come to mind. However, it could be argued that sneakers have made the biggest impact on the genre's sartorial history. The connection traces back to the early '70s when adopters of the music, like the B-Boys in New York's Bronx neighborhood, started sporting styles they had seen on their favorite basketball players. (See, for example, the Adidas "Superstar": it was originally positioned as a sports shoe, and notably worn by Kareem Abdul-Jabbar in the '70s.)
According to Chris Gibbons, CEO and founder of sneaker marketplace Laced, the key link between hip-hop music and the footwear industry began with basketball culture. "The popular sneakers we know and love today, and the biggest sellers of 2023, are primarily basketball shoes, co-opted by hip-hop culture," he tells TZR. Much of this can be attributed to the star power surrounding both athletes and artists — fans bought sneakers their favorite celebrities wore in order to feel closer to their worlds. You'll note that many musicians have inked coveted deals with iconic footwear labels — such as Jay-Z's 2003 Reebok collaboration or Kendrick Lamar's 2018 partnership with Nike — continuing this symbiotic relationship.
Going further back in history, though, the connection between hip-hop and sneakers is rooted in the ideas of success, power, and wealth. Ahead, TZR takes you deeper into this world.
The Stigma Of Sneakers
Being able to buy, own, and wear the same shoes as your favorite rapper gave fans a glimpse into the luxurious lifestyle they heard about on the radio. However, in the '80s, name brands like Adidas and Nike were out of reach for a lot of people. In an interview with AXS TV in 2021, Darryl "D.M.C." McDaniels of hip-hop group Run D.M.C. commented on this, saying, "When someone would get a little bit of money, the first thing they would do is go buy a pair of shoes."
The musician himself was known for wearing his Superstars sans shoelaces, which some believed was in reference to prison culture. (According to Smithsonian Magazine, inmates were not allowed to own shoelaces lest they turn them into weapons.) McDaniels set the record straight in that ASX TV interview by saying his laceless look was inspired by the fact that wearers at the time — specifically kids — were simply so excited that they were even able to buy new shoes that they couldn't wait to lace them up before putting them on.
The negative imagery of sneakers didn't stop there. Media outlets, at the time, cited the shoes as one of the causes of violent crimes in the U.S. For instance, a 1990 Sports Illustrated cover read "Your Sneakers or Your Life," and, according to writer Kate Keller for the Smithsonian Magazine, "the story detailed a rash of purportedly sneaker-related crimes." However, in the same piece, Nicholas Smith, author of Kicks: The Great American Story of Sneakers, challenges this correlation, telling the publication, "did sneakers cause all this violence? Of course not ... It was something that people picked up on that was new and wanted to assign a little bit more reason as to why these things were happening."
Re-Contextualizing The Look
For many marginalized individuals, fresh kicks were, and still are, seen as a sign that they had "made it." Run D.M.C.'s hit song "My Adidas" was written to wax poetic about their sneakers being a symbol of empowerment and self-pride. In addition, it served as a direct response to poet, playwright, and physician Dr. Gerald Deas' 1985 poem, "Felon Sneakers," which warned about the dangers of being enamored with sneaker culture.
"I remember taking [his words] personally," McDaniels said of Deas' memo in the AXS TV interview. He didn't agree with the sentiment that name-brand sneakers like Adidas were a danger to the Black community. "Yeah, I wear Adidas, but I'm [also] a student at St. John's University. My friend's wearing Adidas, but he had to work three jobs just to save up and get a pair," he said, explaining that in no way were their lifestyles like the ones described in the poem. Notable lyrics from the track include, "My Adidas, only bring good news. And they are not used as felon shoes." This song landed them a $1 million partnership with the sportswear label, paving the way for artists down the line to work with major sneaker brands.
McDaniels wasn't the only one in popular culture to rap about sneakers. In 2002, R&B artist and rapper Nelly released his song, Air Force Ones, named after Nike's sneakers, causing the style to rise in popularity. In the song, they talked about the sneakers' defining traits like "all-white, high-top strap" while acknowledging the specialness of limited edition styles like the "Kiwi" or "khaki and army-green" colors. Every person needed at least "two pairs" of Air Force 1s — one for stomping around in and another that should be kept clean to be worn for special occasions.
The Rise To Status Symbol
For Adidas designer Deannelys Corcino, sneakers were always seen as a way to signal fashion and pop culture clout. Growing up in a low-income neighborhood in the Dominican Republic, she remembers thinking of the shoes as an aspirational purchase — one which her family didn't have access to. "My earliest memory is of my mom visiting me and she [brought] me a pair of Air Jordan 4s," says Corcino on her introduction to the sneaker world. "I didn't really know what they meant, but it was the first time I remember thinking, 'OK it means something to wear certain sneakers.'"
Today, Corcino notices the words "sneaker" and "luxury" are still somewhat synonymous, but the reach of the industry has definitely expanded. She believes that this growth, though gradual, occurred when iconic brands like Gucci and Balenciaga realized the selling potential of streetwear staples. "Luxury brands are the ones that dictate what is considered elegant, appropriate, casual, or worthy of being in a space that isn't for everyone," she explains. "Once they saw that hip-hop culture had huge marketing power, they decided to tap in, giving some of these iconic silhouettes their stamp of approval."
Designer brands began to produce their own versions of "hype" sneakers, while household names like Nike started to collaborate with notable names like Louis Vuitton and Tiffany & Co. Many hip-hop artists saw this as an opportunity to land their own sponsorships, which was yet another way for them to market their music to a bigger audience. Tyler the Creator's take on the Converse in 2017 went viral, Ye (formerly known as Kanye West) famously partnered with Adidas in 2013; Travis Scott teamed up with Nike in 2017 on a reworked "Air Force 1," while Drake's relationship with the sports brand dates back to his first OVO and Air Jordan collection from 2013.
Today, sneaker culture has become more exclusive than ever. From impossible-to-buy releases to the oftentimes faulty raffle system, consumers are having to jump through hoops to even get their hands on the newest styles. And given that the humble sneaker has evolved into a global $79 billion dollar industry, you can bet on more future collabs between your favorite brands and artists — this week, Snoop Dogg released his second shoe capsule with Skechers. The only part not so certain, perhaps? When a song will skyrocket a new pair to success.