Rapper Lil' Kim Has Had A Profound Impact On Fashion Over The Years
Her red carpet moments are iconic.
Lindsay Hattrick/TZR; Getty Images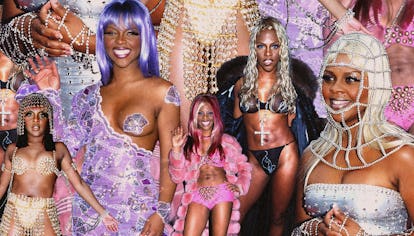 When Lil' Kim made her debut with the 1996 album Hard Core, she utterly and completely changed the rap game. A protege of Notorious B.I.G., and the sole female member of his hip-hop group Junior M.A.F.I.A., Lil' Kim, aka Kimberly Denise Jones, had a flow that was raw and gritty, with raunchy, sexually liberating lyrics that made critics clutch their pearls. Hard Core went on to become certified double platinum by the RIAA, cementing the then-22-year-old as a bona fide hip-hop god. But it wasn't just Lil' Kim's lyrical prowess that set her apart from her contemporaries that came before her. Her sense of style also made her a trailblazer, solidifying her as a pop culture fashion icon.
While other women rappers like Queen Latifah, Lisa "Left Eye" Lopes, and Da Brat favored more androgynous clothing, like oversize T-shirts and baggy jeans, Lil' Kim's outfits were ultra-feminine, bold, risqué, and revealing — as provocative and outrageous as her songs. She wore teeny-tiny bikinis, see-through silhouettes, candy-colored wigs, and equally vibrant fur coats. She also helped popularize '90s and noughties logomania, a trend in which designer branding is made overtly obvious on one's clothing and accessories (the antithesis to "quiet luxury"). In Kim's case, logomania also applied to hairstyles, as she famously wore wigs with Chanel's double "C" logo and Versace's Greek key motif. (The move made sense for someone who frequently name-dropped designers in her lyrics). Aside from head-to-toe designer monograms, Kim has worn a sparkly catsuit made with 965,000 crystals, embellished headpieces with matching thongs, and a gray, floor-length chinchilla coat (which she modeled next to mob daughter Victoria Gotti in the video for 2003's "Came Back for You"). The list goes on.
"She was bringing something new that we hadn't really seen before," says Elizabeth Way, fashion historian and associate curator at the Museum at the Fashion Institute of Technology (FIT). "For so long, female rappers had been kind of marginalized and really tried to fit in with their male counterparts, especially with their style. Lil' Kim rejected that and embraced her femininity in both her style and her lyrics." Marissa Pelly, stylist for the rapper Ice Spice, shares a similar sentiment, pointing out how the industry made female musicians feel like they couldn't boldly embrace their sexuality while simultaneously being perceived as "chic" or "luxury" — as if the two concepts could not co-exist. "Now when I see female artists owning their sexuality, while also being muses for some of fashion's most elite houses, I think of — and I thank — Lil' Kim."
Behind every celebrity style icon is a brilliant stylist; a wizard behind the velvet curtain, so to speak. For Lil' Kim, it was Misa Hylton. One cannot discuss Kim's vestiary tours de force without mentioning the industry legend by her side, who had already been masterminding looks for Mary J. Blige, Faith Evans, Jodeci, and her then-boyfriend Sean "Diddy" Combs. But theirs was a match made in fashion heaven; the two women felt an immediate kinship. "I think that Kim and I were magical together and when you have that type of synergy only greatness can come forth. We were thinking outside of the box and unapologetically taking risks. People gravitate to that type of authentic and creative energy," Hylton told Dazed in 2018.
The two women set the bar high high from the beginning with a legendary look the promotional poster for Hard Core, Kim's debut album: a leopard print bikini and a sheer, marabou-trimmed duster. The one-piece was designed by Sex and the City costume designer Patricia Field, who owned a store in New York City from 1996 until 2016. It was known to be a hot shopping spot for fellow performers like Debbie Harry, Lady Gaga, and Kim's friend and frequent collaborator Missy Elliott. Hylton and Kim frequented Field's boutique almost daily. In the years — and decades — that followed, both the look, and Kim's signature squatting pose, would be replicated by the likes of Teyana Taylor, Nicki Minaj, GloRilla, and countless others.
Hylton and Kim also went all out for the "Crush on You" music video, directed by Lance Rivera. Inspired by the The Wiz's color-changing Emerald City disco dance sequence, the video featured the star in monochromatic technicolor outfits and matching wigs — and instantly catapulted her to mainstream MTV fame. "When you think of the blueprint for most female musicians' styles today, you think the designer logos; the iced-out, statement jewelry; and different styles of wigs — that was all her," explains stylist Estelle Aporongao. "Kim's DNA runs through the contemporary fashion industry's veins."
In 1998, Kim donned a bejeweled caged headpiece and matching arm sleeves to the 1998 Soul Train Lady of Soul Awards, which felt like the ultimate statement. But the rapper topped herself yet again a year later when she attended the MTV Video Music Awards in a purple wig and lilac-colored, sequined jumpsuit, complete with a single purple pasty that garnered an unforgettable reaction from Diana Ross. The moment would become the stuff of award show legend.
Jeff Kravitz/FilmMagic, Inc/Getty Images
KMazur/WireImage/Getty Images
That same year, Kim covered Interview magazine's November issue wearing only a Louis Vuitton headgear and LV logos painted all over her body, a moment described as a "cultural reset" by celebrity stylist Audrey Brianne, who works with Chris Tucker and Tyler Posey. "At the time, it was a fresh idea no other star had rocked quite so boldly. If people weren't already paying attention to Lil' Kim by then, they were now," she says.
To be clear, Lil' Kim was interested in fashion long before she dressed in colorful furs. "Her high school friends recounted how she would spend her allowance on clothes and had Gucci before they even knew what it was," explains Nygel Simons, a stylist and archivist, noting that the artist also worked at Bloomingdale's prior to rapping full time. "It really shines through when an artist genuinely loves fashion." Nowadays, it's not out of the ordinary for a designer to dress hip-hop artists for red carpets or sit them front row at Fashion Week, but in the 1990s, that relationship didn't really exist. Lil' Kim had a je ne sais quoi that both attracted and inspired designers like Karl Lagerfeld, Giorgio Armani, Betsey Johnson, John Galliano, and Donatella Versace, who would dress her for her 1999 Met Gala debut.
Way long before Barbiecore would become a part of the cultural zeitgeist, Lil' Kim sported a pink, full-length mink coat with a studded pink bra, matching hot pants, and pink snakeskin boots for the "Rock Style"-themed Met Gala. "Donatella is my girl. We've loved each other from the moment we first saw each other," Kim told Vogue in 2020. "At the Met, you're a designer's muse, [and] she loved the fact that I have fun in her clothes."
Lil' Kim has also walked the runway for designers including Baby Phat, The Blonds, and VFiles. But her closest friendship is with fashion designer Marc Jacobs, whom she calls her "bestie" and who has played a significant role in her life and career. Jacobs dressed Kim for her court appearances and subsequently became her prison pen pal when she served a one-year sentence for lying to protect friends involved in a 2001 shootout. Kim sent Jacobs the Bratz doll coloring pages she painted, which he then had framed and hung in his house. Jacobs is also writing the foreword for her forthcoming memoir, The Queen Bee.
"These were interesting and important alliances for her during the early 2000s because it further legitimized the message to her fans and the public that her empire and reach extended well beyond music," says stylist Alison Brooks, who works with television personality and hairstylist Jonathan Van Ness. "I believe it was a turning point, not so subtly signaling to other artists to bling themselves out in designer looks with confidence and embrace their curves with body positivity before body positivity became a thing."
When it comes to her own work, Pelly says she's strongly influenced by Lil' Kim. "I love how effortlessly she would combine her own fun custom pieces with luxury ones, while also demonstrating a great deal of high-end fashion knowledge." Pelly says she had this approach in mind while styling Ice Spice for the "Barbie World" music video, pairing a custom Chanel-inspired, Christian Cowan tweed set with a Barbiecore bra by Laser Kitten, custom Emilio Pucci, and pieces from the Gaultier archives. "It's that duality that's so inspiring to me and creates the most interesting, well-rounded looks every time." She also drew ideas from Kim's 2003 "Summer Jam" performance, in which she wears SS03 Jean Paul Gaultier script belts around her waist and chest. "I love when artists love the same brands I do... I tracked down the same belts for Ice's Paper Magazine cover back in April as a nod to the OG style icon."
It's difficult to imagine what would have happened if Lil' Kim hadn't paved the way for women in hip-hop to take fashion risks. Cardi B might not have worn archival Mugler to the 2019 Grammy Awards, and who knows if Megan Thee Stallion would have modeled for Calvin Klein. Then there's the countless Kim homages artists have paid over the years: Beyoncé replicated several of Kim's famous looks for Halloween 2017; Rihanna has cited the rapper's penchant for experimenting with different looks as a major influence on her own fashion sense; and Miley Cyrus dressed in Kim's MTV VMAs look for Halloween back in 2013, purple pasty and all. It's for reasons like these that stylists like Simons believe Lil' Kim deserves official acknowledgement for her legacy, particularly from the Council of Fashion Designers of America. (For years, fans have been calling on the CFDA to honor Kim with its annual Fashion Icon award.)
One thing's for sure: You'd be hard-pressed to find another hip-hop fashion icon with the same enduring legacy. "Lil' Kim is the blueprint," says Simons. "Whenever you think you're being presented with something new, if you search hard enough, you'll find that Kim has already done it at some point."