Jeans Are Getting Wildly Expensive — Are The High Price Tags Worth It?
A look inside fashion's denim boom.
Victoria Warnken/TZR; Getty Images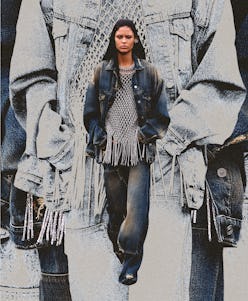 To go shopping for denim these days is to be overwhelmed with the sheer quantity of choice. To date, Net-a-Porter has an assortment of over 500 pairs, Shopbop clocks in at over 1,000 styles, and Nordstrom lists a staggering 5,000-plus pieces. Many of these options come from an ever-growing category of contemporary brands that have made denim their bread and butter — think Agolde, Frame, Grlfrnd, Re/Done — and can easily sell a style at $200 to $400 a pop. Meanwhile, affordable options abound in the mass market as well. Fast fashion behemoth Zara offers pairs for under $50, while mall go-to Abercrombie & Fitch's Curve Love styles, priced around $90, have gone mega-viral on TikTok. And Levi's, a heritage brand that practically invented jeans as we know them, are available for about $100.
Still, despite the abundance of choice on the market, there's plenty of room left for growth: Reports suggest the global denim market will reach a value of $76.1 billion by 2026.
With that kind of opportunity on the table, it's no surprise that luxury fashion houses are creeping into the category, too. And rather than quietly selling jeans as a complement to their main line, maisons are making them a central part of runway collections. Luxury denim was a point of focus for Spring 2023 in every fashion capital — not to mention at nearly every big show. A sampling of what walked down the catwalks includes: ultra-wide legs and a matching shirt at Burberry, bell-legged flares paired with a raffia corset at Jacquemus, and distressed oversized cargo pants — a key piece from Givenchy. And let's not forget Chloé, who added striking grommets to a dark-washed denim pant and trench set, Versace — Donatella gave jeans the acid-washed and neon-painted treatment — and Alaïa, where the hems of jeans were dipped in feathers.
Givenchy Spring/Summer 2023WWD/Penske Media/Getty Images
Versace Spring/Summer 2023Stefania D'Alessandro/WireImage/Getty Images
Chloé Spring/Summer 2023Victor VIRGILE/Gamma-Rapho/Getty Images
According to Luisaviaroma Editor-in-Chief Kate Davidson Hudson, we can attribute this shift to the casual way people are dressing in their post-lockdown lives. "With a palpable return to more functional daywear expressed by designers this season, it makes sense they would incorporate a perennial denim staple into their new collection offerings as they tap this collective mood," she says. "We are seeing our customers buying deconstructed oversized cuts from designers like Valentino and the Attico along with more elevated treatments on the classic jean à la the Bottega leather runway jean — it reads as denim but is really a screen print mimicking a denim texture."
These premium pieces do not come cheap. Currently, a pair of boyfriend-fit jeans from Bottega Veneta costs $900, flared jeans from Celine are price at $1,300, and printed skinnies from Chanel are $1,850. And if you're looking for something with statement-making details, Mugler has a pair with crystal fringe for $2,660, while Valentino boasts a feather-embroidered number at $3,000. Those are eye-watering price tags for a pair of jeans, especially when you consider the sheer breadth of other options at far lower cost. Some will posit, however, there is justification for, at least some of, this markup.
"Mass market jeans cut costs at every step of production in terms of fabric construction, dyeing, and cut and sew," says Buxton Midyette, VP of marketing and production at Supima, the marketing brand for American-grown cotton, which is used by some of the world's biggest brands. By contrast, luxury brands are using premium fabrics and finishes, which, combined with fashion-forward cuts and near-perfect off-the-rack fit, help them stand out in the increasingly crowded market. And, of course, there's the logo sewn in the back.
"People who are buying those have a connection to the brand already. I think they're really just buying them for the name," says Kia Goosby, market editor at Vanity Fair. "It makes sense as to why you would just want to continue that throughout every aspect of your wardrobe: I'm already a Khaite girl, so I want to be in Khaite from head-to-toe; or I'm a Celine girl and I want to put on jeans with that blazer or that coat that I'm wearing."
For customers like Meytal Algranti, a stylist and content creator best known these days for her role as "fashion mom" on TikTok, it's thoughtful attention to detail and fit that makes all the difference. "I cannot do cheap denim. It does not compress, and it doesn't hold its shape," she says. "The truth is that these luxury brands really do go the extra mile when it comes to their denim. In my experience, the fit of a Stella McCartney [jean] is just not comparable to even a Frame — and Frame [makes] great jeans."
It's no secret that making jeans that both feel and look amazing certainly is not an inexpensive process, especially for brands who are invested in green practices and a safe and fair working environment for employees. But customers have never been more savvy as to the real meaning behind inflated prices, be it for the sake of higher manufacturing standards or a buzzy name.
"Brands like Everlane promised sustainability, but also gave a transparent overview of price, which educated consumers about overspending on product markup," Sidney Morgan-Petro, senior retail editor at WGSN, says. According to her, the rise of direct-to-consumer brands over the last decade has increased awareness not only surrounding the ethics and sustainability of denim, but the cost as well. "This viewpoint goes a long way to challenge value perception, and we now see consumers shifting priorities on what makes denim valuable to them, with sustainability and ethical production becoming more important than just aesthetics alone."
Indeed, there's no denying that shoppers are now primed to spend more on denim done right — and labels both high and low are taking advantage. Over the past several seasons, brands like Ulla Johnson, Derek Lam's 10 Crosby, and Moschino have all entered into the market. Others are putting their own spin on the staple fabric, like Loro Piana, who launched CashDenim, a line made with a proprietary denim-cashmere blend.
Contemporary fashion favorite La Ligne, founded by fashion vets Valerie Macaulay, Meredith Melling, and Molly Howard, is one of the latest to step into the arena. It's a fitting move, considering that they had been styling their other offerings, like knits and ready-to-wear tops, alongside their personal denim collections. Customers would reach out asking where they could buy the jeans seen on the La Ligne e-commerce site, and after three years of development, the brand is able to make that possible.
"It's certainly not a category we were taking lightly; it's a very saturated category, so we took it very seriously," Macaulay says. "We have to enter denim at some point, because it's not only something that Meredith, Molly, and I all wear in our everyday lives, but it also is a perfect fit for the rest of the collection."
In the overcrowded denim market, though, properly positioning your product is tricky. Usually, shoppers treat their investment pieces, like bags or occasion-wear, with immense care. But few people want to be delicate with how they wear their jeans. "It's funny, because even though [denim is] something that you [use] weekly — which is something that you would consider an investment — it also is not something that you want to feel very precious about, like you can't wear them out or get them dirty," Macaulay says. With that in mind, La Ligne is selling its new styles for $195 each, firmly in the midrange zone compared to similar offerings.
"Contemporary and premium brands hold an important space across denim offers that encompass classic styles with longevity and durability," Petro says. "This is where the customer can invest in pieces that will remain relevant for many seasons."
In short, there's definitely a sweet spot when it comes to pricing and quality — and it's where a customer is willing to invest in denim they know will work for them.
"I tried on a pair of Slvrlake denim, and they looked great. I'm like, 'I'm just taking these, I don't have time to wait for sales,'" Algranti says, noting that though Slvrlake is a contemporary brand, they sit on the higher end of that price scale, averaging around $300 a pair. "After that, I bought two more pairs. It's the same philosophy as with luxury brands: If you trust the brand and you know they're going to look good, maybe it's just worth it to spend [the money]."
That said, most customers do have a limit to how much they'll shell out for the perfect blues. Although Algranti owns several pairs of designer denim, she balked at the four-digit price tag on a pair of Celine jeans she recently tried on. This is right in line with overall data, which seems to suggest that the category has a ceiling of around $500.
"Looking at our WGSN e-commerce data, we can see that the average original price for luxury denim sits at $694, while luxury jeans go out-of-stock at $549. Meaning, within the luxury sector, consumers are willing to pay about $549 on average for denim, which is about $150 less than the average denim price in the luxury market right now," Petro explains, citing WGSN e-commerce data from August to December 2022. "Both original and out-of-stock price has actually increased year-on-year in this sector, so the demand is there, but designers should consider shifting their prices down slightly to meet where the consumer is."
Customers who are looking a more affordable selection of designer denim are also turning to resale sites like The RealReal to score deals on styles from big name houses. "If we look at January and February to date of this year compared to 2022, we're seeing a whopping 409% uptick [in search for denim from] Miu Miu, 91% for Loewe, 59% for Khaite, 52% for Ganni," says Rachel Glicksberg, the company's manager of fashion and new initiatives.
Shopping secondhand also allows shoppers to experiment with inventive, straight-from-the runway looks without paying the full in-season premium. And the data certainly reflects a more adventurous approach to shopping. "Coming off the heels of New York Fashion Week, and in the midst of fashion month, we're seeing increased interest in '90s and early aughts-inspired denim trends, but with a modern [update]," says The RealReal's Glicksberg. "The denim silhouette of the moment is relaxed, oversized, and wide-legged. We're seeing demand for cargo styles with oversized pockets and flared legs."
For Goosby, the appeal of looking to runway brands for denim is the chance to find something one-of-a-kind to add to your wardrobe. She cites brands like Y/Project, who are making styles more unique than what can be found on the mass market.
"If I'm going to go to a brand that's not a denim brand, it's because this pair of jeans has spaceship rockets on the pant leg, and I want to switch up the look," she explains. "I want to make it more fashion-y versus like, 'I'm throwing on the jeans to go run my errands and go meet my friends for brunch.'"
Still, Goosby points out, you needn't shell out luxury prices for high quality jeans. "I personally feel like a brand like Slvrlake, a brand like Goldsign — those really go toe-to-toe with [luxury] brands, because they specialize in denim," she says.
So what's the best denim investment out there right now? The answer is a little different for everyone. And while the competition may be getting stiffer by the day, there are few signs that the current designer denim craze will slow down; certainly, jeans are one of the few items in your closet guaranteed to never go out of style. (Millennial versus Gen Z debate on skinny jeans aside, that is.) For brands, the real quest is to make a style that stands out in the crowd — and, of course, to see just how much money people will part with to wear it.