These Two Chloé Alums Just Launched A New Shoe Brand & The Result Is Both Chic & Thoughtful
Courtesy of Nomasei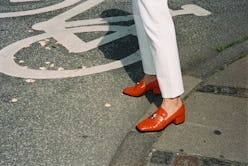 Very seldom do you come across designers who truly care about the lifecycle of their collections quite like Paule Tenaillon and Marine Braquet. But with the pair's refined skillset and tenured luxury background, it makes total sense that the launch of their new conscious shoe brand, Nomasei, (which is a play on the Italian translation of six hands) isn't so much a pet project as it is a thoughtful venture to design quality footwear that's both long-lasting and attainably priced.
The duo worked together at Chloé for years, with Tenaillon as the head footwear designer while Braquet shined in business development. The two were fast friends who found a common passion in creating a responsible footwear label with French-girl appeal. Today, the co-founder's newly launched line — which ranges from $140 for the Neoprene and Sponge Mules to $560 for a pair of flat boots— focuses on creating timeless shoe styles designed in collaboration with a family-owned factory in the village of Montopoli, Tuscany. To ensure that women can feel good about purchasing and supporting their brand, they work closely with the factory workers in exploring ways to enhance the overall production process. Along the way, the brand aims to be transparent with customers by offering a complete breakdown of how much it costs to make each pair of shoes.
While its sustainable initiatives are certainly an important part of the brand's ethos, its the ultra-chic designs that will attract the masses. The diverse offering is a seamless combination of Tenaillon and Braquet's individual styles, meaning there's a little bit of something for everyone. Having worked in the industry for more than 20 years, Tenaillon, who also spent time designing at Givenchy, Chanel, and Jil Sander, admitted that she tends to grab for the combat-style Slalom boots, $560, while Braquet cited the sleek Aria ankle-boot for $440 as one of her favorites. And though the styles could't be more different, they're both timeless in their own right.
As for the many other styles the brand has in their arsenal, Nomasei's mission is to be on-trend but not trendy. A prime example, its chunky Nono loafers, $350, finds the perfect balance with its classic silhouette and croc-embossed or patented finish, while the bow-detailed Adora sandal for $340 oozes French-girl style in the most subtle way.
And if you were wondering about the hand-shaped emblem that adorns each pair of shoes, it's a play on the brand's name designed to represent all of the people who take part in bringing the collection to life. "Nomasei represents the work of the hands," according to the brand's website. "'Noma' comes from the word 'mano,' the hand in Italian, with a twist; and 'Sei' means 'six' in Italian, because every creation is the result of a collaboration between the work of multiple hands, skills and know-how, coming together around one idea that eventually becomes creation."
Ahead we've listed some TZR's favorite styles to invest in now. But if you're looking to learn more about the unmatched duo's story or want to shop the collection in full, be sure to head over the brand's website.