Copenhagen's Coolest Fall 2023 Trends Will Enhance Your Personal Style
There's something for everyone.
James Cochrane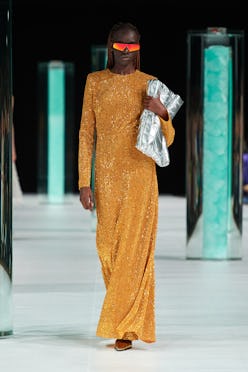 Thanks to the rise of Tik Tok "aesthetics," getting dressed has turned into a form of cosplay: you pick your player (say, a rom-com heroine or mermaid?) and embody their look to a tee. This week at Copenhagen Fall/Winter 2023 Fashion Week, it seemed that designers were following a similar mindset. More so than ever, every show seemed to cater to very specific types, be it the cozy minimalist (see Lovechild) or space age statement-maker (look to Stine Goya). So while there were there were trends aplenty on the runways, brands approached them in drastically differently ways.
One such style setter was (di)vision, who has emerged as the sustainable shopper's answer to attaining the grunge-y, moto-babe look favored by the likes of Bella Hadid. Working entirely with repurposed materials, the brand presented a line up of tattered crop tops and hip slung silhouettes (many of which included a thong peeking out the top — a triggering sight, perhaps, for those of us who dabbled in the same combination 20 years ago). They also served up the week's biggest social media moment when a model, discreetly sitting amongst guests at fully set tables, stood up. After posing for a moment, she revealed her skirt to be attached to the tablecloth as she strutted away, dragging the dishware behind her.
Opérasport, on the other hand, catered to a sportier, slightly more feminine Y2K fan with its stretchy cutout tops and rhinestone-clad jeans (they're baaa-ack). Meanwhile, maximalists, or self-proclaimed "weird girls" in general, will see themselves reflected in the artsy and avant garde renderings of Henrik Vibskov and Helmstedt; and the sleek and sultry Saturday night crowd can count on Gestuz for some seriously good party options.
Henrik VibskovJames Cochrane
But the label who's arguably best mastered a specific cult of personality is Ganni. This season the company debuted its updated butterfly-inspired logo by way of a runway extravaganza dedicated to the beloved bug (complete with manically grinning creature flashing on a screen at the front of the catwalk). The majority of the audience showed up dressed from head-to-toe in designer Ditte Reffstrup's signature playful creations and cheered like avid sports fans as the models appeared in the new collection. The clothes, albeit featuring far more black than usual, spoke to the Ganni ethos of enjoying fashion without taking it too seriously by way of sparkling red dresses and suiting that felt a better fit for rooftop drinks than the office.
All of which is to say: Whichever way your predilections lean, the Scandinavian fashion scene likely had something for you. Find inspiration ahead, where I've compiled 7 key themes — including hero pieces and styling ideas — from CPHFW worth working into your own wardrobe.
Sheer Potential
Selam Fessahaye James Cochrane
While all things see-through have definitely been everywhere for the past several seasons, Copenhagen's latest batch of shows offered a new take on the look: pants made from light, translucent material to show off one's legs. Over at Selam Fessahaye, the effect was quite glamorous, thanks to a slinky fit and gilded embellishment, while Saks Potts created a streetwise purple trouser from swishy windbreaker-like fabric. A.Roege Hove served up gauzy knee length shorts and over at Gestuz, a ladylike pair of lace trousers played the perfect foil to a long coat.
Denim Down To There
Rabens Saloner James Cochrane
While I'm on the the topic of evolving trends: Although maxi skirts, which are already in the midst of a moment, had a strong showing in general, no style reigned more supreme than those made from denim. Consider pairing yours with thigh high boots like Gestuz (a smart combination in these chilly winter months) or made like Ganni or Rabens Saloner and go for a refreshed Canadian tuxedo by adding a coordinating top.
Textural Instincts
Opérasport James Cochrane
From quilting (at Rabens Saloner, Helmstedt, and Baum Und Pferdgarten) to mega-ruched finishes (see The Garment and Opérasport), volumizing fabric treatments were a huge area of focus for brands. And, really, they should be for you, too: The effect of one piece with scrunched and puffed detail is striking enough to carry an otherwise basic outfit.
Hit The Bleach
Holzweiler James Cochrane
These days, it can feel like any denim goes (except maybe skinny jeans, but that's a conversation for another time). But if you want blues — or, judging from the shows, perhaps pinks or purples? — that feel especially on the pulse, try something with an acid wash treatment. There were delightfully colorful options at Stine Goya and Baum Und Pferdgarten; Ganni, Gestuz, and Holtzweiler offered up edgy grey and black pieces.
Strings Attached
Stine Goya James Cochrane
A little bit subversive, a little bit sweet, tops that tie in the front feel like the latest evolution of the It girl-approved one button buttoned cardigan look. A few silhouettes to give a whirl: a simple shrug (at TG Botanical), a keyhole knit (Stine Goya), and a top slit diagonally down the middle and suggestively held together with strings (Opérasport).
Spangled Up
Think sequins and palettes for only for the holidays? Think again. According to Stine Goya, Muthe, Rotate, Ganni, and Saks Potts 'tis always the season to sparkle and shine like discoball.
Hot Gam
Going pantless for winter may sound a bit... chilly, but should you have access to a temperate climate or good car service, the week was full of chic ways to do it. Opt for a surprisingly ladylike effect with Skall Studio's elegant mix of a doily-like blouse, leotard, and tights — or just make like Aeron, and wear a blazer sans trousers. When in doubt, just remember Wood Wood, who proved you doesn't matter how naked you dress if your overcoat is long and cozy enough.