QUIZ: What's Your Fall 2023 Runway Aesthetic?
Your result will make shopping so much easier.
Victor VIRGILE/Gamma-Rapho/Getty Images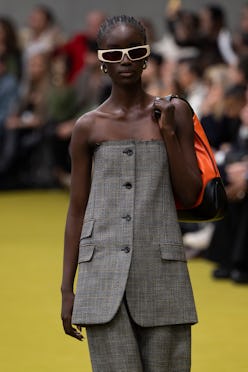 Most kids groan when they start seeing "back to school" ads towards the end of July. Why speak of polos and highlighters when there are still weeks left of frivolous summer adventures? As an adult, though, seeing designers begin to release their latest autumn looks primed for work (and play!) always sparks joy. Because, TBH, there's something so special about unwrapping a pair of leather over-the-knee boots and running your hands over a warm fuzzy jacket. And while you've likely made an itemized shopping list in the past, might we suggest another way to approach your new-season wardrobe? Simply pick an aesthetic from the Fall/Winter 2023 runways and plan your wardrobe from there.
No, we're not referring to flash-in-the-pan viral social media vibes. Rather, the industry's most sought-after designers have laid out some compelling fashion personalities worth trying on. At Gucci, Versace, and Prada, for instance, understated-yet-elevated wardrobe staples were the name of the game. If you're a sucker for a good crisp white button-down and classic denim, we're betting you'd fall into this not-so-basic basics camp. Meanwhile, labels like Adeam, Rodarte, and Courrèges presented their best takes on Wednesday Addams' gothic-chic style. You've been thinking about revisiting your 15-year-old Hot Topic phase? Ding, ding, ding... we have a winner!
Don't feel like your style aligns with either of these categories? Not to worry, the quiz below will help you find your ideal autumn vibe, straight from the catwalks. Your dream cold-weather lineup awaits.
Who Is Your Ultimate Style Muse?