6 Lab-Grown Diamond Brands Giving Fine Jewelry The Fashion Girl Treatment
Pieces you'll want to wear everyday.
Courtesy of Unsaid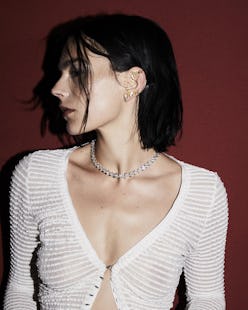 We may receive a portion of sales if you purchase a product through a link in this article.
Lab-grown diamonds are a cool girl's best friend — and for more reasons than you think. Besides being a more ethical and price-conscious alternative to stones that have been mined, these man (and woman) made rocks allow for brands to experiment with edgy and unexpected design, and sell them without the typical markup. Think: The kind of mind-blowing pieces you might see a celebrity wearing (most likely borrowed for the night) on the red carpet, but at prices that people can realistically budget for... even if they are still a splurge. ($2000 > $20,000, am I right?!)
Why? Modern technology has made it possible to grow a diamond in a lab that has an identical chemical make up to its natural counterpart, making it much faster and less expensive to source the precious gem. It is also not always easy to trace the origins of traditionally-crafted jewelry, making it tricky to know whether that dreamy piece was sourced from a place that offered safe conditions and fair wages to its workers. And while you may lose the value of rarity with a lab-grown stone, you are still guaranteed the four Cs — color, clarity, cut, and carat — which, TBH, is what people are going to notice and comment on first.
And you'll certainly get plenty of compliments while frosted out in styles from the innovative lab grown diamond brands below, all of which are full of striking options beyond your standard solitaire engagement ring. Keep scrolling for the 411 on each label, alongside a selection of TZR's favorite items to shop.
Vrai
Operating on the principle that every carat helps preserve the climate, Vrai uses crystallized greenhouse gas to craft their stunning creations. The L.A.-based brand has expanded across the US, Europe, and China since their start in 2014 and specialized in multi-stone settings set at interesting and eye-catching angles.
Grown Brilliance
Grown Brilliance offers both loose stones and super sparkly adornments, all at the highest quality. Although it carries plenty of beautiful engagement rings, there is a bold contemporary selection (in yellow, white, and rose gold) as well.
Kimaï
Growing up around the diamond trade in Antwerp, Germany, co-founders Jessica Warch and Sidney Neuhaus saw firsthand how murky the industry's practices can be. With Kimaï, though, they aim to use their vast knowledge of fine jewelry production to build a company that's fully transparent in its methods. Their offerings, made from lab-grown diamonds and recycled gold, feel like modern heirlooms.
Lightbox Jewelry
A subsidiary of the De Beers Group, Lightbox Jewelry was launched in 2018 boasting a patented technology that produces the highest quality lab-grown diamonds at an approachable price. The certified carbon neutral pieces are crafted in Portland, Oregon using 100% renewable wind energy.
Unsaid
Unsaid is the vanguard of advanced craftsmanship when it comes to lab-grown diamonds. It has roots in Antwerp, but has expanded internationally offering "a fusion of cutting-edge technology and slow craft." And while the brand's innovative and responsible processes are exemplary, their design identity — which is centered around modernistic settings and bold silhouettes — should not be overlooked.
Noémie
Noémie's handcrafted pieces are designed to be the kind of accessories you'll lean on daily to make all your basics feel luxurious and special. Made of reclaimed 18K gold and conflict-free stones, the designs are understated in shape — think timeless hoops, and a tennis necklace — yet sparkly enough to stand out.