A Crash Course In Achieving Effortless Aussie Style
With tips from the designers behind it.
Courtesy of SIR.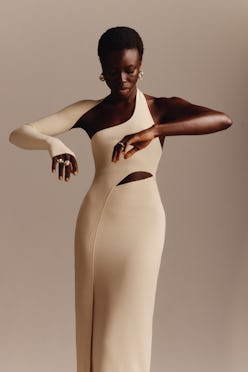 We may receive a portion of sales if you purchase a product through a link in this article.
One of the best reflections of a culture is what the people in it are wearing. But for Australia, a country that's about the same size as the continental United States with over 25 million residents, you can't paint the fashion scene with one broad stroke. However, there are distinctive motifs and factors that thread the nation's overarching aesthetic together — thus creating a so-called 'Aussie Style.'
First and foremost, the location and climate have a profound influence on how locals dress down under. "Geographically, we are so far removed from what seems like everybody else in the world, which has its advantages in developing a unique point of view," Alémais Creative Director Lesleigh Jermanus tells TZR. It can also get quite hot and humid which, points out Albus Lumen Founder Marina Afonina, plays a big factor in design. "Being a warm climate country, Aussie style is very heavy on summer-influenced clothing and beach culture is very big here," she says.
These two elements — being surrounded by ocean and toasty temperatures — create an environment that SIR. Co-founders and Creative Directors Nikki Campbell and Sophie Coote say breed an attitude of ease. "Lifestyle and environment are the essence of Australian style, which in turn lends to a laid-back, yet elevated sensibility," Campbell says. At its core, Aussie Style strikes the balance between refined and relaxed. And while the country already has a strong repertoire of designers that have garnered global recognition for several years (Zimmermann, Ellery, and Dion Lee, to name a few), there's also a flurry of buzzy newcomers that are catching the attention of editors, celebrities, and fashion-lovers alike.
Take Alémais for example: Jermanus founded the label in 2020 and just last year won the prestigious National Designer Award in Australia. Her designs have been worn by the likes of Eva Mendes and are already carried by retailers such as Bloomingdales, Net-a-Porter, Brown's, Matches, and Moda Operandi. "We are always inspired in some way by the natural wonders of the Australian landscape," she shares. "Our collections consistently embody the spirit of adventure and holiday dressing that is quintessential to Australian style."
Ahead, TZR unpacks the key pillars of Aussie Style with some help from the designers defining it.
An Emphasis On Essentials
While Australian style can drum up images of sensual deconstructed pieces à la Christopher Esber, there are also more versatile separates that speak to the low-key nature of the country. Albus Lumen's collection is a strong example of this. "The brand has a sense of ease and an effortless approach, and we offer a lot of trans-seasonal ready-to-wear, which fits in perfectly here," Afonina says. This mellow attitude often translates via unfussy silhouettes that still exude confidence. "The essence of Australian style is underpinned by relaxed resortwear dressing," says St. Agni Co-founder Lara Fells. "It's ultimately influenced by coastal living, whilst embracing practicality and versatility."
Attention To Color and Print
Aussies have mastered the art of taking a neutral palette and molding it into something quite elevated. Brands like SIR., Christopher Esber, and St. Agni all fall into this category. And while the country is renowned for its easygoing attitude, that's not always reflected with muted hues. Quite the contrary. Labels like Alémais, Matteau, and Lee Matthews all incorporate energetic patterns into their lines that are well-suited to the country's beachy vibes.
Edgy Elegance
If you asked an Aussie a decade ago what fashion trends the country has influenced, they might've pointed to the feminine, free-spirited look that brands like Zimmermann are known for. But now names like Christopher Esber and Michael Lo Sordo are driving the zeitgeist toward an era of sensuality — cutouts and strappy details are very much the look du jour. "The Michael Lo Sordo woman likes a little heat, reminiscent of Australian summer days and nights," the designer says. "The laid-back, sexy beach influence comes across through our clothing in the use of fabrication, cuts, and silhouettes."
Space For Self-Expression
Like any large nation, Australia's signature style varies from region to region. "Brisbane has an eclectic fashion scene with expressive, artful style and they are not afraid to experiment; in contrast, [people in] Melbourne joke about feeling unwell when they have to wear color," Jermanus explains. "Sydney is a melting pot for creatives and has a diverse cultural identity that's evolving rapidly. We get to see individualism expressed through style in lots of different ways through a more contemporary lens." There's also, Coote notes, a major difference between those who live in urban environments versus beach towns. "You'll find effortless elegance in cities, and as you edge closer to the coast, a relaxed sense of style is more evident, particularly in summer where swim and coverups are a mainstay."